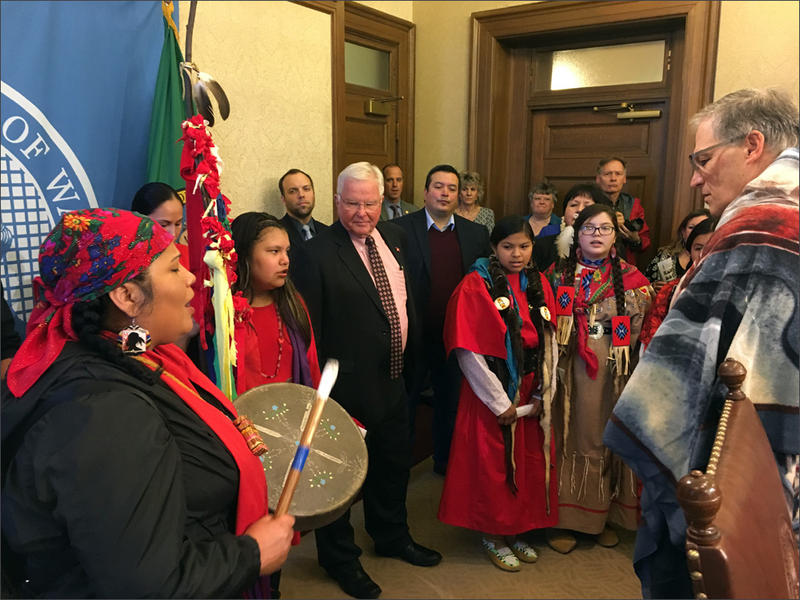 New Washington Law Aims To Help Solve Cases Of Missing And Murdered Native Women
Washington Gov. Jay Inslee signed into law Thursday a bill aimed at shedding light on the cases of missing or murdered Native American women. At the bill signing ceremony, Native women in traditional regalia performed a women's honor song.
Roxanne White from the Yakama Nation said it's to remember the murdered and missing women indigenous women from across the U.S., Canada and Alaska.
"Our cases are often never solved, never investigated," she said. "We are not invisible. We are here and we have a lot of families on the Yakama Reservation that are still looking for answers." 
Supporters of the new law say Native American women are victims of homicide at rates many times the national average. And they have high rates of disappearances. But the exact numbers aren't known because there is no comprehensive reporting system. 
The new law is a modest first step. It directs the Washington State Patrol to work with tribes, local law enforcement and the Department of Justice. The goal is to understand how to increase resources for reporting and identifying missing Native American women.  The legislation directs the State Patrol to report back to the Legislature with its findings by June 1, 2019.
Austin Jenkins contributed to this report.