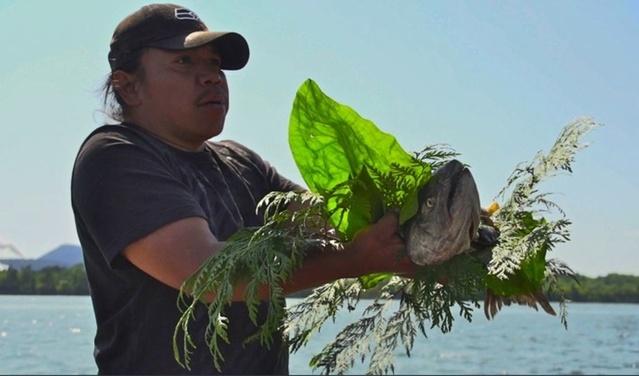 Washington Tribes Vow To Fight Canadian Pipeline With 'Brothers And Sisters In The North'
The project would triple the amount of oil flowing from Alberta tar sands through British Columbia and increase oil tanker traffic to refineries on Puget Sound.
"We'll keep fighting with our brothers and sisters to the north," Swinomish tribal chair and fisherman Brian Cladoosby said from a boat on the Skagit River. "This is a huge mistake for our area."
The government of Canadian Prime Minister Justin Trudeau announced Tuesday that it is buying the pipeline from Texas-based Kinder Morgan. The pipeline, built in 1953, currently carries 300,000 barrels of heavy tar sands oil daily from Alberta to British Columbia and refineries in Washington state.
Kinder Morgan halted most construction work in April and threatened to abandon the controversial expansion by May 31 in the face of opposition from provincial and tribal governments in British Columbia. 
"The answer is still no," Tsleil-Waututh elder Ta'ah Amy George of North Vancouver, B.C., said in a written statement after Canada's purchase was announced. "We will never allow a pipeline to come through British Columbia and harm our inlet."
The Washington Connection
When it comes to oil, what happens in Canada doesn't stay in Canada: Most oil in Kinder Morgan's existing pipeline flows down to refineries in Washington state.
Protests have spread to Washington as well.
Anti-pipeline protesters have repeatedly occupied Seattle bank branches of key pipeline funder JPMorgan Chase. They took to kayaks in May to block a Kinder Morgan fueling dock at the Port of Seattle.
"Tribes of the Salish Sea, we've got a lot of partnerships with each other," Suquamish tribal chair and Affiliated Tribes of Northwest Indians president Leonard Forsman said. "We don't really see a border."
Forsman said Washington tribes would keep supporting First Nations (as indigenous groups are called in Canada) in their protests and lawsuits against the project.
"These projects have an impact on our treaty rights to fish," Forsman said.
Local environmentalists are also alarmed by the threat posed by increased oil tankers in the shipping lanes that twist around the San Juan Islands.
"This is a project that presents a tremendous amount of risk to Washington state and no benefit whatsoever," Lovel Pratt with the environmental group Friends of the San Juans said.
Alberta tar sands oil also puts out even more climate-altering carbon dioxide than typical oil does.
Canada's Case For The Pipeline
The benefits would go to Canada and the Asian countries that would import Alberta oil.
Canadian Finance Minister Bill Morneau called the expanded pipeline "the safest and most effective way to get our resources to world markets."
"It must be built and it will be built," he said.
Canadian officials said expanding the Trans Mountain pipeline is in the national interest. Shipping Alberta oil to Asia would fetch a better price than piping that oil to the U.S.
Canada is paying Kinder Morgan 3.5 billion U.S. dollars for a project estimated to cost $5.7 billion. The sale is expected to close in August. Construction on the stalled megaproject is set to resume immediately.
Limited Leverage
With the project soon to be 100 percent Canadian, opponents in the U.S. won't have much leverage over it.
"We still remain strongly opposed," Tulalip Tribes chair Marie Zackuse said. "We'll be talking to attorneys tomorrow about possible recourse."
The Natural Resources Defense Council threatened to sue Kinder Morgan in May to prevent increased tanker noise or spilled oil from harming endangered orcas. But the U.S. Endangered Species Act doesn't apply to Canada.
"We're doing what we can, which is express our disagreement," Washington Gov. Jay Inslee told KUOW. 
An oil spill could be absolutely catastrophic, Inslee said.
Inslee said he would continue to speak out against the project, but there's not much more he can do.
"That's one of the more frustrating things about this, is that our state gets exposed to seven times more tanker traffic, and yet we're quite limited in what we can do in the state in regard to that safety," Inslee said.
He said the federal government preempts most state regulation on oil tanker safety.
Under legislation passed this year, state officials will be discussing strategies for reducing the risk of oil spills, including stationing an emergency response tug boat in the San Juan Islands.
"This is the place that we're trying to preserve our orca population," Inslee said. "It's the place where an oil spill could be absolutely catastrophic."
Zackuse, of the Tulalip Tribes, said the dramatic rise in tanker traffic would pose an unacceptable risk to the Salish Sea — the name for the inland waters stretching from Washington's Puget Sound to British Columbia's Georgia Strait — and everybody living next to it.
"When we catch a crab or a salmon, we're hoping our grandchildren's children's children will get to do that, too," she said. "I don't know if they'll ever be able to do that if we keep having spills." 
Copyright 2018 KUOW