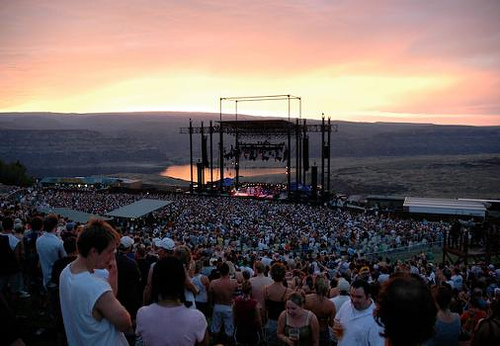 Two Men Assaulted With Rocks At Gorge Amphitheater, Grant County Sheriff Asks For Help
The Grant County, Washington, Sheriff's Office is asking for help from anyone who witnessed a pair of alleged assaults at the Gorge Amphitheater last weekend.

The two men suffered head injuries that landed them both in the hospital after being attacked and beaten with rocks Saturday night during a Phish concert.
Both attacks took place around the same time but on opposite ends of the venue.
On Facebook, one of the victims shared his account of what happened.
Samir Poles said while he was walking back from the bathroom, a man who was waiting in the shadows put what he called a bowling ball sized rock through his face.
Poles says he woke up on the ground gushing blood through the hole where his teeth used to be. He was rushed to the hospital with a broken palate and lost teeth.
Separately, Joe Allen Jr. suffered a similar attack. Allen has not been able to walk on his own since the attack and is currently recovering at a hospital in Wenatchee.
The victims don't know each other and neither could identify their attacker.
Concertgoers reportedly saw neo-Nazis selling nitrous at the venue, drawing speculation that the group was responsible for the assaults.
A Sheriff's Office spokesman said it may just be speculation, and the department doesn't have any suspects.
Anyone with information should contact the Grant County Sheriff's Office at 509-754-2011 or on Facebook.