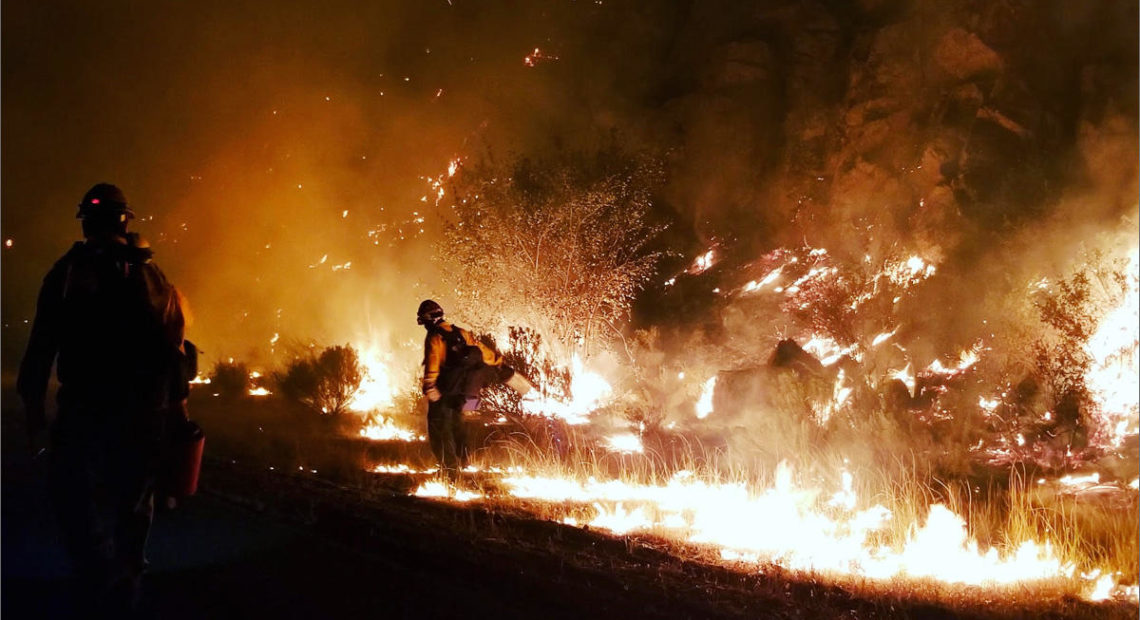 'It Was Quite A Shock.' Wild Weekend As Northwest Fires Claim Homes, Injure Firefighter
 It was a wild weekend for wildfire in the Northwest. A cold front brought lightning and high winds — but no rain — to the region east of the Cascades already plagued by extremely dry conditions.
Washington's Department of Natural Resources reported nearly 70 new fire starts over the weekend.
#WaWILDFIRE initial attack efforts were extremely widespread today. Washington firefighters contended with 68 new wildfires, primarily in eastern Washington, as high winds, abundant lightning and very dry fuels created critical fire weather conditions.

— Washington State DNR Wildfire (@waDNR_fire) August 12, 2018
A fast-moving fire destroyed two homes and an abandoned structure near White Swan on the Yakama Nation Reservation in south-central Washington.
Elizabeth Sanchey helps with Incident Command for the Yakama Nation.
"It was quite a shock," she said of a fire that started on Friday afternoon and quickly consumed two houses and an abandoned structure. "We had a large fire in 2011 and there was multiple homes lost in that fire, so you had a little bit of flashback to what happened there and the concerns and – scared. We were scared!"
The Yakama Nation declared a state of emergency on the reservation Sunday morning. Sanchey, who evacuated with her kids and dog, said response to the fire was heavy all weekend.
"It almost makes you emotional to see people just responding and then the air tankers coming in so quickly," Sanchey said. "I really truly believe that those air drops that they made of retardant saved our community."
White Swan isn't the only community where homes were lost over the weekend. Eighty miles to the east, in Kennewick, flames from the Bofer Canyon Fire consumed five homes. And at least two homes had been lost as of Sunday evening to the Boyd's Fire near Kettle Falls in the northeast corner of Washington.
In Oregon, a new fire that started Friday near Pendleton, in the northeast corner of the state, grew to over 1,000 acres with help from winds that gusted between 30 and 40 miles per hour. Friday also saw a new fire start on the south side of Interstate 84 near the eastbound Memaloose Rest Area in the Columbia River Gorge. Residents in nearby Mosier were told to evacuate as the fire grew through the night.
Oregon's two largest wildfires are burning in the southwest corner of the state, along the California border near Medford. The Taylor Creek fire, at over 45,000 acres and the Klondike fire at over 47,000 acres are growing large enough that they might merge, which fire managers hope to avoid.
With no rain in the forecast, officials don't expect the threat of wildfire to let up any time soon.
"The natural humidity occurring right now out in the rangelands is less than kiln dried lumber," said Ben Shearer, an information officer on the Grass Valley Fire that quickly spread over 20 miles Saturday and threatened residents, ranches and livestock near the Grand Coulee Dam.
"So, if you go to a lumber yard right now and buy a two-by-four, that's been dried in a kiln to about 15 percent moisture content, and right now most of the fuels out in the wildlands are like less than 10 percent," he said.
The Grass Valley Fire started mid-day Saturday. Its cause is unknown, but wind helped it grow to an estimated 75,000 acres by Sunday morning, making it the largest fire burning in the state in less than a day. (Fire managers had initially estimated it at 45,000 acres, but upgraded the size due to better mapping.) The extremely dry brushland where it started mixed with wind blowing directly west pushed it fast toward the tourist-heavy Grand Coulee Dam and Banks Lake area.
#GrassValleyFire last night. #WAFires #GrandCouleeDam pic.twitter.com/fLakvS0wzC

— Haya Lianna (@khateebh08) August 12, 2018
"15 to 20 mile-an-hour winds was actually pushing the fire faster than firefighters could work with it," Shearer said.
Brett Read, a firefighter with Okanogan County Fire District 8 was injured while working on the fire and was flown to Harborview Medical Center in Seattle. Fire District Chief Ed Townsend said in a statement that Read, from Omak, has been a volunteer firefighter for seven years. He was listed in satisfactory condition late Sunday night, according to Townsend.
At least 300 people were told to evacuate their homes in the towns of Grand Coulee and Coulee Dam, above and below the dam, respectively.
State Highway 174 was also closed because of downed power lines and, Shearer said, due to livestock seeking refuge on the road.
"That's not uncommon to have cattle and sheep and horses and whatever, wildlife get up on the road when there's a fire," he said.
Transmission lines were down and a number of homes had lost power near Grand Coulee. At least 30 power poles were lost to the separate fire near White Swan, according to Elizabeth Sanchey.
And in Ferry County, Washington, the Boyd's Fire had also knocked out power to a number of homes most of the day Sunday and destroyed two homes and several outbuildings.
NOTE: This story has been updated to add updated fire information and details on the injured firefighter.