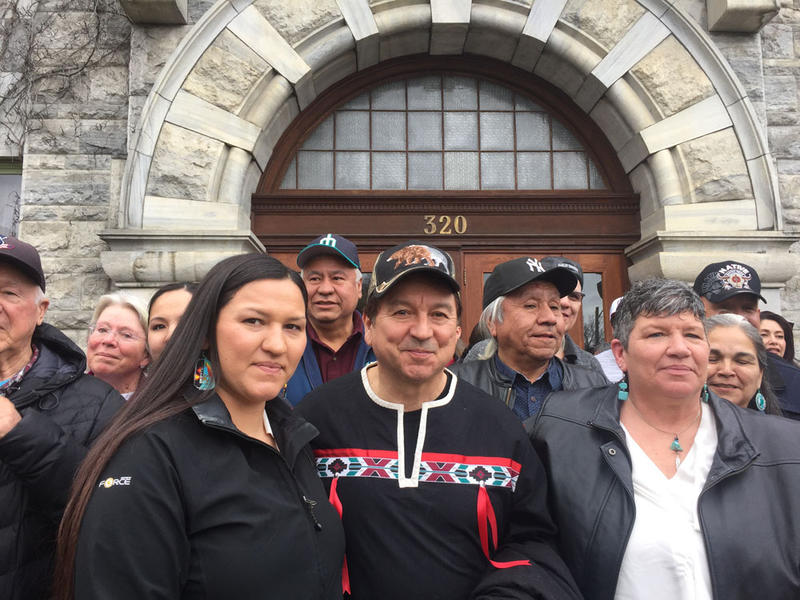 'We're Still Here:' Washington's Sinixt Tribe Defends Hunting Rights And Fight For Canadian Recognition
Rick Desautel is very much alive.
"I was hunting last week," he laughs, standing outside British Columbia's Court of Appeal.
But in the eyes of the Canadian government, Desautel and his descendants of the Sinixt tribe are "extinct."
For nearly a decade, Desautel, who is a U.S. citizen living in Washington, has been making his way through British Columbia's court system. He's trying to reinstate his indigenous rights north of the border. His is a case about tribal sovereignty, recognition and reconciliation in Canada.
In the eyes of the Canadian government, and on paper, the Sinixt tribe has been extinct in Canada since 1956. That's when the last surviving member of the tribe there passed away.
Desautel isn't extinct, of course. And he is a member of the Sinixt tribe. So is his wife Linda.
The Desautels live on the reservation of the Confederated Tribes of the Colville in Washington.
They were in Vancouver recently for the hearing of a second appeal in Rick Desautel's long-running illegal hunting case.
"We're Still Here"
Outside the court, around 40 Sinixt descendants cheered and shouted "We're still here." They had driven over 300 miles from the Colville Reservation to Vancouver to support the Desautels.
In 2010, Rick was charged with hunting without a permit and as a non-resident in Canada. Despite an acquittal and an overturned appeal, the provincial government in British Columbia is still pursuing charges — now in a higher venue similar to the U.S. 9th Circuit Court of Appeals.
During a hearing on this, the second appeal in the case, Glenn Thompson, British Columbia's prosecuting attorney, told three appeal court justices that Rick Desautel simply does not have a right to hunt in Canada.
The argument: He's not Canadian.
Thompson agrees that Desautel is a descendant of Canada's Sinixt tribe, but he told the justices that the provincial government believes Sinixt, who now live in Washington, are members of a "successor tribe." Because they are American, Thompson argued they can't freely hunt on their traditional homeland in Canada.  
Thompson also argued that how the Sinixt got to Washington "was relatively irrelevant." He said when the Sinixt moved to Washington, their relocation was "not wholly involuntary."
He was suggesting that the Sinixt chose to move south of the border.
Thompson ran out of time before he could finish his arguments, and appeal court Justice Daphne Smith chided him.
"There are critical issues here, and we're just flying through them," Smith said from the bench. "This is a really important case."
Later, Linda Desautel said Justice Smith's reaction stood out to her.
"That just says to me, you just don't have all your balls in the court mister."
Fighting For Recognition
Linda Desautel has been part of her husband's fight for tribal recognition in Canada for decades.
"[Justice Smith] kept saying 'this is a very serious situation," Linda Desautel said. "This is not just, 'oh you know a couple Indians coming up here hunting.' This is serious. This is huge. And she was stern in her way when she was saying that I was like 'oh thank you, she gets it.'"
When it was defense attorney Mark Underhill's turn to argue on behalf of Rick and Linda, he told the panel that "to be Sinixt, they need to be able to carry out their culture in the place they are from."
Underhill's point was that regardless of where the international border lies, in order to be Sinixt, they have to be able to hunt elk within their traditional territory in both the U.S. and Canada. The practice is inherent to their culture, and the Sinixt are indigenous to the region, he argued.
"In a very real way, Mr. Desautel is more Canadian than all of us put together," Underhill said. He cited historic records that show the Sinixt have traditionally lived and hunted elk in southern British Columbia for millennia.
Then he laughed.
"My mother is from Wales," he said. "And that may sound theatrical, but Mr. Desautel's family has been here for thousands and thousands of years," he told the Justices.
He also said the prosecution's argument that Sinixt descendants willfully abandoned their homeland in Canada "has never succeeded in any court in Canada," because historic records show the Sinixt may not have chosen to leave.
Some believe they were forced south to Washington after contact with what settlers began in British Columbia in 1811.
Underhill declined to comment on the hearing, but afterward he joked with his client Rick Desautel about next seeing him in Ottawa. Because that's where many people believe this case could go – all the way to Canada's Supreme Court.
If it does advance, that could ultimately decide whether the Sinixt exist in Canada, and if they have rights there.
But first, a decision from British Columbia's Court of Appeal is expected in six months.