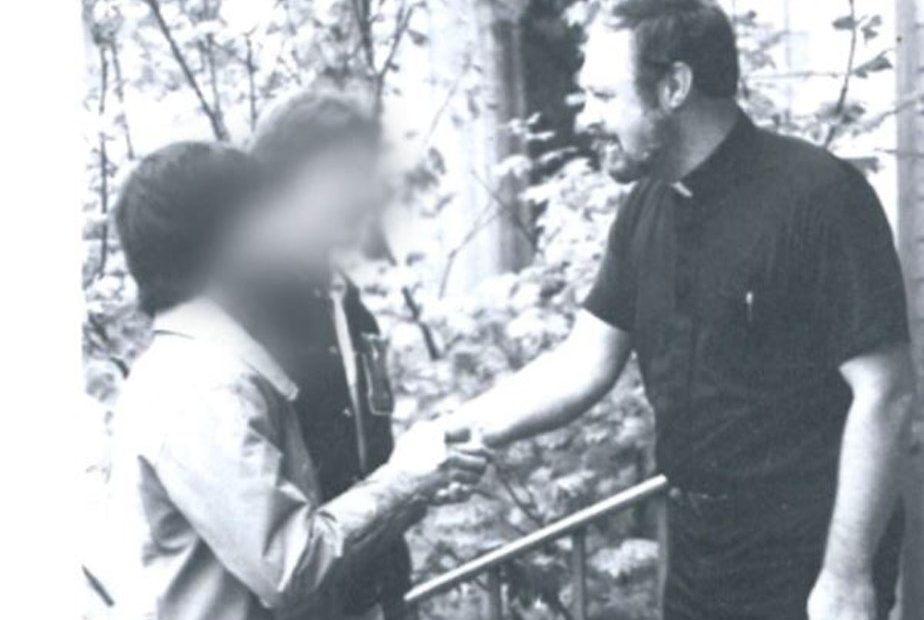 Seattle Catholic Archdiocese Pays $7 Million In Priest Sex Abuse Cases
BY ANNA BOIKO-WEYRAUCH & GIL AEGERTER / KUOW
The Seattle Archdiocese has paid nearly $7 million to settle claims by six men that former priests abused them when they were children.
The men said the archdiocese "knew or should have known that the priests posed a danger to children" and failed to protect them.
In a statement, the archdiocese said it "attempted to arrive at fair and just settlements to assist victims with healing and to achieve some measure of closure."
But attorney Michael Pfau, who represented the men with attorney Jason Amala, said closure isn't always possible.
"Every abuse survivor is different and I think the settlement can mean atonement or can mean closure for some people," Pfau said. "Tragically for others really there is never a full closure."
The priests were James McGreal, Paul Conn, John Forrester, Thomas Pitsch, Michael Cody and Theodore Marmo. Only Marmo is still alive; he lives in Southern California.
James Hauer is one of the six men who settled claims in the past couple months. He had alleged in a lawsuit that Marmo abused him at John F. Kennedy Catholic High School in Burien in the 1970s.
Hauer said the settlement is a positive step, but the Catholic church must change the "culture of collusion" that allows abuse to take place.
"I think that it represents a validation, if anything, that there is something that needs to be fixed," Hauer said. "It's an attempt at reconciliation, but structural changes need to be made."
Another of the six men said he was abused by two priests at Queen of Angels Parish in Port Angeles — McGreal and Conn.
The man, referred to in court records as T.A., said the archdiocese moved McGreal between several parishes after sexual abuse complaints. T.A. also alleged that former Seattle Archbishop Raymond Hunthausen sent McGreal to a Maryland psychiatrist in 1977, and the psychiatrist wrote to Hunthausen that McGreal should be screened out of "any close activity with teenager or young adult males."
Hunthausen sent McGreal to St. Anthony's Parish in Renton and later to Queen of Angels. Hunthausen died in July.
The other priest that T.A. accused, Conn, was arrested and pleaded guilty in 1988 to molesting six altar boys between the ages of 11 and 13 while working at the Queen of Angels Church.
Another of the men, J.M., said Cody abused him in the early 1960s at Holy Family Parish in Seattle.
Cody served at St. Edward's Seminary in Kenmore and in parishes in Shoreline, Seattle, Auburn, La Conner and Burlington.
The church knew of accusations against Cody as early as 1962. In a March 19, 1962, letter to Thomas Connelly, the archbishop then, a psychiatrist said Cody had admitted to molesting eight girls age 12 or under and described him as exhibiting "sadistic tendencies toward boys." Cody spent time in treatment, then returned to the archdiocese, where others within the church expressed concern as he moved from parish to parish, according to documents.
In 1988, Cody admitted to abusing 20 to 40 girls and one boy, according to a psychological evaluation. But he remained in the clergy until he was dismissed in 2005. He is listed as deceased.
All six priests involved in these claims are on a list of clergy or religious order members accused of abuse that the archdiocese released in 2016.
The archdiocese has paid tens of millions of dollars to settle allegations involving hundreds of victims.
The archdiocese urged anyone who suspects abuse or misconduct by clergy to contact law enforcement and to call the church hotline, 1-800-466-7762.
Hauer, one of the six men who settled recently, said he has kept his faith and is hopeful the church can become more transparent and accountable to prevent such abuse in the future. "It can be fixed and there is something to be saved," he said.
Hauer wants to send a message of peace to the hundreds of victims of clergy sex abuse in the area.
"There is still an opportunity to have joy, to have love, to have faith, and to believe that tomorrow is a great day," Hauer said.