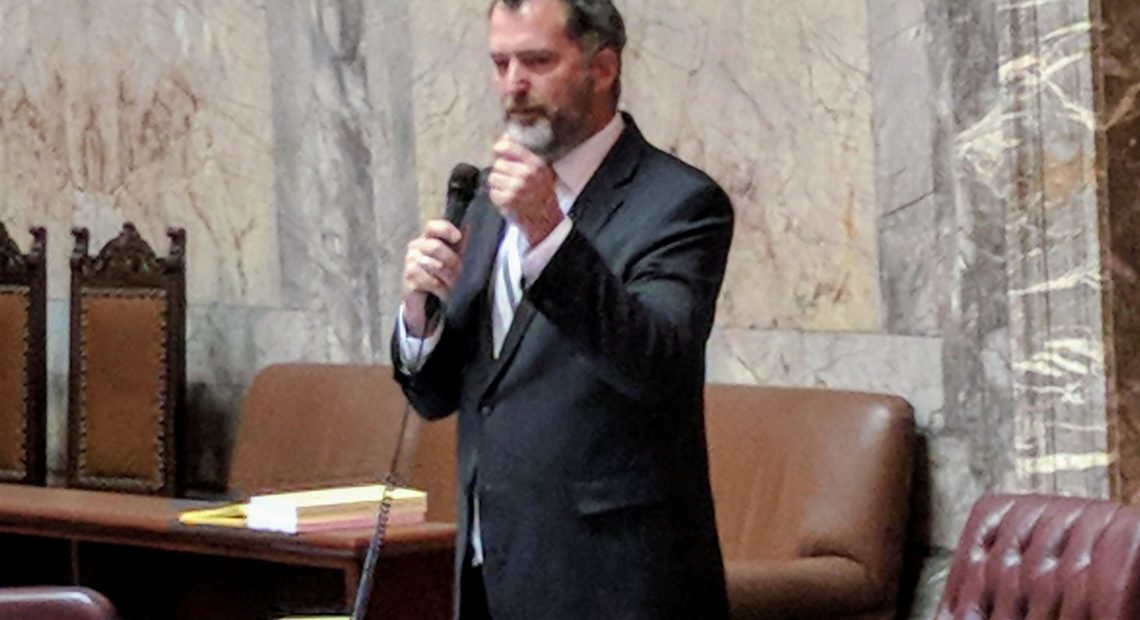 Washington Sen. Kevin Ranker Admits Relationship With Former Staffer Accusing Him Of Misconduct
A Washington state senator under investigation for alleged workplace misconduct involving his former legislative assistant acknowledged Tuesday that he had a "brief relationship" with the woman before he hired her in 2009.
"For approximately six weeks during November and December 2008, I had a brief relationship with Ann Larsen [sic]," Sen. Kevin Ranker, an Orcas Island Democrat, wrote in an email. "I exercised extremely poor judgment, recognized my mistake and ultimately reconciled with my wife."
At the time of the relationship, Ranker was a San Juan County Commissioner and Larson was clerk to the commission. Ranker was first elected to the Senate in November 2008 and took office that January. He hired Larson as his legislative assistant in the spring of 2009. 
During the 2010 legislative session, Larson alleges Ranker subjected her to a "verbally abusive and hostile work environment" while she worked for him in Olympia. She also now alleges that he sexually harassed her, though she didn't characterize it as such at the time. After she reported his conduct, Larson said Ranker retaliated against her.
Larson's allegations are now being investigated by a lawyer hired by the state Senate. Ranker denies any wrongdoing and said he expects to "be exonerated from these allegations." 
Larson, who is currently the director of government relations for the Washington state Department of Enterprise Services, also confirmed the prior relationship with Ranker, though she said it happened earlier in the fall of 2008.
Once Ranker took office as a state senator, Larson said he tried to recruit her to work for him as his legislative assistant, saying this could open doors for her career-wise. Larson said initially wasn't interested, but eventually decided to accept his offer. 
Larson provided the Northwest News Network with an email Ranker sent her in February 2009 with the subject line "job." The email asked, "You still interested? While I will not make any changes until the end of session, I am now actively looking." 
According to Ranker, it was Larson who approached him about working in Olympia. He said Larson told him that "San Juan Island was too small" and that she needed to "get off the rock" to advance her career. 
"I did not want to hold our relationship against her and I knew her to be competent in her work," Ranker wrote in an email explaining why he hired Larson as his legislative assistant. Ranker said the relationship from that point forward was "entirely professional."
For the remainder of 2009, which was during the legislative interim, Larson said she opened and then staffed Ranker's district office in Anacortes. In January 2010, she temporarily relocated to Olympia to work in Ranker's Capitol office during the legislative session. It was during this period of time that she alleges he began to act inappropriately. 
"Rubbing my shoulders, offering alcohol, asking me to stay late, those types of things," Larson said. 
Larson told the Northwest News Network that Ranker's behavior began as "friendly flirtation," but over time got more aggressive. "He's pushing boundaries, I'm protesting, I'm protesting more," Larson said.
Ranker, in an email Tuesday, denied Larson's allegations. "I never sexually harassed her," Ranker said. "These are ludicrous claims with completely no basis in fact." 
Larson said after she rebuffed Ranker several times, he began to become hostile towards her.
"It starts to be, 'Why aren't you here on time, this is part of your job, you need to stay late, I need you for this,'" Larson said. "And it's no longer rubbing my shoulders, offering me wine."
According to Larson, she first reported the inappropriate behavior to the Senate at the end of February 2010. She said that a pair of Senate staffers took her to lunch to interview her about the issues she was having in Ranker's office. Larson acknowledges that at the time she did not accuse Ranker of sexual harassment. 
"I think I articulated that it was a hostile work environment, but I did not specify that this was sexual harassment," Larson said. 
In response, Larson said Senate staff offered to help her find a job outside of the Legislature, but did not launch a formal investigation.
Larson also said she believed Senate staff spoke with Ranker about the situation. The Northwest News Network could not independently confirm this.
Soon after meeting with Senate staff, Larson took a job as a legislative affairs director for the Washington Department of Fish and Wildlife. Larson had a background as a fisheries biologist and had done research on the Southern Resident orca whale population. The new job meant a big boost in salary. Larson said she went from making $48,000 a year working as a legislative assistant to $80,000 a year at Fish and Wildlife.
In that new role, Larson said she had to interact with Ranker because he chaired the Senate Natural Resources and Marine Waters Committee. Larson said she faced retaliation from Ranker for having made allegations against him. 
"At first, it's like he's blackballing me from his office, like not allowing me to see him," Larson said. "He's also yelling at me in the hallways." 
Asked by the Northwest News Network if he retaliated or created a hostile work environment, Ranker responded in an email: "Retaliate to what? I never harassed her. Period."
Former Fish and Wildlife director Phil Anderson said that he was aware at the time that Larson was having difficulties with Ranker. "I did know that and we talked about how to manage that."
Reached Tuesday, another former leg