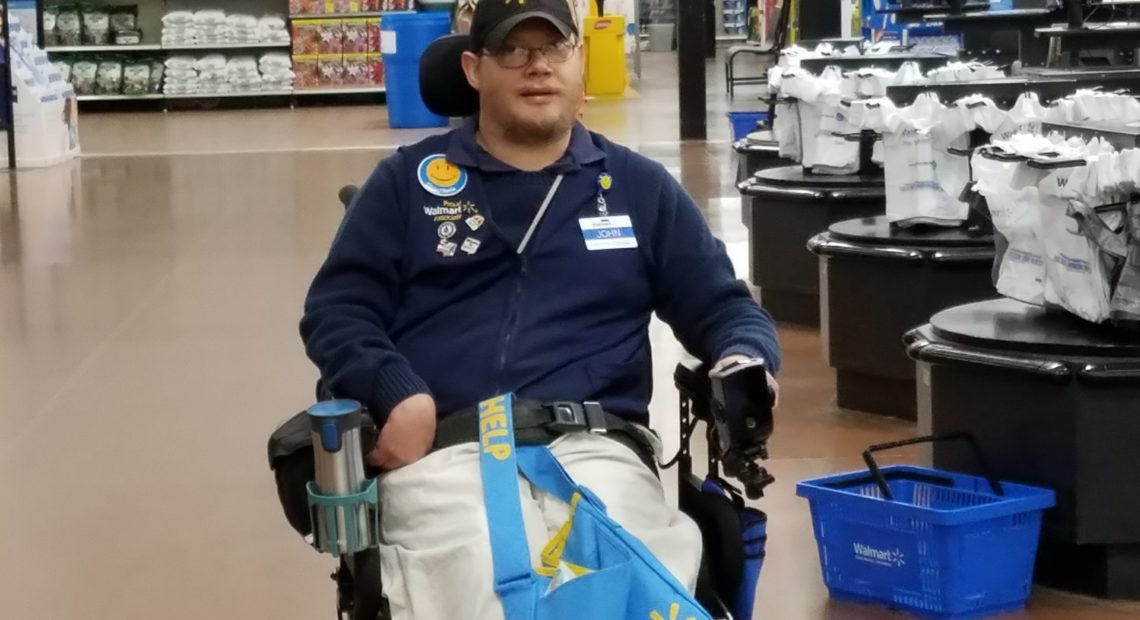 As Walmart Eliminates Greeters, Workers With Disabilities Feel Targeted And Worried
BY ALINA SELYUKH, NPR
If you ask John Combs what his biggest worry is, he'll say: "How will I feed Red?"
Red is actually white. He's a labradoodle rescue, just tall enough for Combs to pet if he reaches over the armrest of his wheelchair. Combs, 42, has cerebral palsy. He has difficulty speaking. But he has no difficulty saying the line most Americans have heard at least once: "Welcome to Walmart!"
Combs has one of Walmart's trademark front-door jobs: He's a "people greeter" at a store in Vancouver, Wash. But, he was told, come April 25 his job is going away. And he is not alone. According to Walmart, greeters are being removed at about 1,000 stores around the country.
NPR has found that Walmart is changing the job requirements for front-door greeters in a way that appears to disproportionately affect workers with disabilities. Greeters with disabilities in five states told NPR they expect to lose their jobs after April 25 or 26.
Walmart is the largest private employer in the U.S. and has a large workforce of workers with disabilities. And the job of greeter has been a particularly attractive fit, as it isn't physically strenuous and is easy to learn.
But Walmart has been eliminating greeters and replacing them with "customer hosts," who have expanded responsibilities, such as taking care of security or assisting shoppers. The change is going into effect at the end of April. It is the latest wave in a policy that Walmart started in 2016. It has already affected about 1,000 stores.
According to interviews with workers and documents reviewed by NPR, to qualify for these new host positions, workers must be able to lift 25 pounds, clean up spills, collect carts and stand for long periods of time, among other things — tasks that can be impossible for people with disabilities. Workers say they've been told they must be able to climb a ladder to qualify for some of the other jobs at the store.
"I don't want to lose this job. This is a real job I have," says Combs, as he lets out a deep sigh. Four days a week, he wakes up at 6 a.m. to make it to work by 10. In October, his family threw him a party to mark his two-year anniversary at Walmart — even his sick mother celebrated.
Including Combs, five Walmart greeters with disabilities who fear they will lose their jobs in April have now spoken to NPR, either directly or through a family member. They are in Florida, Pennsylvania, Washington, Alabama and Maryland. The workers also said the changes were affecting their co-workers who are elderly or have disabilities.
In response to NPR's inquiry, Walmart acknowledged the effect on workers with disabilities. Spokesman Kory Lundberg said on Monday that the company will now give greeters with disabilities more time beyond April 25 to find new accommodations:
"We recognize that our associates with physical disabilities face a unique situation. With that in mind, we will be extending the current 60-day greeter transition period for associates with disabilities while we explore the circumstances and potential accommodations, for each individual, that can be made within each store. This allows associates to continue their employment at the store as valued members of the team while we seek an acceptable, customized solution for all of those involved."
NPR has also learned of several complaints against Walmart with the Equal Employment Opportunity Commission, as well as a lawsuit — all by greeters with disabilities who previously lost their jobs after demands changed.
Walmart has reportedly filed a statement in two of the EEOC cases but had not provided a copy to NPR as of publication time. The company has not yet responded to the allegations in the lawsuit.
One EEOC claim was filed in October by two cousins in Michigan, both of whom use wheelchairs and say they lost their greeter jobs last year. Another has been filed in Wisco