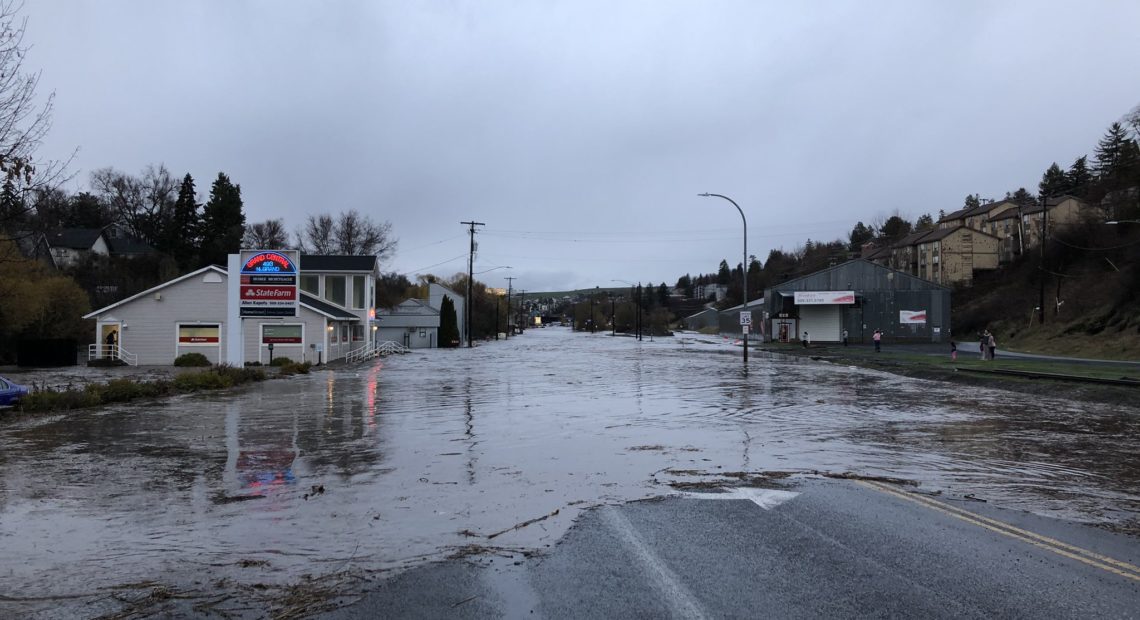 UPDATES: Flooding Closes Roads, Prompts Emergency Response In Moscow-Pullman Area
UPDATE, April 10, 2019, 10:45 AM:
The flash flooding that inundated parts of Pullman, Washington and Moscow, Idaho Tuesday night has largely receded. Grand Avenue in Pullman reopened as affected businesses began to assess damage.
YIKES! Look at what happened here! So many damaged cars and businesses. It's going to be a tough day for many in Pullman @kxly4news pic.twitter.com/wI9i8NHWre

— Caroline Flynn (@CarolineF_KXLY) April 10, 2019
The National Weather Service says a flood warning remains in effect Wednesday for Paradise Creek in Moscow and Pullman, and the Palouse River through Potlatch, Idaho and Palouse, Washington. Water levels remained near flood stage Wednesday morning but were expected to drop throughout the day to more seasonal levels.
ORIGINAL STORY, April 9, 2019:
Residents of the Palouse region of southeastern Washington and north-central Idaho experienced flood conditions Tuesday. The localized flooding from heavy rain was expected to persist into Wednesday.
Late Tuesday afternoon, Paradise Creek through Moscow, Idaho overflowed its banks, leaving low-lying areas in the city impassable. City officials said Tuesday night a sandbag-filling station had been set up in Rosauers parking lot at 411 South Main Street.
In Pullman, Washington, Grand Avenue at Stadium Way was closed as Missouri Flat Creek and the South Fork Palouse River surpassed flood stage.
Emergency responders remind people not to drive in, walk into or otherwise enter flooded areas.
The National Weather Service in Spokane said the river was expected to remain above the flood stage of 7 feet Tuesday night before receding Wednesday morning. At that stage, minor flooding would occur in low-lying roadways, residences and businesses near rivers and creeks.
Heavy rains on the Palouse are producing faster than expected rises on the South Fork of the Palouse River near Pullman. Here is the latest forecast showing minor flooding is expected shortly. The river will fall below flood stage before daybreak. #wawx pic.twitter.com/RS8bbJ3I3Q

— NWS Spokane (@NWSSpokane) April 10, 2019
The Moscow Pullman Daily News reported that the Palouse River between Palouse, Washington and Potlatch, Idaho was expected to rise Tuesday night into Wednesday:
At 15 feet, extensive flooding of the low-lying areas between Potlatch and Palouse will occur. Flooding will occur at the Lions Club Community Park and Hayton-Greene Park in Palouse at this stage. South River Road will likely be flooded where it crosses the Palouse River at Wellesley Road west of Potlatch. The Potlatch softball and baseball fields will also start to flood.
Emergency personnel in Pullman responded to people trapped in businesses along Grand Avenue.
.@PullmanFire rescuing man from building #wawx #pullman pic.twitter.com/p114n2bsCC

— Matt Haugen WSUNews (@MattWSUNews) April 10, 2019
The heavier rains from earlier today are beginning to taper off around the Pullman/Moscow area. This will allow the flood waters along the Missouri Flat Creek to slowly recede. A flood advisory continues until midnight for the smaller rivers/creeks in this area.  #wawx #idwx pic.twitter.com/IUTb8i3Sei

— NWS Spokane (@NWSSpokane) April 10, 2019
This is a developing story and will be updated as conditions require.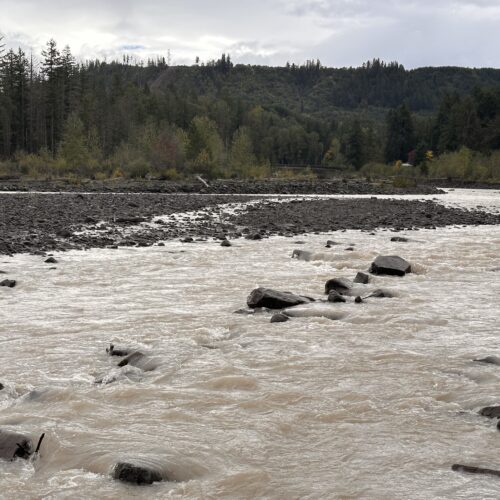 After about five years in the works, the Pierce County Council adopted a new Comprehensive Flood Hazard Management Plan that broadens the scope of what kinds of flooding the county will plan for – from coastal to urban flooding.
Angela Angove is the floodplain and watershed services manager with Pierce County Planning and Public Works. She said different types of flooding are top of mind for people in the county, recalling the King Tides that caused tidal flooding last December.
Continue Reading New flood management plan considers more flooding types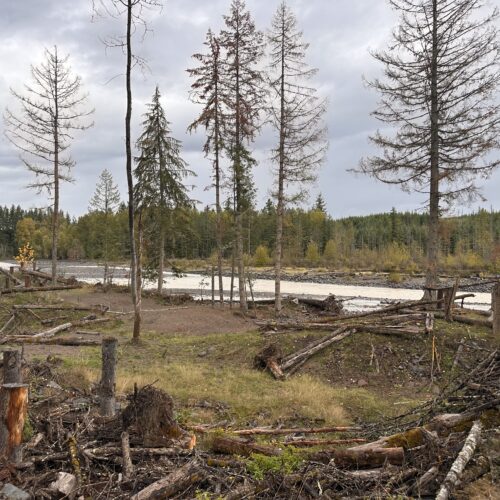 In the foothills of Mt. Rainier runs the Carbon, the Puyallup and the White Rivers, meandering through towns and cities, along roadways and near homes, the paint strokes of the natural environment now surrounded by a human-built ecosystem. Once tightly restricted by levees, these rivers are beginning to again flow closer to how they would have, not adhering to the confines and rules of where humans want water to go.
Continue Reading The immediate impact of levee setbacks in Pierce County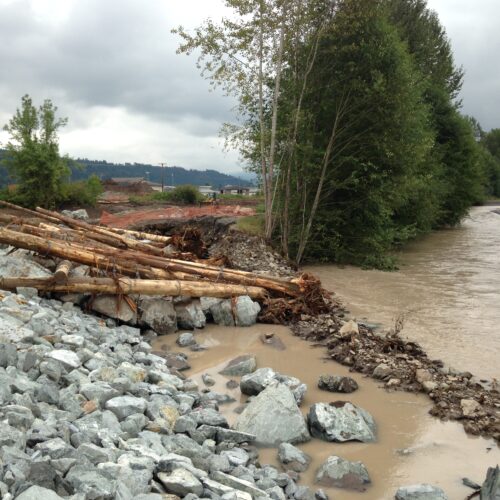 Washington Rep. Steve Tharinger of the 24th district became intimately acquainted with levee setbacks when he discovered the levee protecting his house on the lower Dungeness River was not only not protecting his house, but harming the ecosystem too.
"I sold my house and the five acres in a barn we had, so that we'd have more room to move that levee back and give the river more room," Tharinger said. Continue Reading Rethinking levees to reduce flood risk