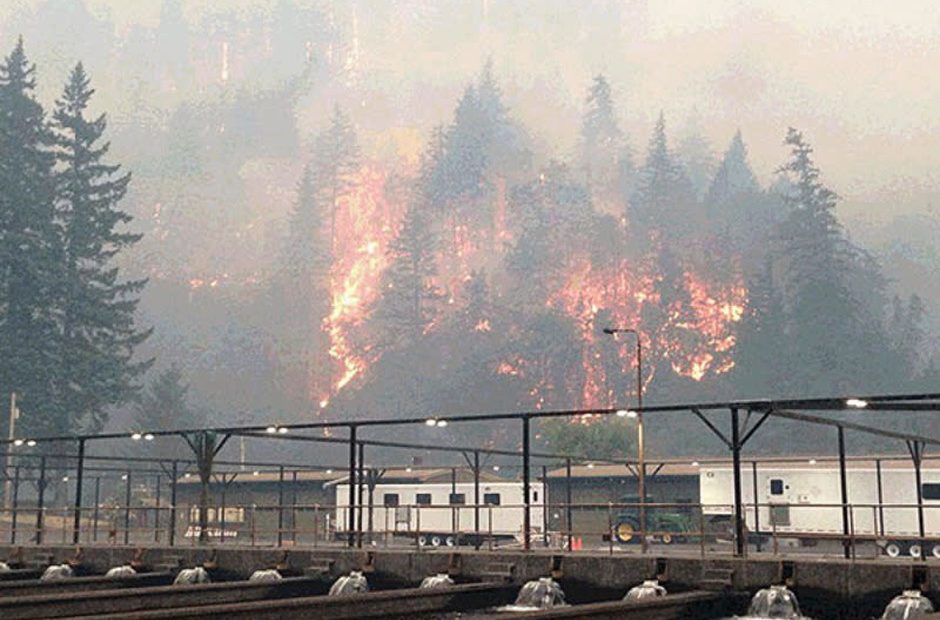 Poll: Northwest Residents Are More Concerned About Wildfires Than 4 Years Ago
More people in the Northwest are worried about wildfires than they were four years ago. A new poll has found people in Washington are now five times more likely to say they'll feel the effects of wildfires. In Oregon, people are three times more likely to worry about wildfires.
Wildfire officials predict this year might be another big fire season in the Northwest. Fires are already burning this year. In an unusual start to the season, March saw 51 fires in one week, all but one on Washington's west side.
Summers are hotter and drier. Wildfire season is lasting longer. That means the Northwest is in for more smoky skies, burning forests and rangelands. As the climate warms, scientists say those risks will only increase.
This survey was initially conducted in 2015, the year after the record-breaking Carlton Complex Fire burned through north-central Washington. That year, 5% of Washingtonians and 7% of Oregonians thought wildfire season was "extremely likely" to directly impact them.
Large wildfires have burned in both states each year since then. Three firefighters died the next year in the Twisp River Fire, which also burned through north-central Washington. In 2017, the Columbia River Gorge burned in the Eagle Creek Fire, and smoke choked Portland. Last year, a farmer trying to save his neighbor's property died in the Substation Fire near The Dalles.
After bigger wildfires most seasons, Northwesterners are now more concerned that they'll be directly impacted by wildfires, according to the PEMCO Insurance poll.
Now, 25% of Washington residents say they're "extremely likely" to face wildfire impacts. (That's a fivefold increase from four years ago.) In Oregon, 22% of people say they'll be directly impacted. (That's a threefold increase from four years ago.)
Derek Wing, PEMCO Insurance spokesman, said the increasing concerns surprised him.
"I didn't necessarily think that people would recognize the danger that seems to be growing," Wing said. "Recognizing that things are getting a little worse is good because it can help people prepare."
Wing said the Northwest insurance agency conducts monthly surveys,aiming to "get our finger on the pulse of things that people in Washington and Oregon are talking about."
The wildfire survey asked 635 respondents in Washington and 600 in Oregon about how wildfires have negatively impacted them — everything from worries about property damage to smoke-filled air to telling people to not come visit because of wildfire threats. People said they were most impacted by smoke, followed by missed recreational and vacation plans.
Twenty percent of respondents in Washington and 17% of respondents in Oregon said wildfires hadn't negatively impacted them. In Washington, 4% of respondents said they were "not at all likely" to be impacted by wildfires in the future; that number was 2% in Oregon.
The Northwest is now facing an "above normal" risk for wildfire west of the Cascade Crest through at least August. Moderate drought levels could mean an early start to fire season in the Cascade mountains and around north-central Washington's Okanogan County.
Wing said that's why it's important to fireproof your home by creating a what's known as a "defensible space." That includes keeping your grass mowed and watered, pruning trees within 30 feet of your home, and clearing wood debris around your property.
"I think that by being cautious and planning ahead, we can work together to reduce the risk and impact of wildfires," Wing said.