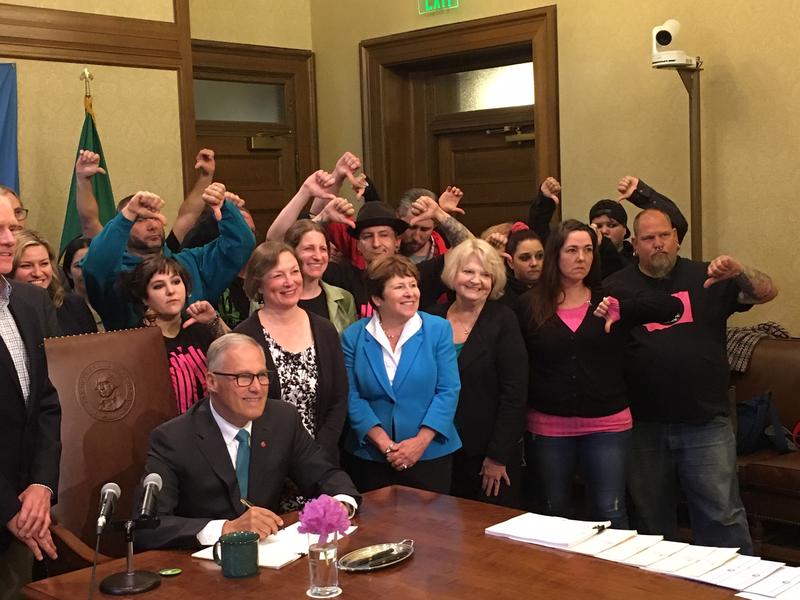 Jay Inslee Signs $52.4B State Budget As Republicans Decry 'Avalanche Of Unnecessary New Taxes'
Washington Gov. Jay Inslee on Tuesday signed into law a $52.4 billion, two-year state budget that he said "rises to the needs of our time," but that minority Republicans quickly criticized as a "tax-and-spend home run." 
To help fund the budget, Inslee also put his signature to a tax package worth at least $830 million over the next two years. It will raise taxes on big banks and other businesses, as well as end point-of-sale tax-free shopping in Washington for Oregon residents.
The tax and spending bills were among dozens of pieces of legislation Inslee signed Tuesday during a final round of bill signing ceremonies at the Capitol following the 2019 legislative session. 
In addition to the operating budget, Inslee also signed into law a $5 billion capital construction budget and a nearly $10 billion transportation budget. State spending priorities for the next two years include public schools, special education, mental health, homelessness and orca recovery. 
For Inslee, it was was the first time since he became governor in 2013 that he signed a biennial state operating budget that wasn't the product of a hard-fought compromise between Democrats and Republicans.
Instead, this year Democrats regained solid control of both the House and Senate and passed the state budget without Republican support. In doing so, Democrats embraced higher taxes despite a robust economy that's expected to generate an additional $4.5 billion in revenues over the next two years. 
"Washington's economy is strong, the strongest in the nation," Inslee said before signing the budget. "That brings both opportunities and challenges when it comes to education, housing, childcare and more. This is a budget that puts people first." 
Republicans took a dim view of the budget and tax plan — the first written and passed following the McCleary school funding case which sprawled over more than a decade and required lawmakers to put billions more into public schools while the Washington Supreme Court looked over their shoulders.
In a statement, state Sen. John Braun, the ranking Republican on the Ways and Means Committee, decried the 2019-21 budget as "an avalanche of unnecessary new taxes and a record state operating budget to spend them."
Braun and other lawmakers had called on Inslee to veto the higher business and occupation tax on big banks, calling its last-minute passage at the end of the legislative session "flawed." They also questioned the constitutionality of the tax on the grounds it treats in-state and out-of-state banks differently.
Separately, more than 30 mostly Republican lawmakers signed a letter to Inslee requesting he veto the conversion of the non-resident sales tax exemption to a remittance program to protect businesses on the Washington-Oregon border.
Currently, shoppers from non-sales tax states like Oregon can show their driver's license to a Washington business and not pay sales tax. Under the new program, shoppers will have to save their receipts and request a once-a-year tax refund.
"With the change to a remittance program, we are concerned that non-resident shoppers will switch to shopping in Oregon — jeopardizing retailers' ability to keep their doors open for Washington residents," the letter said. 
In the end, Inslee signed both tax changes into law.  
Inslee on Tuesday also signed into law a new tax on vaping products to fund cancer research and public health programs. He did so over the objection of vape shop owners who chanted outside the bill signing and urged a veto. They argued the new tax will harm their businesses while benefiting major tobacco companies.
Another measure signed by Inslee will create the Washington College Grant program to allow the children of families making $50,000 or less to attend Washington public colleges and universities for free. That program will be funded by a tax increase on advanced computing companies and other businesses that rely on workers with post-secondary degrees.
Other tax-related legislation signed Tuesday included:
An increase in the current cap on local school levies that was put in place in 2017 as part of the McCleary school funding effort
A new graduated real estate excise tax to replace the state's current flat tax
A revised hazardous substance tax on petroleum and other products to fund toxic clean up projects
Despite praising the Democratic-led Legislature for "commendable progress on an amazing number of issues from climate to education," Inslee had tough words for lawmakers for failing to dedicate more money to culvert repairs to aid salmon passage and recovery. In 2018, the U.S. Supreme Court left in place a lower court  ruling that requires the state to fund culvert upgrades estimated to cost $3.8 billion.
Calling the lack of funding from lawmakers "unacceptable," Inslee on Tuesday said he was using "budget flexibility" to increase culvert repair spending from $100 million to $275 million over the next two years. 
"But this is just a one-time down payment on the multi-billion tab  legislators left unpaid," Inslee said. "Let me be crystal clear: this does not solve the problem, this does not get the Legislature off the hook in the next year, we need to get this fixed next year."
Inslee on Tuesday also signed legislation designed to protect healthcare consumers from "surprise billing" when they are seen by an out-of-network doctor at an in-network hospital, or when they receive emergency treatment at an out-of-network emergency room.
Copyright 2019 Northwest News Network