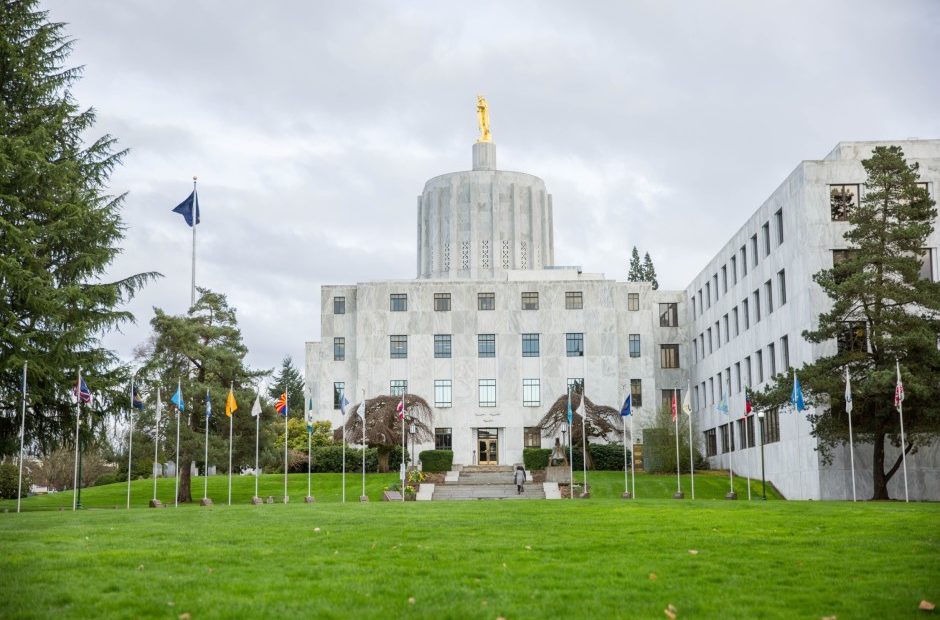 Oregon Senate Republicans Stage Walkout For 2nd Time This Year To Stop Vote On Climate Bill
 For the second time this legislative session, Oregon Senate Republicans prepared Thursday to stage a walkout, denying Democrats the ability to pass legislation. It's the latest step in a standoff over sweeping climate change legislation.
Three Republican state senators confirmed Thursday morning that many of their colleagues would be absent from the Capitol when a Senate floor session begins at 11 a.m. At the same time, Republicans appear to be willing to supply at least two members to reach a quorum in the Senate, in case a deal is struck.
"I can safely say that a significant portion of the Republicans will not be in the building today," said Sen. Cliff Bentz, R-Ontario, who said he was in a position to be in the Capitol if needed. "That I can assure you is the case."
Senate Minority Leader Herman Baertschiger Jr., R-Grants Pass, told OPB he planned to work remotely for a while and see what happened.
"I hope we can come to an agreement to postpone this vote," Baertschiger said, declining to specify where his fellow members were.  "I think that we need to be in a position, if we come to some terms, that we can give them a quorum."
At issue is House Bill 2020, which would implement a wide ranging cap-and-trade system in the state that Republicans say would disproportionately impact their rural districts, raising prices and sending jobs across state lines. The bill passed the House earlier this week, and is scheduled for a final Senate vote Thursday.
The planned walkout follows another, staged in May over a business tax that wound up being signed into law. After staying away from the Capitol for four days, Republicans struck a deal that resulted in high-profile bills on vaccines and gun control being killed. Republicans also say they were given assurances they'd have meaningful impact on HB 2020 moving forward. In exchange, they agreed not to walk out for the rest of session.
Bentz said Thursday that Democrats had not held up their end of the bargain, and that his ideas for amending the cap-and-trade bill had been stonewalled.
The senator, Republicans' central policy expert on the legislation, spent much of Wednesday in closed-door talks with the governor's office. Bentz said he'd been asked to prepare a second, "companion" bill to HB 2020. It would be passed prior to the climate bill, and would institute some changes to the policy he thought were necessary.
"I have to hand it to the governor's staff," Bentz said. "They worked tremendously hard with me, from 10 in the morning to 8 at night … trying to put together something that would satisfy the more liberal parts of the Democratic caucus."
Bentz says his proposals surrounded how to spend the hundreds of millions of dollars HB 2020 would raise by charging polluters for each ton of greenhouse gas they emit. Currently, the bill has equity provisions that ensure some of the money would go to communities that might be disproportionately impacted by climate change.
Bentz says he supports relief for low-income households, but that one of his proposals involved getting "money out of social justice programs and instead direct it to transition. That means helping freight in particular."
He also proposed a better deal for manufacturers, who he says should not be charged for carbon emissions if they are using the most clean technology available to them.
It's unclear how Democrats will respond to Republican's absence. Gov. Kate Brown and Senate President Peter Courtney, D-Salem, have said in recent days they would not hesitate to send the Oregon State Police after lawmakers who refused to show up.
"I do not believe the state police will be able to find any of our members," said Sen. Tim Knopp, R-Bend. "So, instead of the Democrats putting efforts into finding bipartisan solutions, their answer is to waste state police resources to try and track down legislators and arrest them. It sounds more like a dictatorship than a democracy." 
Knopp said the state senators will not be together and scattered across different states. He said he will be traveling through at least three different states. 
Earlier this week, the governor announced she was preparing for a special legislative session the first week of July. Lawmakers were scheduled to adjourn at the end of this month. 
Knopp said Republicans would return to the state Capitol for a special session to address budgets. 
"We stand ready and willing to pass any of the additional budgets and stand ready to pass the bills that relate to workplace harassment in the capitol but beyond that, I believe we're not open to any other policies," Knopp said. 
OPB political reporter Lauren Dake contributed to this story. 
Copyright 2019 Oregon Public Broadcasting