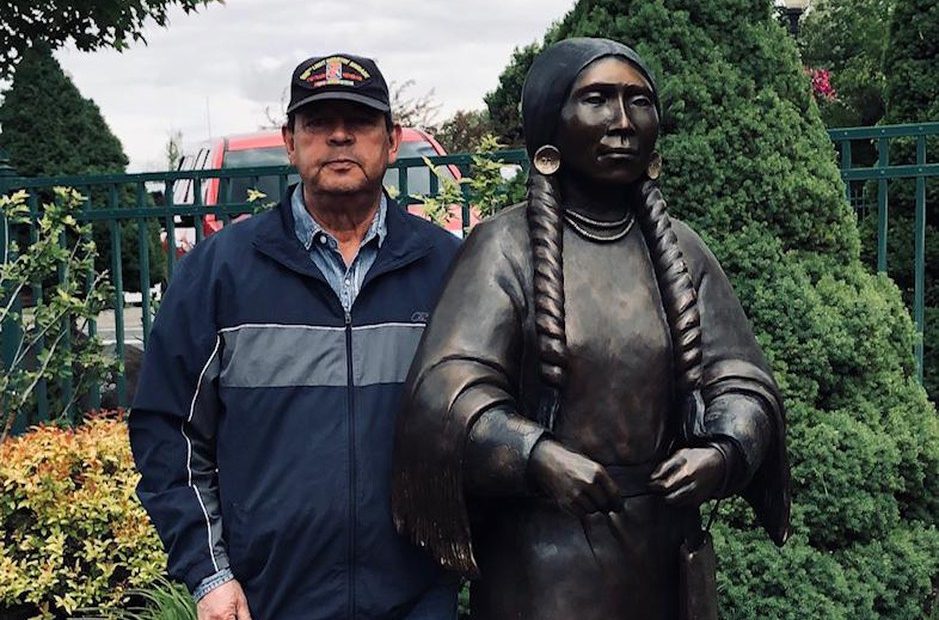 In Eastern Oregon, Joseph Gets New Statue From Artist Drawing On Several Tribal Traditions
This Saturday, artist Doug Hyde will finish installing the latest bronze statue on Main Street in the Eastern Oregon city of Joseph. The road has become a showcase for the bronze foundries dotting Wallowa County. But while many of those statues feature Native American subjects, Hyde is the first Native artist to contribute. Hyde draws on Nez Perce, Assiniboine and Chippewa traditions for his work.
"It's an honor, first of all," Hyde told Oregon Public Broadcasting's "Think Out Loud" program, "I think the town having all these sculptures is beautiful."
The work was commissioned by the Josephy Center for Arts and Culture and funded by grant money from the Oregon Community Foundation. Jurors from three reservations — Colville in Washington, Nez Perce in Idaho, and Confederated Tribes of the Umatilla in Oregon — settled on Hyde's design.
The sculpture, entitled "etweyé·wise" (literally, "I return from a hard journey"), has both abstract and realistic elements. Hyde created a 100-inch red granite form with a cutout silhouette of a woman, representing the Nez Perce's forced removal from their home valley. A bronze figure of that same woman represents those who remained and returned.
Hyde was born in Hermiston and grew up in Lapwai, Idaho. He attended art school in Santa Fe, New Mexico, and remains in the Southwest, living in Prescott, Arizona.
"The fact a Native gets to do a piece here," Hyde said, "maybe it's the beginning of other things that can happen — maybe more things written in the Nez Perce language that people will gradually learn — simple things like a greeting" or signage indicating both English and Nez Perce place names. 
"Bringing back a little Nez Perce culture to the valley is wonderful," Hyde added.
The Josephy Center will host a celebration of the work at 2 p.m. on Saturday. Tribal members are specifically invited, but the center said all are welcome.
Copyright 2019 Oregon Public Broadcasting. To see more, visit opb.org