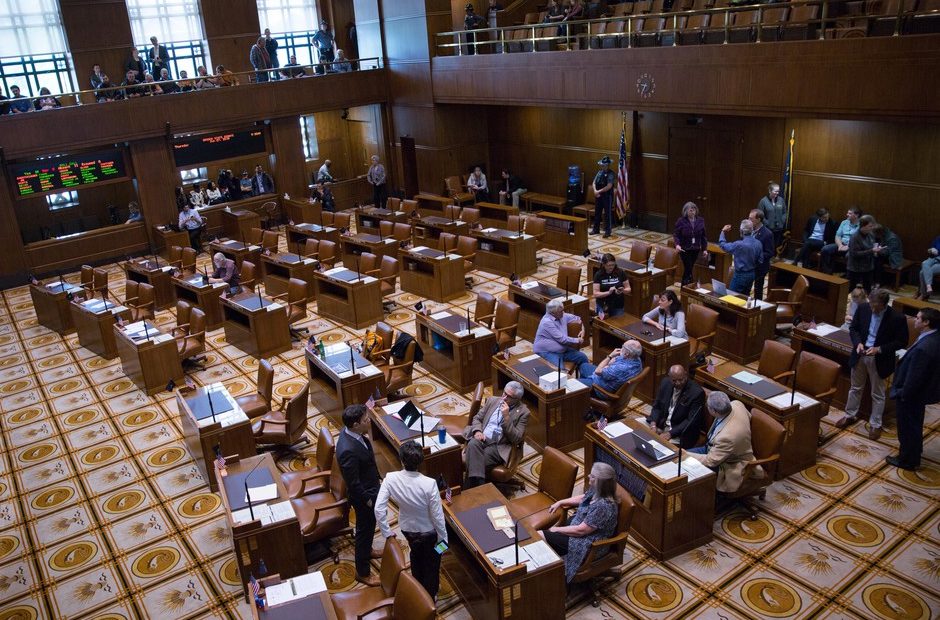 Assured Carbon Bill Is Dead, Oregon GOP Senators Return To Work To Finish Session
Oregon Senate Republicans will return to work Saturday following a nine-day walkout, setting the stage for a weekend where lawmakers sprint toward adjournment.
As expected, Senate Minority Leader Herman Baertschiger Jr., R-Grants Pass, announced in a press conference Friday morning his members would be in the building at 9 a.m. Saturday. That comes after Democratic leaders offered assurances a sweeping climate change bill, House Bill 2020, will not pass this session.
"The Senate president says it will be dead, the governor says it will be dead, and members of the Democratic caucus will be voting 'no,'" said Baertschiger, in his first public appearance since Republicans walked out last week.
Baertschiger had strongly suggested in an interview OPB earlier Friday his members were prepared to get back to work.
With Republicans' presence seemingly assured, the question becomes how quickly lawmakers in both chambers can pass more than 100 remaining bills before they are forced to adjourn Sunday at midnight. Baertschiger said Friday that his party would decline to grant a blanket rules suspension that would allow all legislation to be fast-tracked.
Though he repeatedly professed to believe Democrat promises the bill was dead, Baertschiger said Republicans worried such a suspension could lead HB 2020 to be brought forward at the last minute. He said his party would grant suspension for a portion of bills.
Baertschiger also signaled his party wants the Senate to take up budget bills first. That's not likely to be warmly received by Democrats, who have insisted that remaining policy bills be passed before the Legislature takes up bills to complete a state budget. They say giving up those bills would amount to another concession, in a year when Democrats have already scuttled bills on climate change, guns and vaccines in the face of Republican walkouts.
"Most of those [bills] are good," Baertschiger said of remaining policy proposals. "There are a handful of bills that we are having a conversation about, but I think that … those need an up-and-down vote."
He declined to specify what legislation he was talking about, but Republicans have opposed proposals to allow driver's licenses to undocumented immigrants, and to speed up a possible election to decide the fate of a new business tax, among other things.
Baertschiger said he'd be against walking off the job over remaining bills, but that his caucus would need to discuss the matter. And he put any potential delays that would leave vital work unfinished at the feet of Democrats. 
"If we have a special session, it is because leadership chose to have a special session," he said. 
Republican senators walked off the job June 20, in order to block a vote on HB 2020, a proposal to cap the state's greenhouse gas emissions and charge companies for their pollution. That bill was declared dead earlier this week, but behind-the-scenes dickering has continued between leaders of both parties.
One concern Republicans raised: HB 2020 is scheduled for a vote, and will need senators to take some action in order to get it off the Senate calendar. That's led Republicans to worry Democrats could pull last-minute trickery. Top Democrats have said that's preposterous.
"I'm really glad that we're going to be able to go back to doing the people's work, and get the remaining 140-i