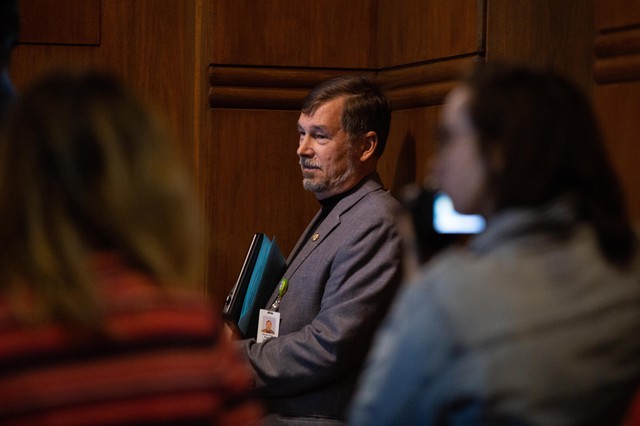 Oregon Senator Who Made Threatening Comments During Republican Walkout Is Disciplined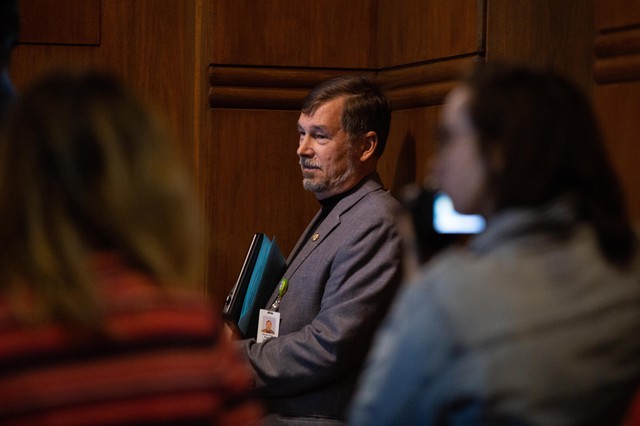 An Oregon senator who made threatening comments about state police and another lawmaker must give 12 hours' written notice before entering the Capitol in the near future, a Senate committee decided Monday.
In a hearing on recent comments by Sen. Brian Boquist, R-Dallas, the Senate Special Committee on Conduct also ruled that police presence should be stepped up when Boquist is in the building while a private attorney hired by the state completes an investigation into Boquist's behavior. 
Less than three weeks ago, a day before Senate Republicans began a nine-day boycott, Boquist told Senate President Peter Courtney on the floor of the Senate that "hell is coming to visit you personally" if state troopers were sent after him. Later, Boquist told a TV reporter that Oregon State Police should "send bachelors and come heavily armed" if they tried to apprehend him.
Boquist has declined to retract his statements, though he did apologize to Courtney immediately after the comment on the Senate floor. The senator has also begun something of a counter-offensive, filing a civil lawsuit against Courtney on July 5, and complaints against the Senate with undisclosed "appropriate federal civil authorities."
Monday's hearing lasted nearly three hours, and was crammed with observers sympathetic to Boquist, many holding small American flags. It largely featured testimony from Brenda Baumgart, a private attorney retained in March to help the Legislature investigate harassment complaints.
In a June 25 memo, Baumgart made an interim finding that Boquist's comments violated the Legislature's rules against workplace harassment, and she recommended that he be kept away from the Capitol while the investigation continued. She also wrote that she'd received reports that people in the building were frightened, something echoed on Monday.
"There are people here who have real fear," said Sen. James Manning Jr., D-Eugene, a conduct committee member. "They have fear of physical and emotional and mental issues with this."
Peppered with questions from lawmakers — many of them from the committee's two Republicans — Baumgart made clear that her investigation is in its early stages. She described receiving reports of concern over Boquist's comments from legislators, legislative staffers and people appointed to receive employee concerns. She did not identify any of those people by name.
Baumgart and Sen. Floyd Prozanski, D-Eugene, also made clear that a formal complaint under the Legislature's rule against workplace harassment has not yet been identified. Prozanski told OPB on June 29 that a complaint had been filed in the matter, but he indicated Monday he was new to employment law and was unfamiliar at the time with the distinction between complaints and reported concerns.
"I believe that has caused some people some confusion," Prozanski said.
While Baumgart said she continued to receive reports, she said her interim recommendations that Boquist be kept out of the Capitol while her investigation plays out would remain the same even if no one had voiced concern.
"If these comments were made by a CEO, undeniably that CEO would be put out on leave pending investigation," Baumgart said, adding that inaction could put the Legislature at risk of being sued. "The worst position for the branch … is to do nothing. There is risk for negligent retention, wrongful death — all sorts of claims." 

But Republicans, who make up half the four-person conduct committee, sounded skeptical. Sen. Alan Olsen, R-Canby, asked pointed questions about how the committee could act if it didn't have a completed investigation:
"It concerns me that this action is moving forward with respect to Sen. Boquist's statements when you can't tell us who has brought forth a complaint and who has told you they have concerns," Olsen said. "That bothers me."
He also suggested Baumgart's findings that Boquist's threats of violence were "credible" were mere opinion, and that Boquist's comments to Courtney on the floor could not be acted upon under a provision in the state's Constitution. That section says that lawmakers can't be questioned in "any other place" for "words uttered in debate in either house."
"Yes, the statements were probably not appropriate, but other people have made statements that were similar, if not more egregious, than those," said Olsen, who did not offer examples.
Baumgart said that Boquist's statement to Courtney could also make employees who sit near him feel unsafe, alongside staff who enter the chambers, and other senators.
"The reports that I've received, which I found to be credible, are: 'If he's willing to threaten the president of the Senate, if he's willing to threaten the Oregon State Police, what will stop him from harming me?" Baumgart said, prompting groans from  some audience members.
For his part, Boquist briefly read a statement to the committee and then left without taking questions.
He thanked Oregon state police and legislative staffers. And he announced that he, his wife and staff had initiated "formal complaints" against the state Senate with federal civil authorities. Boquist declined to provide details when OPB asked.
He also revealed he had filed the lawsuit against Courtney, which asks a judge to compel state officials to release records he has requested in connection with the complaint.
"All inquiries and questions regarding this political or employment matter will be submitted through your court-recognized lawyer from this point forward," Boquist said. "We are now formally in a court of law …. Thank you, gentlemen. Have a good day."
After a recess, the committee considered four options for how to proceed. Manning suggested that the committee agree that Boquist's threats were credible and ask Boquist to stay away from the Capitol. That failed on a 3-1 vote.
Then Olsen suggested that Boquist merely be advised that he couldn't retaliate against anyone who raised concerns. That failed in a 2-2 party line vote.
Prozanski said he believed that the committee should find Boquist's threats were credible, but that circumstances had changed and there was no longer a threat in the workplace. That also failed on a party-line vote.
Finally, the senators compromised. While they did not agree to find Boquist's threats credible — which was clearly unpalatable to Republicans — they did agree to require the senator to give 12 hours' notice with the secretary of the Senate before coming to the Capitol.
If he does so, the building will have a stepped up police presence. Boquist will also be cautioned against retaliating against people. The Senate is not expected to meet again until September, at earliest. 
"This is much better than not doing anything," Baumgart told the senators when asked if the action would be sufficient.
Prozanski said after the hearing that the committee's action did not have to be voted on by the full Senate, and that it was now in effect. Asked what would happen if Boquist violated the interim finding, Prozanski said, "We'll have to find out."
Depending on whether Baumgart fields a formal complaint against Boquist in the course of her investigation, the conduct committee could meet again to take up the matter further — potentially recommending that the senator be reprimanded, censured or expelled.
While the identities of people who reported feeling unsafe from Boquist's conduct remain unclear, top lawmakers have strongly rebuked his comments in recent weeks.
"He makes people feel unsafe," House Speaker Tina Kotek, D-Portland, told reporters June 30. "He needs to examine his behavior and what he says. If he's able to do that and change how he interacts with people then, then I think he has the right to stay."
Asked the same day whether he'd felt unsafe by Boquist's remarks, Courtney said he didn't initially hear them clearly on the Senate floor.
"I saw it on tape and I went, 'Whoa!'" Courtney said. "But did I feel threatened? You mean was I going to get shot? It crossed my mind, because I hadn't talked to him in a long long time, and he had done a lot of things."
He continued: "I was uneasy. A lot of things happened this session [that] made me uneasy."