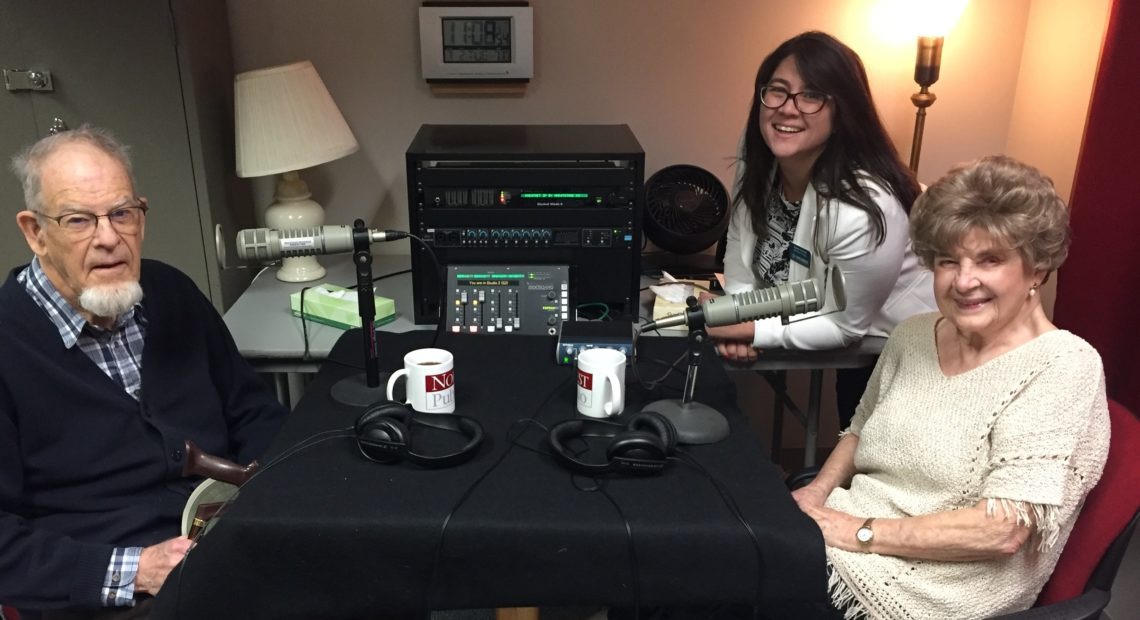 NWPB'S Matteson Digital Music Library Named To Honor Members' Generosity
Don and Marianna Matteson visited the NWPB studios to dedicate the Don and Marianna Matteson Digital Music Library on July 2. You may have heard it announced on air, or perhaps you caught the Mattesons themselves being interviewed by Anjuli Dodhia that day. It was a momentous occasion for NWPB.
The library naming honors and recognizes the Mattesons for their donations that established NWPB's first endowed fund for music programming. Their $100,000 gift started the fund, and already 30 more listeners have added their donations to it.
Bruce Pinkleton, Dean of the Edward R. Murrow College of Communication at WSU, led the dedication. He noted the Mattesons' generosity—they have established funds and contributed to programs across the university that support students and faculty, as well as long-time support of public radio—and invited Marianna to unveil a plaque commemorating the Don and Marianna Digital Music Library.
Bruce said, "What Marianna opted to do is a first for NWPB: they created an endowed fund for classical music at the station." He added, "The ongoing nature of the Don and Marianna Matteson Music Fund provides for the ongoing need for music in our lives."
The Mattesons also stepped into the studios and got behind the microphone to talk about their connection to classical music and their thoughts about philanthropy.
Don said, "When I got here in 1958, KWSC [which grew into NWPB years later] was our link to civilization. . . there we are in the boondocks of the west—being a Montana native, that was fine –but it's also good to have connection with civilization: good music, objective news reporting and all of that. I always listen to the radio station when I got the chance."
And why did they opt to include NWPB in their more generous philanthropy? Marianna summed it up as, "I want to give back. Now that I'm in a position to show my appreciation, I want to."
The Mattesons are role models, and they are providing a gift of music to us all today—and tomorrow.