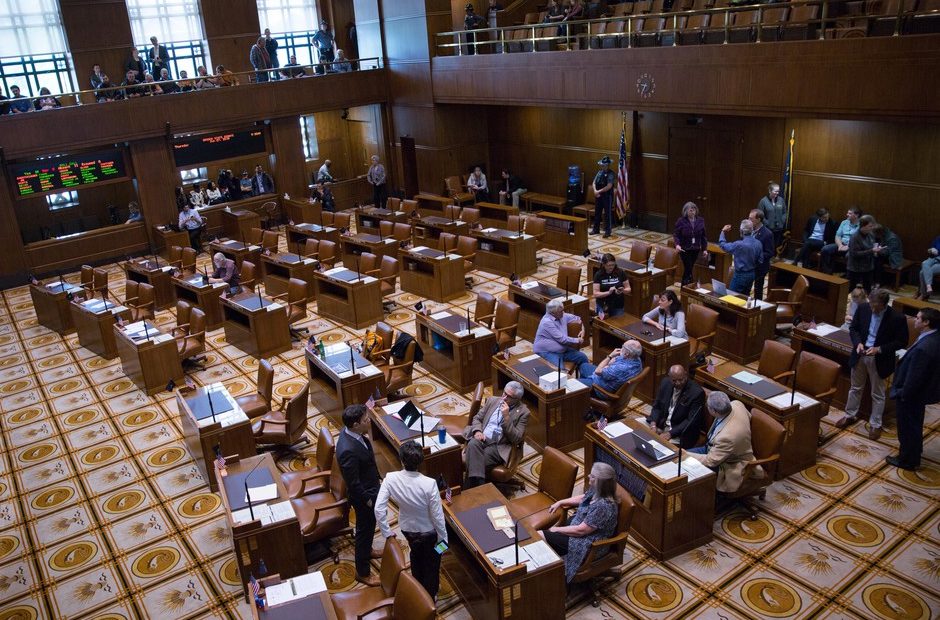 Oregon Democrats Say Republican State Senators Won't Be Fined For Legislative Walkout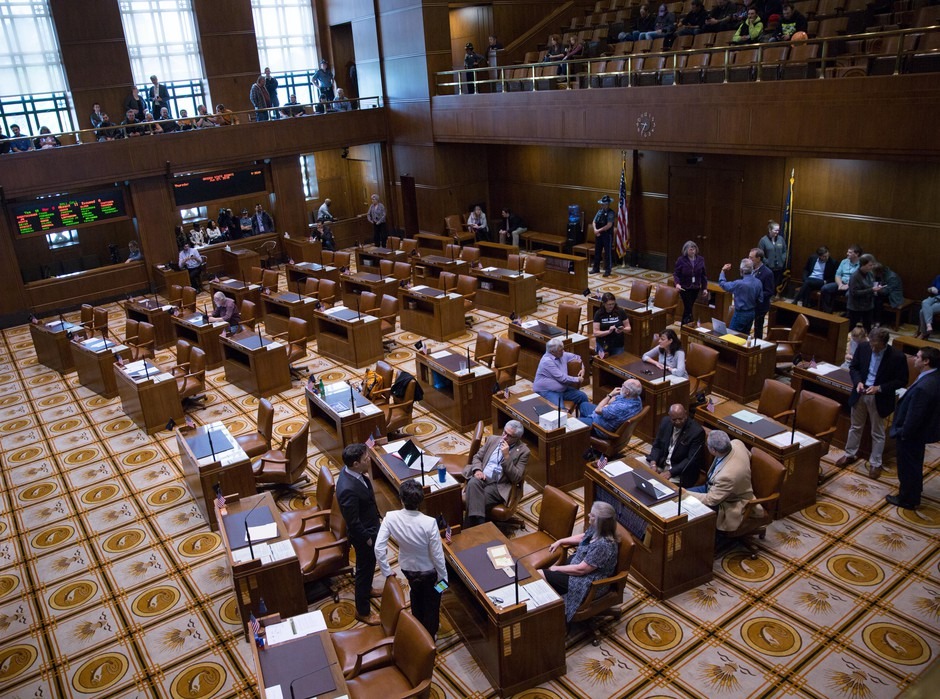 When Oregon Republican state senators walked away from the job for the second time in late June, Democratic leaders were adamant: They would pay for it.
But punishment, if it comes at all, will not be financial.
Senate Democrats announced Friday that they were abandoning a plan to fine Republicans $500 a day for the walkout, amid concerns over a protracted lawsuit and questions about how such unprecedented fines would work.
"The decision not to issue the invoices was a difficult one, given the seriousness of the walkout," Senate Democrats said in a statement. "But imposing the fines would have been bogged down by lengthy litigation and hundreds of thousands of dollars in taxpayer-funded legal fees."
Rather than moving forward with the promised $3,500 fines facing each of the Republican senators, Democrats vowed instead to push through a change to the state's quorum rules. Those rules allowed Republicans to halt the action in the Senate twice this year.
Under the proposed change, which would need to be approved by voters, a simple majority of 16 (out of 30) senators would be sufficient for the chamber to conduct business. That would bring Oregon in line with the majority of states.
Currently, two-thirds of lawmakers must be present, which gave the 12-member Republican caucus leverage.
"Stopping the work of the people by denying a quorum is unconscionable and undemocratic," Senate Majority Leader Ginny Burdick, D-Portland, said in a statement. "Senate Democrats will work to protect Oregon's democracy by giving Oregonians and their representatives more tools to stop any future quorum denials."
The announcement marked a striking turnaround for Democrats, who had been adamant since the June 20 beginning of the walkout that Republicans would face consequences.
"I don't know what to call it," Burdick told reporters on June 25. "I want to call it terrorism, because they are not doing their job and it has fractured the entire institution."
But the fate of the promised fines quickly became murky once the legislative session ended on June 30.
Burdick first said that Republicans' pay would be docked, but lawmakers eventually came to the conclusion that wasn't legally possible. In July, the office of Senate President Peter Courtney, D-Salem, instead announced that Republicans would be sent invoices for the money.
"Individual bills will be sent to each senator who missed work," said Carol McAlice Currie, Courtney's spokeswoman at the time. "If they refuse to pay, they will be sent through the regular debt collection process."
But as the weeks passed, Courtney's office ceased answering questions about the process, instead referring inquiries to the Legislature's Financial Services department. That department this week directed inquiries to the Senate Majority Office, and would not comment on the status of the invoices.
In response to threats of fines, Senate Minority Leader Herman Baertschiger Jr., R-Grants Pass, signaled Republicans would weigh their legal options.
In the meantime, Sen. Brian Boquist, R-Dallas, proactively paid his fine, as part of a legal tactic in an ongoing lawsuit against Democrats. It's unclear what will become of that money. Boquist could not immediately be reached for comment Friday.
Burdick told OPB on Friday that Democrats believed they had a strong case for moving forward with fines. 
"We felt that we were on very strong ground, because the Constitution specifically empowers us to compel attendance," she said. "However that process was untested, and any time you go to court there are always risks."
Meanwhile, Baertschiger had a different take. 
"If you don't have confidence in your position what do you do?" he said. "You fold."
Asked whether he'd support a proposal to change Oregon's quorum rules, Baertschiger said he would not. 
"I still believe that the denial of a quorum was put in our Constitution for a reason," he said. "I don't think it should be used recklessly, though. That's for damn sure." 
GOP senators walked out twice during the 2019 session, using what is in effect a legislative nuclear option with unprecedented frequency. The tactic has been used by both parties in the last two decades.
Republicans first began a boycott in May, as a way to block a new tax on Oregon businesses. While the tax ultimately passed, the walkout resulted in a deal in which Republicans agreed not to walk out again, if Democrats killed controversial bills on gun control and vaccines.
The deal didn't hold up. On June 20, Republicans walked a second time, in order to block a vote on a bill to address climate change by charging polluters for greenhouse gas emissions. The bill wound up dying.
In response to the walkouts, Democrats now plan to ask voters to ensure a similar dynamic never occurs again. Burdick will float a ballot referral in next year's legislative session that, if passed, would place on the November 2020 ballot a measure changing Oregon's quorum rules.
"The 2019 Legislative Session is over," Burdick said in the statement. "It's time for us to focus on Oregon's priorities for 2020 and beyond, and to ensure that we are able to deliver the results that Oregonians are counting on us to produce."