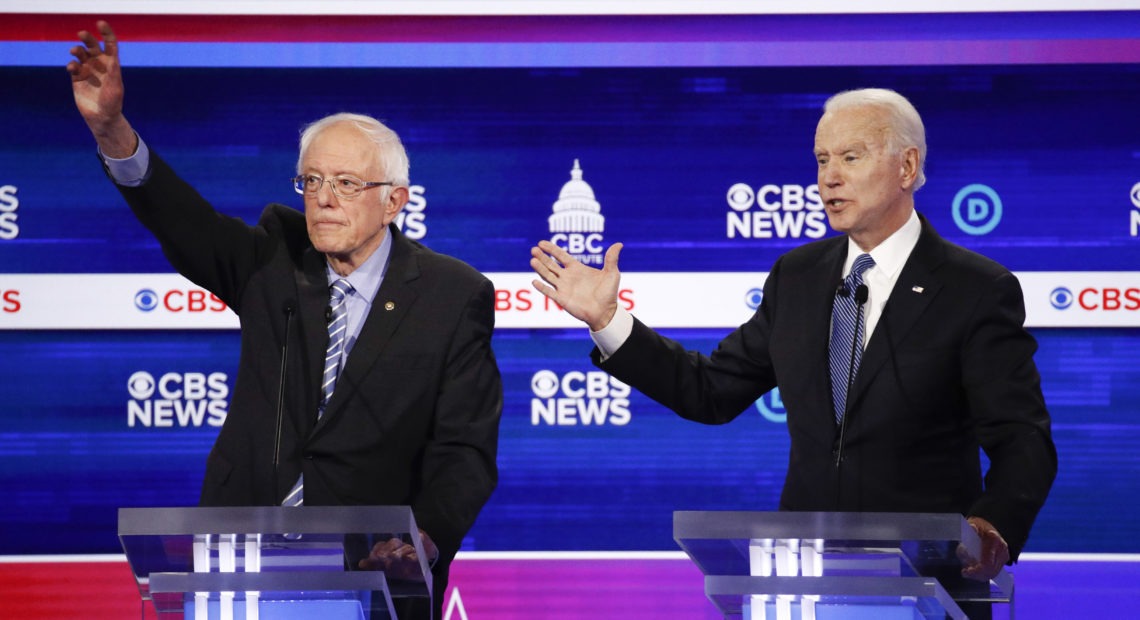 On 'Big Tuesday,' Washington And Idaho Results Don't Move Needle Much For Democrats
After a night of big wins in Michigan, Missouri and Mississippi for former Vice President Joe Biden, the Democratic presidential primaries in Washington and Idaho did little to clarify the race between the race's two remaining front-runners.
Vermont Sen. Bernie Sanders and Biden were virtually tied in Washington after the first round of counting votes Tuesday night. Sanders received 32.7% of the vote, and Biden has 32.5%.
In Idaho, Biden had a stronger finish and pulled ahead in later returns Tuesday night. The Associated Press projected Biden would win Idaho, and results Wednesday morning showed him leading Sanders with 48.8% of the vote to Sanders' 42.5%. That result would give Biden 11 Idaho delegates and Sanders would get nine.
Washington, an all-vote-by-mail state, will continue counting over the coming days, and results may change. Votes must be counted and certified by March 27. About 1.5 million votes were counted Tuesday. Nearly 300,000 remain uncounted.
In Idaho, election results began coming in at 7 p.m. PT, when polls closed in the eastern part of the state. Statewide results were slow to come, and are being delivered by each county.
Second-Biggest Haul
When results are complete for the March 10 "Big Tuesday" contests, Washington will deliver the second-biggest haul of delegates of the state voting March 10, with 89 Democratic delegates. Idaho has 20. Of the six states voting, Michigan is the biggest take, with 125 delegates.
Sanders' showing in Washington is similar to how he performed in 2016, when he narrowly lost the primary to Hillary Clinton. But that primary didn't count because at the time the Democratic Party used a precinct caucus system in the state to divvy up delegates.
Switching to a primary system for 2020 may have hurt Sanders. He handily won Washington's party-run caucuses in March 2016 with 73% of the vote. Two months later, Clinton took 53% of the vote in the state-run primary that wasn't used to allocate delegates.
Four years ago, Sanders visited Spokane twice – first drawing an overflow, weekend crowd at the Spokane Convention Center. Three days later, he spoke to a smaller crowd at the largely empty Spokane Veterans Memorial Arena. Clinton did not visit the city, but her husband, former President Bill Clinton, campaigned for her at Spokane Falls Community College.
This year's Washington primary win by Trump reprises 2016, when he tromped the competition by winning more than three-quarters of the vote. His closest competitor that year was Texas Sen. Ted Cruz, who received 10% of the vote.
Washington And Idaho Voters
In Washington this year, the state's 4.5 million registered voters had just one Republican to consider: Trump.
For Democrats, voters had 13 candidates to choose from, but most had dropped their bids for the nomination before Tuesday. Besides Biden and Sanders, only U.S. Rep. Tulsi Gabbard of Hawaii remains in