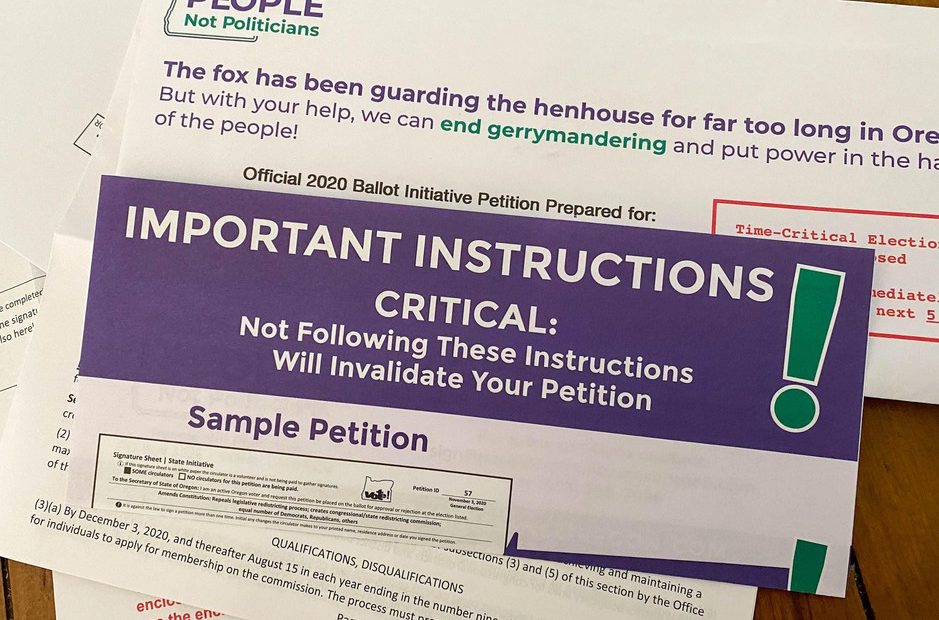 During Pandemic, Opponents Of Oregon Partisan Redistricting Pursue New Ballot Initiative Strategy
BY JEFF MAPES / OPB
The COVID-19 pandemic has killed several would-be initiative campaigns in Oregon because organizers can't send canvassers out to gather the tens of thousands of signatures needed to qualify for the November ballot.
But backers of a proposal to take redistricting out of the hands of the Legislature are not giving up. They're trying to do something that's never been done before in Oregon: collect almost all of the signatures through the mail or the internet.
"It's a long shot," conceded Kate Titus, the executive director of Common Cause Oregon. "It will be remarkable if we pull it off."
Common Cause is one of the government watchdog groups pushing to create a nonpartisan commission to redraw congressional and legislative district lines. Pandemic aside, this coalition already faces major political headwinds going up against the state's dominant Democratic political establishment.
The stakes in redistricting are particularly high for political partisans.
Democrats poised to control redistricting
For the first time in modern Oregon political history, Democrats are poised to be able to draw political boundary lines next year in the Legislature without having to negotiate with Republicans. They control the governorship and both legislative chambers. In previous redistricting battles spread over the last 50 years, the two parties shared control.
Because of the importance of how these lines are redrawn, the fighting over this measure started soon after it was filed last year. Groups allied with Democratic leaders in the Legislature mounted ballot title challenges in court that delayed signature gathering. They charged that the initiative has several flaws that would make it unfair to marginalized voters. They also say the measure would give Republicans too big of a say in redistricting.
Our Oregon, which organizes political activities for unions and other liberal groups, has also filed a lawsuit — which remains unsettled in the courts — questioning the constitutionality of the redistricting measure.
"There are some real fatal flaws" in the measure, said Our Oregon's executive director, Becca Uherbelau, who is "watching and waiting" to see what happens next.
The initiative wasn't cleared for signature gathering until early April, when the entire state was under strict lockdown orders. "You can't go out with a clipboard," Titus said. "it wouldn't be safe."
Organizers plan mass mailings
Instead sponsors pivoted. They have raised about $250,000 — mostly from business interests — to organize a mass mailing that is sending petitions to 500,000 Oregon households containing more than a million registered voters. They are also sending out mass emails to their supporters urging them to download single-signature petitions, sign them and return them in the mail.
Backers need nearly 150,000 valid signatures from registered voters by the July 2 deadline, a daunting task even without the lurking dangers of the coronavirus.
"This is entirely new territory for any initiative-signature campaign," said Norman Turrill, a longtime Oregon League of Women Voters official who is one of the measure's chief sponsors.
But Turrill said he thinks the timing is right to get the attention of voters since districts around the country will be redrawn next year following the 2020 Census. Although many Democratic groups in Oregon are leery of this measure, it has been Democrats around the country who have repeatedly highlighted the issue. They have criticized several Republican-led states for manipulating congressional district lines to gain additional seats in the House.