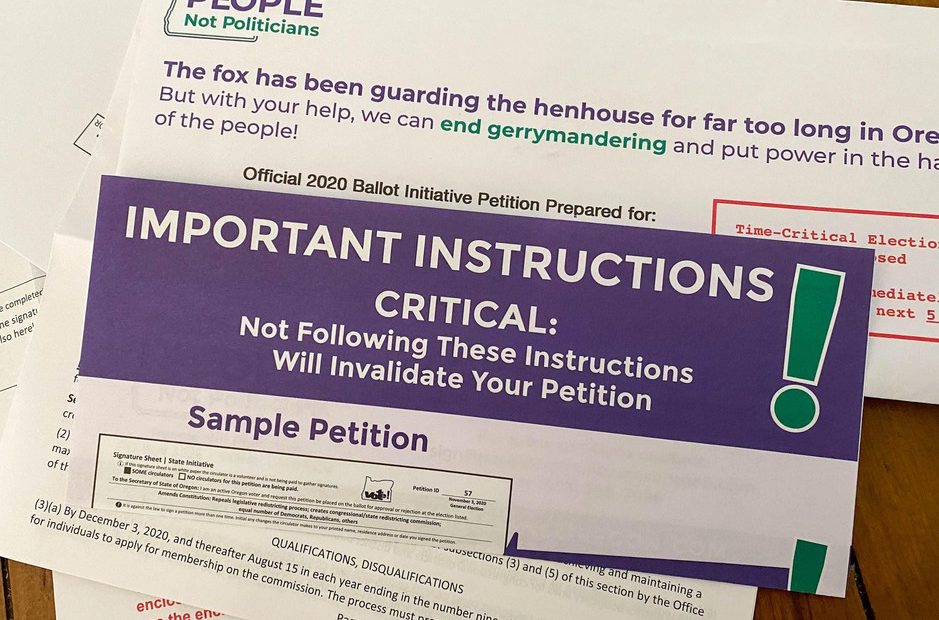 During Pandemic, Opponents Of Oregon Partisan Redistricting Pursue New Ballot Initiative Strategy
BY JEFF MAPES / OPB
The COVID-19 pandemic has killed several would-be initiative campaigns in Oregon because organizers can't send canvassers out to gather the tens of thousands of signatures needed to qualify for the November ballot.
But backers of a proposal to take redistricting out of the hands of the Legislature are not giving up. They're trying to do something that's never been done before in Oregon: collect almost all of the signatures through the mail or the internet.
"It's a long shot," conceded Kate Titus, the executive director of Common Cause Oregon. "It will be remarkable if we pull it off."
Common Cause is one of the government watchdog groups pushing to create a nonpartisan commission to redraw congressional and legislative district lines. Pandemic aside, this coalition already faces major political headwinds going up against the state's dominant Democratic political establishment.
The stakes in redistricting are particularly high for political partisans.
Democrats poised to control redistricting
For the first time in modern Oregon political history, Democrats are poised to be able to draw political boundary lines next year in the Legislature without having to negotiate with Republicans. They control the governorship and both legislative chambers. In previous redistricting battles spread over the last 50 years, the two parties shared control.
Because of the importance of how these lines are redrawn, the fighting over this measure started soon after it was filed last year. Groups allied with Democratic leaders in the Legislature mounted ballot title challenges in court that delayed signature gathering. They charged that the initiative has several flaws that would make it unfair to marginalized voters. They also say the measure would give Republicans too big of a say in redistricting.
Our Oregon, which organizes political activities for unions and other liberal groups, has also filed a lawsuit — which remains unsettled in the courts — questioning the constitutionality of the redistricting measure.
"There are some real fatal flaws" in the measure, said Our Oregon's executive director, Becca Uherbelau, who is "watching and waiting" to see what happens next.
The initiative wasn't cleared for signature gathering until early April, when the entire state was under strict lockdown orders. "You can't go out with a clipboard," Titus said. "it wouldn't be safe."
Organizers plan mass mailings
Instead sponsors pivoted. They have raised about $250,000 — mostly from business interests — to organize a mass mailing that is sending petitions to 500,000 Oregon households containing more than a million registered voters. They are also sending out mass emails to their supporters urging them to download single-signature petitions, sign them and return them in the mail.
Backers need nearly 150,000 valid signatures from registered voters by the July 2 deadline, a daunting task even without the lurking dangers of the coronavirus.
"This is entirely new territory for any initiative-signature campaign," said Norman Turrill, a longtime Oregon League of Women Voters official who is one of the measure's chief sponsors.
But Turrill said he thinks the timing is right to get the attention of voters since districts around the country will be redrawn next year following the 2020 Census. Although many Democratic groups in Oregon are leery of this measure, it has been Democrats around the country who have repeatedly highlighted the issue. They have criticized several Republican-led states for manipulating congressional district lines to gain additional seats in the House.
Former President Barack Obama has formed a group, All On The Line, to fight against "rigged electoral maps drawn with surgical precision by politicians to preserve their party's political power and silence the will of the people," according to the group's website.
The group is initially focused on redistricting battles in 10 states. Oregon is not among them, although the Democratic Party of Oregon's 2018 platform supports having redistricting "determined by a politically neutral entity."
Molly Woon, the party's deputy director, said the party's elected leadership has not taken a stand on the redistricting initiative. She said the central committee will decide at its August meeting whether to support or oppose measures that qualify for the ballot.
Still, measure sponsors say their own polling shows strong voter support for independent redistricting, with the highest support levels among Democrats.
Voters in Oregon "understand the importance of the redistricting process and the threat of gerrymandering," Turrill said, "and if we can get this on the ballot, we think it will pass handily."
The proposed constitutional amendment calls for a 12-member redistricting commission that would be made up of an equal number of Democrats, Republicans and voters who don't belong to either major party. They would be chosen in a complicated process that begins with three administrative law judges picking a pool of 150 commissioner applicants split equally among those three political-party groupings.
Supporters say the process is aimed at driving consensus among voters coming from different ideological points of view. That is why it calls for an equal number of Republicans and Democrats, even though Democrats have a large voter registration advantage. Turrill, a chief sponsor, also noted that the measure requires that no redistricting plan can be approved without the votes of at least one commissioner from each party grouping.
Still, critics say the initiative could wind up leaving some people excluded.
"The real problem we have with this ballot measure is that it's exclusionary of young people, newly naturalized citizens and people in civic leadership," said Samantha Gladu, executive director of Next Up. Formerly known as the Bus Project, the group works helps young people get involved in progressive political causes.
She criticized provisions in the initiative that require commissioners to be registered within the same political party for the past three years — and noted that it excludes many people already involved in politics, such as lobbyists and members of party central committees. She said these restrictions can prevent the involvement of community leaders on the commission.
Two groups representing minorities, the Asian Pacific American Network of Oregon and Causa, have also raised these criticisms.
Turrill said the aim is to prevent seating commissioners who have conflicts of interest. And he said that the commission should be made up of people who have some experience and knowledge of the state and its communities. He also noted that there are provisions in the measure seeking diversity among the commissioners.
The measure is also supported by Oregon's four local chapters of the NAACP, the nation's oldest civil-rights group. Eric Richardson, executive director of the Eugene-Springfield chapter of the group, said he believes that independent redistricting should be adopted nationally.
"I'm not naïve to what is going with the Republican Party" in other states where it has sought to minimize the electoral clout of African-American voters, said Richardson. "But the thing is, we want to hold the high ground and be principled."
Republicans joining in support of measure
In Oregon, Republicans have been active in supporting the redistricting measure. The other chief sponsor is Sharon Waterman, president of the Oregon Farm Bureau, which tends to back GOP candidates. Out of the $247,000 raised by the initiative campaign, $148,000 comes from business donors.
Rebecca Tweed is a Republican political consultant who is active in the redistricting initiative campaign.
"The fact that Democrats for the first time could reapportion exactly how they want is even more of a reason than ever to have an independent commission do it," she said. "And I would say that if it was flipped and Republicans owned the state."
Like just about everybody else, Tweed acknowledged the difficulties of qualifying for the ballot.
"They've created a program that at least pencils out the opportunity to be successful," she said.
In addition, backers say they also are hoping they won't have to depend solely on the mail and the internet. Before the July 2 deadline, they hope to have at least some in-person canvassing.
"We'll get out there as soon as we can," said Turrill, hoping that petitioners could help put them over the top.
One other petition campaign — for a measure to decriminalize possession of illegal drugs and provide more money for drug treatment – has also once again resumed to collecting signatures in person. Devon Downeysmith, a spokeswoman for that campaign, said in an email that canvassers are now working in some parts of the state where most businesses have been allowed to reopen.
Downeysmith said canvassers wear masks and gloves and place a new petition and pen on an easel that a voter can sign.
However, backers of this measure had already gathered around three-quarters of the signatures they needed before the pandemic hit. That was back when it was OK for petitioners to stand outside a grocery store and thrust a clipboard and pen in front of a voter.
Copyright 2020 Oregon Public Broadcasting. To see more, visit opb.org.