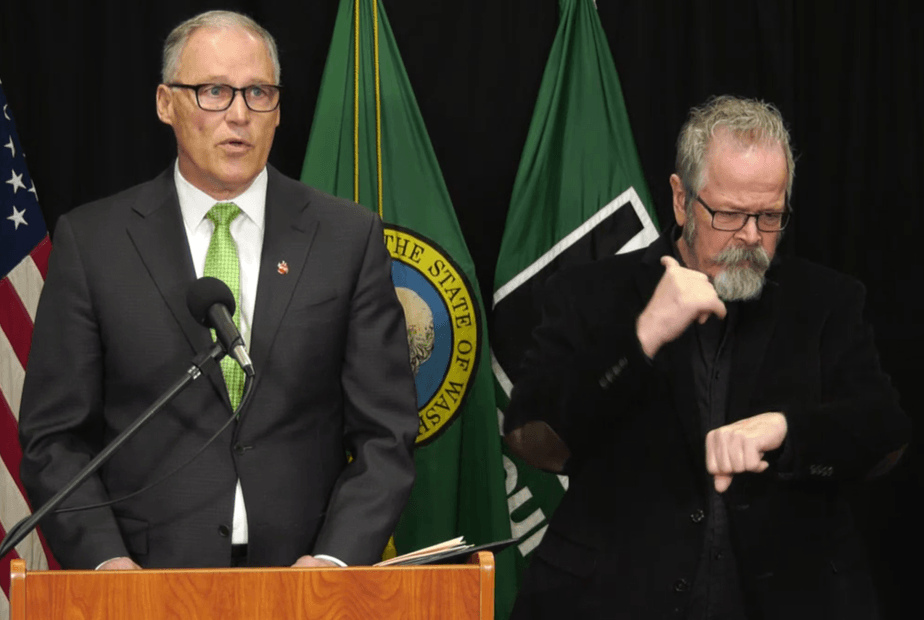 Schools Close, Colleges Go Online, Pullman Declares Emergency As COVID-19 Response Ramps Up
 
Compiled from reporting by multiple Northwest News Network stations
Updated March 12, 2020 9:10 p.m. 
Amid rapidly developing COVID-19 news and regional and national event cancellations Thursday, Washington lawmakers sent Gov. Jay Inslee a $200 million emergency funding measure to combat coronavirus.
It was one of the last bills to pass before the Legislature adjourned Thursday night.
First, lawmakers planned to commit $100 million from the state's rainy day fund to address the coronavirus emergency. But on the last day of the legislative session they doubled that number and added some additional provisions. The bill allows people in quarantine to qualify for unemployment insurance benefits. It also creates a pathway for high school seniors to be relieved of some graduation requirements in light of school closures because of the global pandemic.
Senate Majority Leader Andy Billig of Spokane called it one of the most important bills of the legislative session.
"We certainly don't know what's ahead we're going to have some challenging times in our state and throughout the world related to the COVID-19 outbreak," Billig said.
He says the purpose of the funding is to give front line public health officials the resources they need to address the crisis. The bill also creates a $25 million unemployment account. The measure passed the Senate and the House unanimously. –Austin Jenkins / Northwest News Network
Emergency Declarations
A growing list of Northwest jurisdictions are declaring states of emergency in response to the COVID-19 outbreak. That now includes Yakima County and the city of Pullman. Yakima County has at least two confirmed cases.
Pullman has no confirmed confirmed, but its main employer, Washington State University, is shifting all classes to online instruction indefinitely. That's expected to have a big impact on the city's businesses, as many students may not physically return to town from spring break, which begins Saturday and lasts for a week.
The emergency declarations allow cities and counties to bypass hiring and contracting regulations to speed up response and address public health and safety concerns more quickly.
Inslee Limits Gatherings, Seattle-Area Schools Closed
Governor Jay Inslee announced said that all public K-12 schools in King, Pierce and Snohomish counties will close through April to slow the spread of the new coronavirus.
That's on top of the Wednesday announcement that event with more than 250 people are prohibited in King, Pierce, and Snohomish counties.  Inslee, county and public health officials announced the dramatic step Wednesday, saying this is the proven way to stop coronavirus from overwhelming our communities.
"We don't take these decisions lightly, but we are facing an unprecedented health emergency," said Dr. Jeff Duchin with Public Health Seattle and King County. He noted this virus is at least 10 times more deadly than the common flu.
Sporting events, concerts, fundraisers, religious events, and other gatherings with more than 250 people are prohibited until at least April. The order does not apply to schools, workplaces, or ports. But Seattle's public schools are closed for the next two weeks.
Inslee said the state is going to fight the pandemic as best it can.
"And the reason is we do not want to see an avalanche of people coming into our hospitals with limited capacity," Inslee said. We have a solid plan to accommodate what could be thousands of people who need serious medical attention. But that will be stretched at best." – Paige Browning / KUOW
Arts, Music, Many Events Affected
Arts and music groups and organizations of all types stand to be profoundly affected by the measures in the Puget Sound region – with many more across the state voluntarily canceling events, fundraisers and regular performances.
Many staple arts and culture institutions in Seattle are effectively shutting down for the month due to the new restrictions, including Benaroya Hall, Pacific Northwest Ballet and Seattle Symphony.
"We are a fragile ecosystem at best," said Bernie Griffin, managing director at the 5th Avenue Theatre.
The theater will not be able to show its upcoming performances of "Sister Act," which Griffin anticipated would be one of their most popular and as a result they're losing $1 million in revenue.
"To have something like this that is unprecedented could be potentially devastating for t