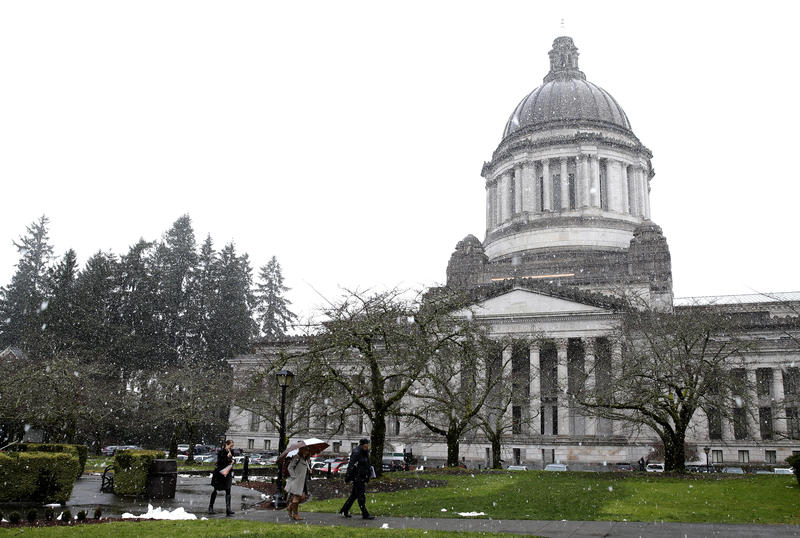 What Passed, What Didn't In 2020 Washington Legislature (Hint: Coronavirus Changed Plans)
What a difference 60 days makes. When Washington lawmakers arrived in Olympia in mid-January for a short election-year session, the state's economy was riding high, homelessness and housing were top of mind and there was talk of trying to expel Republican state Rep. Matt Shea from the House.
As the Legislature adjourned Thursday, 60 days felt like a lifetime ago. A surreal "new normal" had taken hold as Washington finds itself in the grips of a global coronavirus pandemic — which poses a threat not just to the public, but also to the economy and to state revenues.
So what transpired over the last two months? With Democrats in control of both the House and Senate, here's a look at some of the higher-profile bills that passed and didn't pass during the 2020 session.
WHAT PASSED
Coronavirus Funding: Slammed late in session with a sudden public health crisis, namely the coronavirus outbreak, lawmakers moved swiftly and in bipartisan fashion to provide emergency funding to the state's beleaguered public health system. First, they approved taking $100 million from the state's "rainy day fund." But on the final day of the session, as the scope of the crisis continued to worsen, the spending bill suddenly doubled to $200 million with $175 million dedicated to public health and $25 million to a new COVID-19 unemployment fund. The bill also makes unemployment benefits available to people in quarantine and creates a path for high school seniors to be granted waivers from some graduation requirements in light of coronavirus-related school closures. 
Homelessness and Housing: At the beginning of the legislative session, a Crosscut-Elway poll showed that homelessness was the top issue of concern among Washington voters. Lawmakers on both sides of the aisle agreed it was a top priority. Gov. Jay Inslee even urged lawmakers to tap into the state's "rainy day fund" to free up emergency dollars to address the issue. In the end, majority Democrats added $160 million more to the current two-year operating budget to fund additional shelter beds and expand access to affordable housing – without tapping the "rainy day fund." At the same time, a number of homelessness and housing policy measures passed the Legislature. They include: new tenant protections, including a requirement that landlords accept installment payments for move-in costs and allow a grace period for late rent. A bill to authorize accessory dwelling units also passed, as did a measure to allow counties to impose, by a vote of the county council, a sales and use tax increase to fund affordable housing.
Sports Betting: In what's been described as the most significant expansion of gambling in Washington in decades, state lawmakers approved legislation to allow sports betting in tribal casinos. The move to permit wagering on professional, out-of-state collegiate and even Olympic competitions follows a 2018 U.S. Supreme Court decision that cleared the way for states beyond Nevada to have sports betting. Washington lawmakers, however, rejected a hard push by Nevada-based Maverick Gaming to allow sports wagering more broadly, including in the 19 non-tribal card rooms the company owns in the state. Assuming Gov. Jay Inslee signs the sports betting bill into law, Washington will join Oregon and 19 others states in allowing sports betting. Maverick has vowed to challenge the law in court.
Hair Discrimination: Washington is poised to join New York, New Jersey and California in banning race-based hair discrimination.