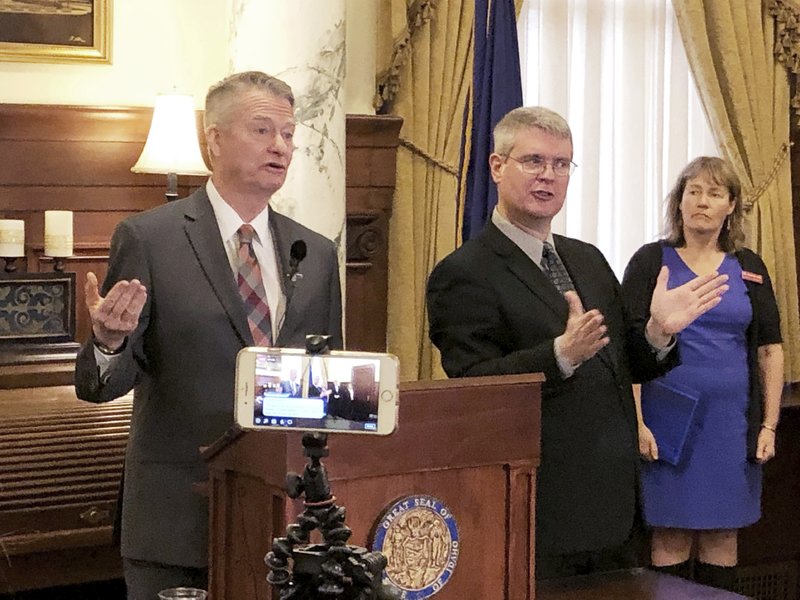 First COVID-19 Deaths Reported In Idaho, 1 Day After Governor Issues 21-Day 'Stay-At-Home' Order
QUICK LINKS:
UPDATE, March 26, 2020, 1:50 p.m. PT:
Idaho now has the state's first coronavirus-caused deaths. Governor Brad Little and health officials announced three deaths Thursday. But at least one of those people may have died earlier this week according to the Mountain Express newspaper.
Two of the cases were in Blaine County – one a man over age 60 and the other a man over age 80. It wasn't clear if either had underlying health issues. The third case was a man over age 70 from Canyon County, who had underlying health issues.
The news comes just 13 days after the state confirmed its first case of COVID-19 and one day after Governor Little issued a statewide stay-at-home order to help slow the virus' spread.
The news of the first deaths in Idaho resulting from COVID-19 is deeply saddening and a grave reminder that everyone MUST do all they can to prevent the spread of this virus. Please follow the statewide stay-home order, and pray for the loved ones of the people who passed. https://t.co/MWYaORWrgk

— Brad Little (@GovernorLittle) March 26, 2020
Original Story, March 25, 2020:
Idaho Gov. Brad Little issued a stay-at-home order Wednesday, requiring all Idahoans to shelter in place, and shuttering all businesses except those deemed essential. 
Little's action follows similar orders in Washington, Oregon and California. The order will last 21 days, but Little said he will examine the order's term as it progresses.
Activities essential to the health and welfare of Idahoans, like grocery shopping and seeking medical treatment, are allowed. So is outdoor exercise, as long as people keep six feet from others.
Little urged everyone to take the order seriously, but wouldn't comment on repercussions if people flout the new rules. 
He said no one would travel unnecessarily, and told business owners to "take all steps necessary for employees to work remotely from home."
According to the Idaho Statesman, businesses that can remain open include grocery stores, health care facilities, pharmacies, utilities, gas stations, laundromats, financial institutions, residential- and home-based care, veterinary services, hardware stores, child care for essential workers, infrastructure and "other businesses essential to the safety and well-being of the residents."
This was at a Boise liquor store after Little's order. He indicated those would remain open, too. Photo from Katherine Jones pic.twitter.com/sLdxZwMNIj

— Chadd Cripe (@chaddcripe) March 25, 2020
Spurred To Act
Little was spurred to issue the order after the coronavirus was transmitted through community contact in Ada County, the state's most populous county and home to Boise.
"Idaho is now in a