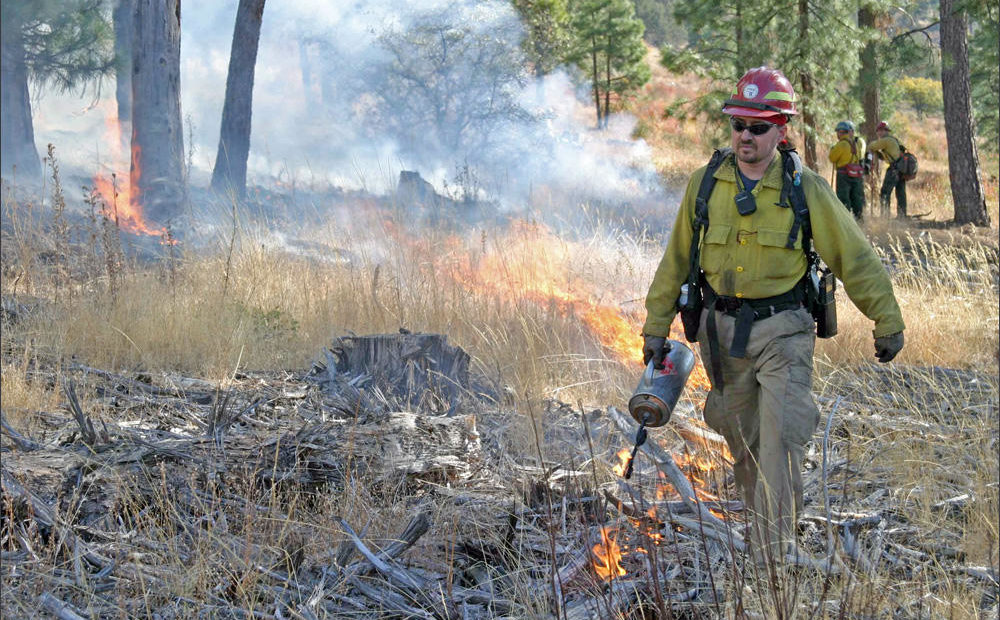 Northwest Wildfire Season Is Coming Up — With Fewer Firefighters Trained Due To Coronavirus
Usually, this time of year, firefighters would be gearing up for wildfire training – where high school parking lots transform into makeshift fire camps. There, new firefighters can learn the ins and outs of wildland firefighting and veterans can gain leadership skills.
Now, that's all on hold.
Social distancing guidelines make it too hard for firefighters to learn together in close quarters. That has Washington land managers concerned.
Each year, state, federal and local officials train around 1,000 firefighters. Trainings start in April and last through May.
"We've had to cancel all three (trainings) because obviously we don't have the protections in place for firefighters who are going to be in close proximity to each other, in tents close to each other, in eating areas. We don't have the ability right now to protect them and keep them safe," said State Lands Commissioner Hilary Franz.
The Idaho Department of Lands says it's finishing up the hiring process for seasonal firefighters and will handle its own training sessions, even though annual interagency training programs have been canceled.
"(The department) is finalizing details of our upcoming training for our firefighters. Please be assured that IDL firefighters will be well trained and prepared for this upcoming fire season," said spokesperson Sharla Arledge.
Washington's Public Lands Commissioner Hilary Franz says similar proximity concerns stretch to the actual fire season, she said.
"This is not something we are usually having to do – we are only having to keep (firefighters) safe from fire. In this case, we have to not only keep them safe from fire, but also the spread of this disease," Franz said.
Franz said she's also worried about a lack of incident command teams – the leaders that manage individual wildfire fighting. Washington's fire season typically starts later than several other states, and so it's often challenging to find enough incident management teams.
With those same teams soon-to-be deployed to field hospitals treating COVID-19 patients, those teams could be stretched even thinner, Franz said.
To help, state officials are trying to secure coronavirus tests for firefighters and masks for fire camps. Franz said they may also use planes more often and reduce the number of firefighters in each engine from four to two.
She says the Department of Natural Resources will have a plan in place in the next few weeks.