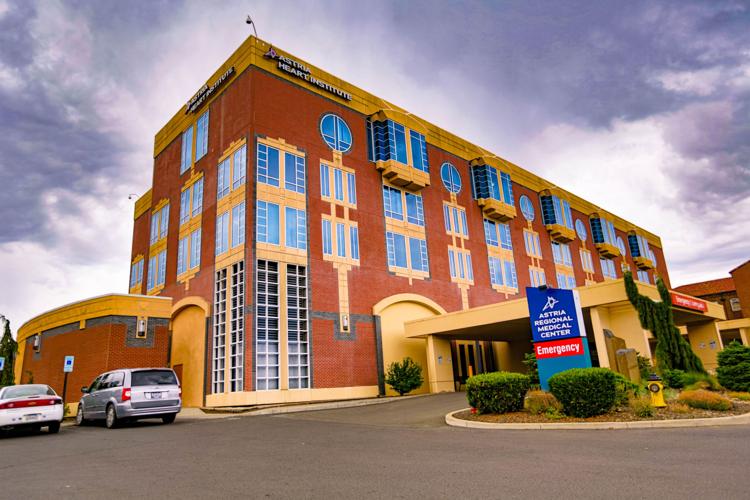 Shuttered Yakima Hospital To Reopen; Pandemic Strains Hospital Finances In Pullman And Wenatchee
Even before the COVID-19 pandemic, hospital resources were severely limited in Yakima County. 
After Astria Regional Medical Center's owner declared bankruptcy and shut down in January, the region was left with only one major hospital. That worried health officials then, and it's an even bigger problem now, with at least 224 cases of COVID-19 and 6 deaths in the county so far.
Now, the former Astria hospital is set to reopen under a partnership between state and federal agencies. 
FEMA, the state Department of Health and the Yakima Health District announced late Wednesday that the former hospital would reopen as an alternate care site for patients not afflicted with COVID-19.
That came after a team from the U.S. Army Corps of Engineers completed an assessment Wednesday of the empty hospital building. Other sites under consideration included Yakima's Sun Dome and a former nursing home. Inspectors chose the Astria hospital building because mobilizing needed infrastructure and equipment there will be quicker, according to a news release.
"We worked hard in partnership with our state and federal partners to ensure that Yakima has the resources needed to respond to this outbreak," Andre Fresco, Executive Director of the Yakima Health District, said in a news release.
The reopened hospital will be administered by the state Department of Health and staffed with 80 medical personnel from the U.S. Public Health Service Commissioned Corps. The site could support up to 250 beds but will not be open for walk-in visits by the general public.
"By providing full staffing, all necessary wrap-around services, and patient transport services, the alternate care site will help existing area hospitals focus on COVID-19 care, while delivering the highest level of care to patients with other needs," FEMA Region 10 Administrator Mike O'Hare said in a news release. 
Though this is good news for the region's hospital capacity, the county still needs a lot more equipment, according to Yakima Health District spokesperson Lilian Bravo.
"Having this alternate care site is a huge benefit to the community. But the reality is we are very early on in this response and there's much more information that is needed and much more resources that are needed," Bravo said Thursday.
Those resources include test kits and personal protective equipment for medical staff and first responders, which are on short supply at a national and global level.
Under a proposed lease agreement, Washington state could pay upward of $1.5 million a month to Astria Health to lease the hospital. 
Other Hospitals Tighten Belts
While the state reopens the shuttered hospital at a potentially substantial expense, state measures to stop elective surgeries and limit outpatient procedures have put a financial strain on other hospitals in central and eastern Washington. 
Pullman Regional Hospital announced Thursday it will cut pay for all employees by 25% for two months to save money for operations. The reductions will start April 11.Officials told staff they are committed avoiding layoffs.
Pullman Regional has also implemented unpaid furloughs for employees, capping overtime, limiting paid time off, and not reimbursing paid leave time. 
Confluence Health in Wenatchee is considering a pay cut of 7% for nearly 500 physicians and advanced practice doctors for 3 months. Executive leaders there have already taken a 10% cut.
"Certainly, as with every business in the country or in the world, everybody has expenses that are ongoing and revenues that are not matching them," Confluence Health CEO Peter Rutherford told the Wenatchee World. "And we are no different, but we do have some cash reserves and we do have some pieces that we are exploring in the new stimulus bill that was passed."
Last week, U.S. Rep. Kim Schrier, whose district includes Wenatchee, introduced a bill in the House to provide immediate relief to rural hospitals to address the COVID-19 crisis. It includes emergency mandatory grants to stabilize the loss of revenue.
The proposal includes a one-time grant to critical access hospitals and rural prospective payment system hospitals equaling $1,000 per patient per day. The bill also calls for emergency grants to hospitals equaling the total reimbursement received for services in the first three months of 2019.