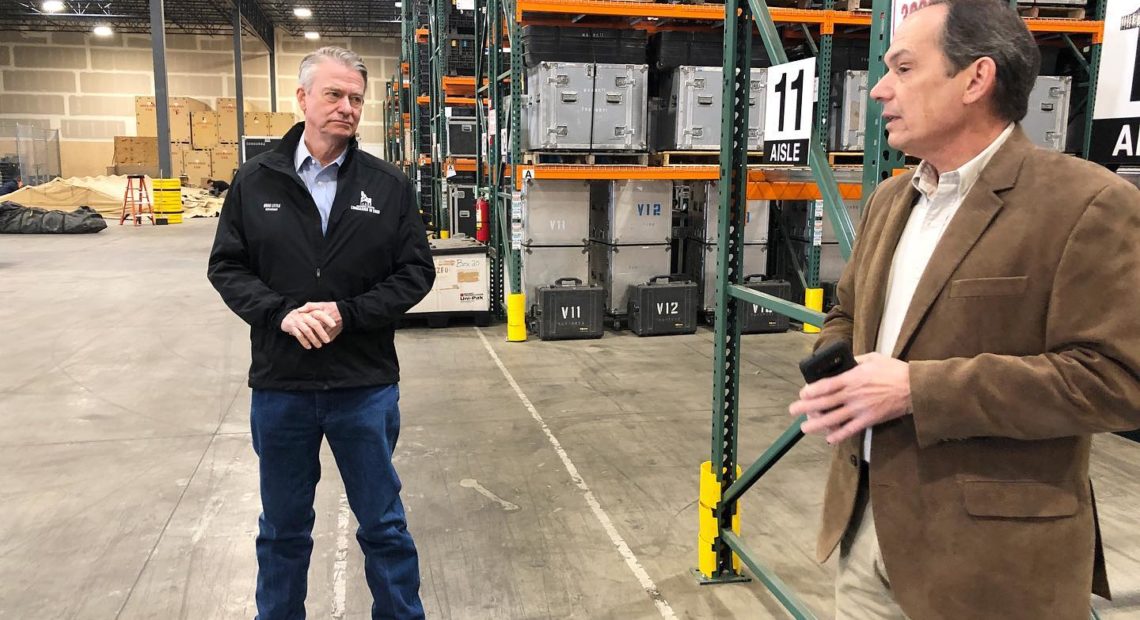 Idaho Soon Moves To Next Reopening Phase; Washington Denies Spokane County's Phase 2 Request
QUICK LINKS:
–Idaho Four-Phase Reopening Plan
–Idaho Coronavirus Information And Resources Page
–Washington Coronavirus Information And Resources Page
BY DOUG NADVORNICK / SPR & SCOTT LEADINGHAM / NWPB
Idaho Gov. Brad Little says the Gem State will move to the second phase of the state's four-part coronavirus recovery plan on Saturday.
That means businesses such as gyms and hair salons will be able to reopen with the appropriate precautions.
Little made his announcement Thursday and threw in a surprise as well.
"I've also decided, in close consultation with our public health experts, that we will move up the opening of bars from stage four to stage three. That means bars will be able to open up May 30, if everything goes well, two weeks ahead of what was previously anticipated," he said.
Little touted that Idaho has spent more of its federal CARES Act recovery money on helping small business than any other state. And he tossed one more benefit in there for that sector.
"Small businesses will be able to access a 30-day supply of PPE, personal protective equipment, such as masks, gloves and sanitizer to protect their workers and the public and build consumer confidence," Little said.
The governor reminded Idahoans to continue to exercise personal responsibility, wear masks in public and do the other things needed to keep the spread of the virus in check.
Spokane County No-Go
While Idaho will move forward into its Phase 2, across the border in, Spokane County won't get a variance to join some of its county neighbors to move earlier into Washington's Phase 2.
Spokane elected leaders said Thursday that they're disappointed in Washington Health Secretary John Wiesman's decision to deny the county's request to speed up plans to reopen the county's economy.
The county had filed a variance request on Tuesday to allow it to move directly to the second phase of state's four-part Safe Start plan. The secretary said the state doesn't yet have criteria to guide more populous counties as they allow more businesses to open.
Spokane Mayor Nadine Woodward says the county has played by the rules and is ready to move forward.
"We have done everything we have been asked to do. Our community has done everything it's been asked to do. We stayed home. We social distanced. We exercised proper hygiene and etiquette and we have flattened the curve. Our cases are increasing by single digits. We have a handful of people in our hospital. We have hospital capacity and surge capacity," Woodward said.
Smaller counties with population of less than 75,000 have been allowed to reopen, according to guidelines released by the state. Eight, including four that border Spokane, have been given permission to allow more businesses to reopen.
Spokane Valley Mayor Ben Wick said Thursday the county will continue to press what it considers to be a strong case with the governor.
Millwood Mayor Kevin Freeman says local leaders knew they were early in making the county's case, but he says they believe they're leading the way for larger counties.
Sheriff Ozzie Knezovich says he worries about local business owners who are struggling and may not be able to wait for the state to act to remain in business.
New Case In Whitman, Application Being Reviewed
Just south of Spokane County, Whitman County submitted its own variance application to the state Wednesday, noting it met the criteria for a population under 75,000 and three weeks since a positive COVID-19 case.
But Thursday brought the news of a newly confirmed case in the county that's home to Washington State University in Pullman. The county health department reported it was in a female age 20 to 39 who is isolating and recovering at home.
County health officials said Wednesday they had only identified 16 positive cases since the pandemic began, with the last coming April 22 – and that all 16 people had recovered. This new case is reported in a female age 20 to 39 who is recovering at home, with contact tracing ongoing.
Whitman County's early reopening application is still being reviewed by the state. County health officials said in a news release Thursday that the new case was not expected to affect its ability to move forward with early reopening.
Doug Nadvornick reports and is news and program director for Spokane Public Radio. Scott Leadingham is news manager for NWPB.