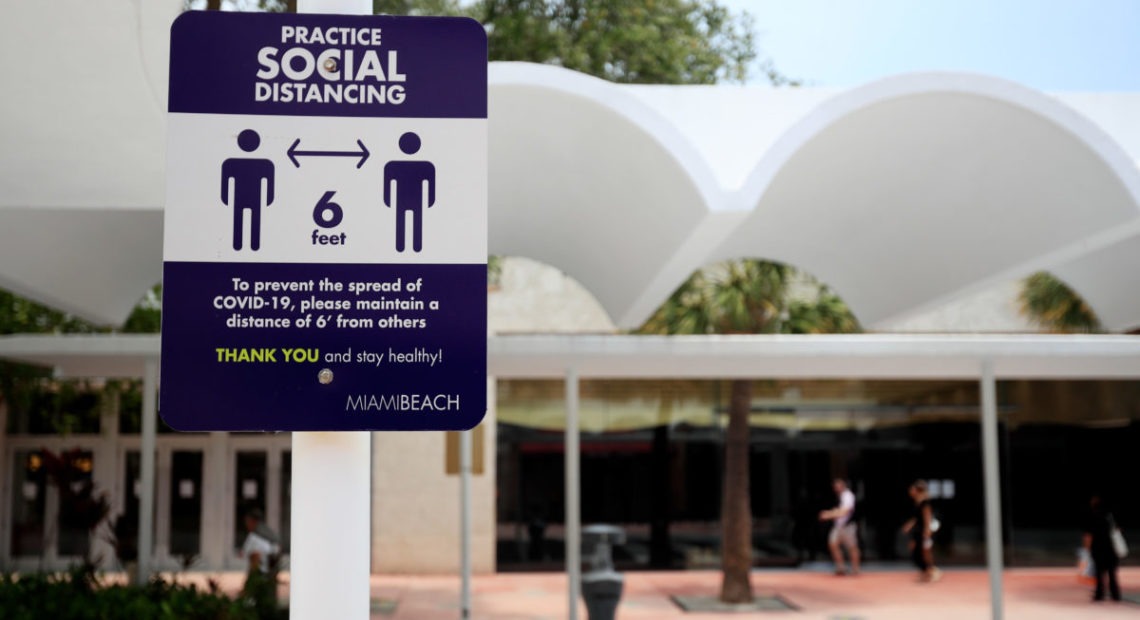 Most Americans Think It Will Be At Least 6 Months Before A Return To Normal From COVID-19
BY LAURA SANTHANAM / PBS NewsHour
Most Americans think it will take six months or longer for daily life to return to a relative sense of normal, according to a new PBS NewsHour/NPR/Marist poll. And as states begin the process of reopening, a majority of Americans are worried about a second wave of COVID-19 infections, too.
The poll also found that, if given the opportunity to avoid their polling place and instead cast a mail-in ballot for November's presidential election, half of Americans would likely do so.
Republicans were far more optimistic about the country's resilience than American adults overall, according to this latest poll, while Democrats were more pessimistic. Eleven percent of U.S. adults think the nation will be back to normal in a month, including 20 percent of Republicans, 1 percent of Democrats and 12 percent of independents.
Nearly a third of Americans think it will take the country less than six months to resume a relatively normal pace of life, but a majority of Americans — 65 percent — think it will be six months or longer to return to a sense of normal. One percent of U.S. adults don't think their daily lives will ever return to normal, while another 1 percent believe they already have. An additional 1 percent never felt a change.
Getting back to normal
For weeks, states have been relaxing social distancing restrictions to revive the economy, with Georgia, Texas and Florida among the earliest to reopen. During the months since the pandemic started, the United States has lost nearly 40 million jobs, eliminating employment gains made since the Great Recession. As nearly every state enters various phases of reopening, the country is "in a toe-dipping situation," said Michael Chernew, a health economist and a professor of health care policy at Harvard Medical School.
"People are limited by their caution, not just by the restrictions," he said. "Even if there's a minority of people who feel we should be getting back to normal, it's hard to get back to normal when a significant portion of the people don't feel that way."
"It's hard to get back to normal when a significant portion of the people don't feel that way."
Michael R. Strain, who directs economic policy studies at the American Enterprise Institute, said he was "shocked" by how divergently Democrats and Republicans viewed the nation's reopening, especially given how differently parts of the country have experienced coronavirus.
"I expected that party affiliation would be the biggest difference, but it is so much bigger than region," Strain said.
Risk of a second wave
While the coronavirus is continuing its sweep of the United States, most Americans are already bracing for a second wave of infections. More than three-quarters of U.S. adults — 77 percent — are concerned about another round of infections, while 23 percent of Americans are not.
That concern was sharply divided along party lines, with 93 percent of Democrats and 76 percent of independents saying they were nervous about another increase in infections. Republicans were more evenly split, with 57 percent saying they were concerned about a second wave and 43 percent saying they were not very concerned or not at all concerned.
So far, COVID-19 has killed more than 86,000 Americans, and more than 1.5 million have tested positive for the virus, according to the COVID Tracking Project. Nearly 290,000 additional Americans have recovered after getting sick. No vaccine or medication has completed trials nor been approved to treat or prevent COVID-19.
Researchers at the Institute for Health Metrics and Evaluation, who developed computer modeling to project the virus' spread, have suggested new infections could