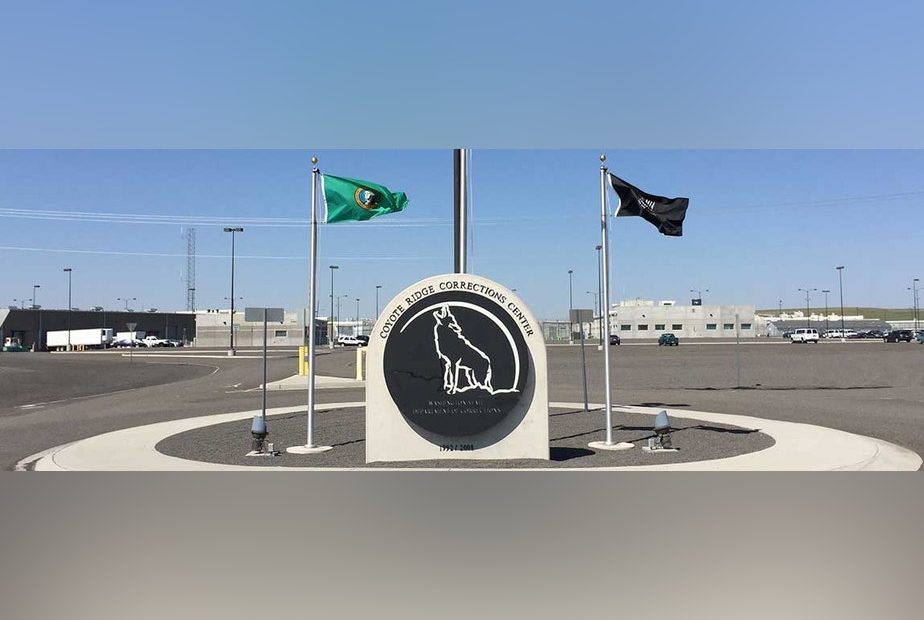 2nd Inmate Dies, National Guard Deployed To Help With COVID Testing At Eastern Washington Prison
BY ASHLEY HIRUKO / KUOW
Debbie Stricker cries herself to sleep every night, worried about her son, an inmate at the Coyote Ridge Corrections Center. Over the last two weeks, Sticker's son has sent her messages that detail declining conditions at the prison, as inmates have been confined to their cells for more than 23 hours per day, to prevent the spread of coronavirus.
"They just now came around to give diabetics their insulin shots. That should happen around 7:30 a.m. but they don't have any food to go with it," her son said in an electronic message on June 13."When my cellie [a diabetic] asked where his food was after taking his shot, he was told 'I don't know,' and had the door slammed in his face." "What they are doing here is a violation of the
Eighth Amendment
. If they can't take care of us humanely, then they should release us."
Stricker's son was alluding to the Eighth Amendment of the U.S. Constitution. It prohibits the federal government from imposing excessive bail, excessive fines, and cruel and unusual punishment. He has asked not to be named by KUOW, citing concerns about retaliation.Coyote Ridge has the highest number of confirmed coronavirus cases of any Washington state prison. The outbreak is concentrated within the Medium Security Complex portion of the prison, which houses more than 1,800 inmates. The total prison population is typically more than 2,400.
As of June 23, a total of 41 staff and 100 inmates have tested positive for the virus. That's more than four times the number of cases confirmed at the Monroe Correctional Complex, which previously had the worst outbreak.The first COVID-19 death connected to the state's prisons was that of Berisford Anthony Morse, a correctional officer who worked at the Monroe Correctional Complex. He died on May 17, due to complications related to COVID-19.
To date, two incarcerated people have died of COVID-19 in Washington state. Both of them were housed at Coyote Ridge in Connell, north of Pasco, the Washington State Department of Corrections reported on June 24. Victor Bueno, 63, was the first inmate to die of COVID-19 in Washington state. Bueno was sent to Coyote Ridge after violating a protection order in Kitsap County, when he wrote a letter to his ex-wife. He denied he wrote this letter in a petition to the Washington State Court of Appeals. They declined to overturn his conviction.Bueno was housed in the Medium Security Complex and was scheduled to be released in September. He died on June 17.
"The Department of Corrections is saddened by this loss," said Corrections Secretary Stephen Sinclair, in a prepared statement. "The health and safety of the incarcerated individuals, the community and our staff remains our top priority."
That same day, prison officials said they would increase coronavirus testing to include all Coyote Ridge staff and inmates that live within the Medium Security Complex. Five days later, there was a second Coyote Ridge inmate death.
On June 22, William Bryant, 72, died at a local medical facility after contracting COVID-19. Bryant was serving a 68-month sentence for first-degree child molestation out of Grays Harbor County. He was transported from Coyote Ridge for outside medical treatment on June 13, where he remained until he died.On Wednesday, June 24, the Department of Corrections put its large-scale testing plan in motion, according to a letter from Superintendent Jeffrey Uttecht to Coyote Ridge Inmates.
National Guard brought in to help test inmates
Employees of the Washington State Department of Health and National Guard will help in the effort to collect nasal specimens from the more than 1,800 inmates within the Medium Security Complex, according to the same letter from from Superintendent Uttecht.Test results will take three to five days and staff and inmates will be notified of their results.

 

Depending on these results, inmates may be moved to a different area within Coyote Ridge, Uttecht wrote.

 

COVID-positive inmates would be housed together, and those who test negative will be retested. Inmates who test negative a second time will be housed together. Inmates who refuse testing will be placed in a separate isolation area.

 

Before this plan, Coyote Ridge would only test inmates who were showing symptoms of coronavirus. At least one inmate who submitted a written request to be tested, after being exposed to someone who tested positive, was denied testing. The inmate did not sho