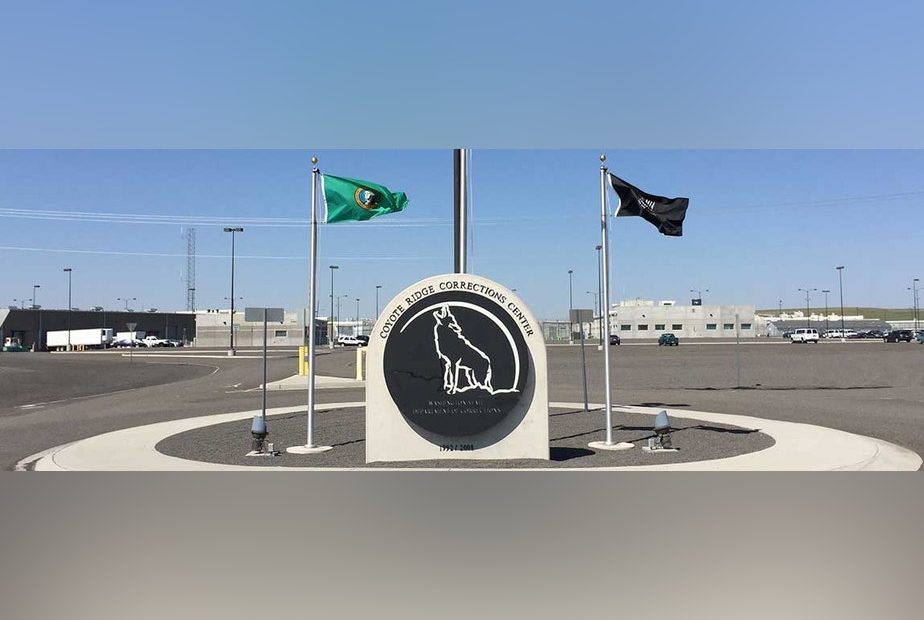 2nd Inmate Dies, National Guard Deployed To Help With COVID Testing At Eastern Washington Prison
BY ASHLEY HIRUKO / KUOW
Debbie Stricker cries herself to sleep every night, worried about her son, an inmate at the Coyote Ridge Corrections Center. Over the last two weeks, Sticker's son has sent her messages that detail declining conditions at the prison, as inmates have been confined to their cells for more than 23 hours per day, to prevent the spread of coronavirus.
"They just now came around to give diabetics their insulin shots. That should happen around 7:30 a.m. but they don't have any food to go with it," her son said in an electronic message on June 13."When my cellie [a diabetic] asked where his food was after taking his shot, he was told 'I don't know,' and had the door slammed in his face." "What they are doing here is a violation of the
Eighth Amendment
. If they can't take care of us humanely, then they should release us."
Stricker's son was alluding to the Eighth Amendment of the U.S. Constitution. It prohibits the federal government from imposing excessive bail, excessive fines, and cruel and unusual punishment. He has asked not to be named by KUOW, citing concerns about retaliation.Coyote Ridge has the highest number of confirmed coronavirus cases of any Washington state prison. The outbreak is concentrated within the Medium Security Complex portion of the prison, which houses more than 1,800 inmates. The total prison population is typically more than 2,400.
As of June 23, a total of 41 staff and 100 inmates have tested positive for the virus. That's more than four times the number of cases confirmed at the Monroe Correctional Complex, which previously had the worst outbreak.The first COVID-19 death connected to the state's prisons was that of Berisford Anthony Morse, a correctional officer who worked at the Monroe Correctional Complex. He died on May 17, due to complications related to COVID-19.
To date, two incarcerated people have died of COVID-19 in Washington state. Both of them were housed at Coyote Ridge in Connell, north of Pasco, the Washington State Department of Corrections reported on June 24. Victor Bueno, 63, was the first inmate to die of COVID-19 in Washington state. Bueno was sent to Coyote Ridge after violating a protection order in Kitsap County, when he wrote a letter to his ex-wife. He denied he wrote this letter in a petition to the Washington State Court of Appeals. They declined to overturn his conviction.Bueno was housed in the Medium Security Complex and was scheduled to be released in September. He died on June 17.
"The Department of Corrections is saddened by this loss," said Corrections Secretary Stephen Sinclair, in a prepared statement. "The health and safety of the incarcerated individuals, the community and our staff remains our top priority."
That same day, prison officials said they would increase coronavirus testing to include all Coyote Ridge staff and inmates that live within the Medium Security Complex. Five days later, there was a second Coyote Ridge inmate death.
On June 22, William Bryant, 72, died at a local medical facility after contracting COVID-19. Bryant was serving a 68-month sentence for first-degree child molestation out of Grays Harbor County. He was transported from Coyote Ridge for outside medical treatment on June 13, where he remained until he died.On Wednesday, June 24, the Department of Corrections put its large-scale testing plan in motion, according to a letter from Superintendent Jeffrey Uttecht to Coyote Ridge Inmates.
National Guard brought in to help test inmates
Employees of the Washington State Department of Health and National Guard will help in the effort to collect nasal specimens from the more than 1,800 inmates within the Medium Security Complex, according to the same letter from from Superintendent Uttecht.Test results will take three to five days and staff and inmates will be notified of their results.

 

Depending on these results, inmates may be moved to a different area within Coyote Ridge, Uttecht wrote.

 

COVID-positive inmates would be housed together, and those who test negative will be retested. Inmates who test negative a second time will be housed together. Inmates who refuse testing will be placed in a separate isolation area.

 

Before this plan, Coyote Ridge would only test inmates who were showing symptoms of coronavirus. At least one inmate who submitted a written request to be tested, after being exposed to someone who tested positive, was denied testing. The inmate did not show any symptoms.

 

For more than a month, the Office for the Corrections Ombuds recommended universal testing for all inmates and staff at all Washington state prisons. In the very least, the office pushed for targeted testing for vulnerable inmates who have had close contact with a positive person — especially at a facility like Coyote Ridge, with a known outbreak.

 

Instead, Coyote Ridge officials opted to place inmates in the Medium Security Complex on restricted movement on June 11. That has kept inmates confined to their cells, some of which had no toilets or running water, for more than 23 hours a day."

 

Restricted movement provides an additional level of protection against the spread of the virus by reducing the number of incarcerated individuals out of their cells at any given time and increasing the ability to practice social distancing," said a Department of Corrections spokesperson, by email.At first, inmates would only be allowed outside their cell for 20 minutes every other day, according to a report by the Office of the Corrections Ombuds. This was later increased to 30 minutes per day.

 

Inmates in cells without toilets resorted to peeing in bottles because they were not let out to use the restroom in time. Karlina Tasker, who lives in New Mexico,

 

told KUOW last week that her husband

, who is incarcerated at Coyote Ridge, waited two and a half hours to use the bathroom.

 

"I had to pee in a bottle … I couldn't hold it anymore," Tasker's husband said in an electronic note to her.

 

The Department of Corrections did not directly address inmate concerns over bathroom breaks and outside time.
New lawsuit motion filed over deteriorating conditions
These same conditions were cited in a lawsuit motion filed by Columbia Legal Services on June 24, on behalf of petitioners currently incarcerated within state prisons. The motion asks the Washington State Supreme Court to consider new evidence, in a lawsuit against Gov. Jay Inslee and Stephen Sinclair, secretary for the state's Department of Corrections.Governor Jay Inslee's office did not immediately respond to requests for comment on the new motion. A spokesperson with the Office of the Governor said the motion was "under review by legal.

 

"The lawsuit, originally filed in late March, was an attempt to protect inmates from exposure to COVID-19, and asked for the release of thousands of vulnerable inmates. In late April, the State Supreme Court denied the inmates' petition.

 

The justices wrote that the petitioners failed to show how state officials were failing to perform "a mandatory, non-discretionary duty in addressing the COVID-19 risk at the Department of Corrections facilities, nor shown other constitutional or statutory grounds for the relief they request."

 

Inslee and Sinclair, following the lawsuit, released an emergency plan that allowed more than 1,000 nonviolent offenders to either serve the remainder of their sentences at home with ankle monitors, be released on work furlough, or be granted commuted sentences.

 

"It can be difficult to maintain proper physical distancing in our correctional institutions, and because of that, it makes sense to release certain individuals who may be at particularly high-risk during this outbreak," Inslee said in April.

 

But inmates and their loved ones argued that this move, which was a reduction of about 6% of the state's incarcerated population, wasn't enough to protect the thousands of inmates who remained in prison from COVID-19.

 

At the time that the Supreme Court denied the inmates' petition, there were 12 coronavirus cases within state prisons and work release facilities — but no cases yet at Coyote Ridge. Since then, the number of confirmed cases at Coyote Ridge has ballooned to nearly 150 inmate and staff cases combined.

 

The new motion argues that given the increase in cases, deaths, the expanded ability to test people, and an increase in the Department of Corrections' positive test rate to 19.2%— three times higher than the positive test rate of the Washington state general population — the courts should reevaluate its decision, said Nick Allen, Deputy Director of Advocacy at Columbia Legal Services.

 

The motion also asks that the court appoint a public health expert to conduct on-the-ground reporting of the conditions at Coyote Ridge, and the steps taken by the Department of Corrections to protect inmates.

 

The court motion mentions Abdullahi Noor, an inmate at Coyote Ridge. Prior to coming to the U.S., Noor "witnessed unimaginable atrocities as a Somali civil war refugee" and described the current conditions at Coyote Ridge as "horrendous."And because inmates are confined to their cells at Coyote Ridge, Noor once had to wait almost three hours before a staff member gave him permission to use the bathroom, Columbia Legal Services wrote.

 

"On other occasions, he has had to urinate in a small coffee bottle because of the long wait times to use the bathroom. As a result, [he] sometimes has soiled himself," the motion document reads.

 

His cellmates, which include a man sick with cancer, have also soiled and defecated on themselves.

 

"When Mr. Noor soils himself, it impacts his ability to practice his religion. He is a devout Muslim and by obligation, must pray five times each day. As a Muslim, before presenting himself to God during his prayer ritual, he must be clean and wear good clothes … This practice is impossible if he has soiled his clothes and lacks access to fresh water," the court document continues.

 

Allen said the measures taken by the Department of Corrections, to slow the spread of coronavirus, have been ineffective."I think the only thing accomplished through these measures is a deterioration in conditions, an increase of humiliation of people in prisons, and the DOC resorting to what we would categorize as an inhumane response to the virus," Allen said.

 

Copyright 2020 KUOW. To see more, visit kuow.org