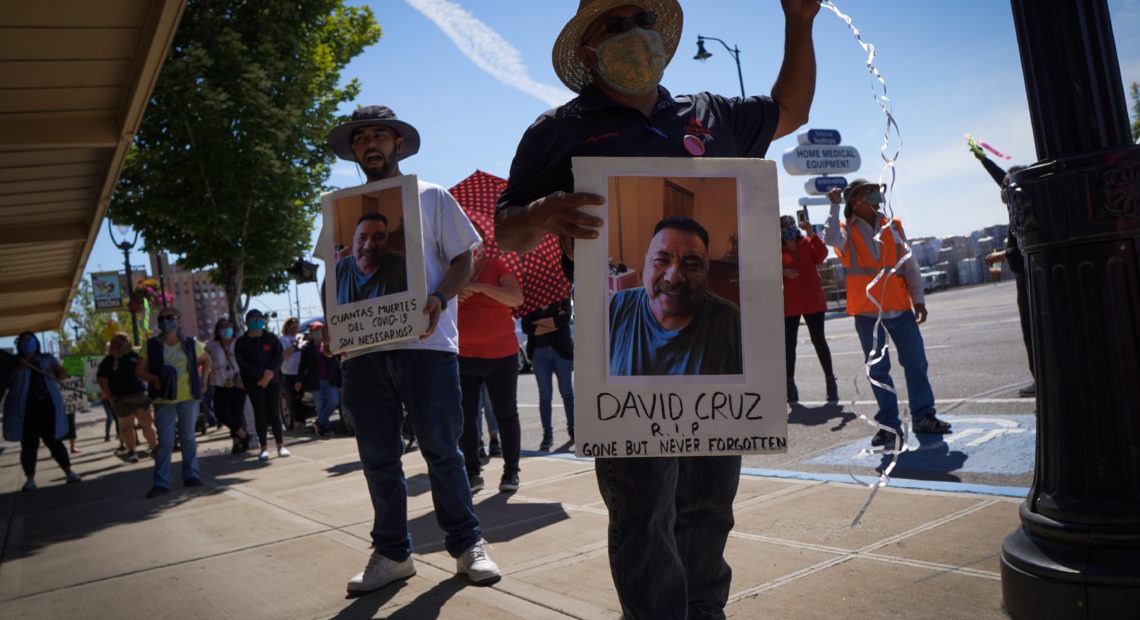 Yakima, Tri-Cities Eye Modified Phase 1, But 'We Have To Remain Vigilant' With Mask Use, Officials Say
BY ENRIQUE PÉREZ DE LA ROSA & COURTNEY FLATT
County officials in eastern Washington rushed applications to the state Thursday evening to reopen their economies. It came the same day Gov. Jay Inslee announced the state would approve their plans to reopen and put others on pause for two weeks.
When counties began to open their economies in May, customers flooded into restaurants, hair salons and retail shops – including from other counties with rising COVID-19 cases.
To keep that from happening, state health officials are letting hotspot counties Yakima, Benton and Franklin open some businesses to a degree under a modified Phase 1 plan.
Andre Fresco, executive director of the Yakima Health District, says the pandemic is not over yet.
"We have to remain vigilant in the face of great odds here. We are a community that's in peril," Fresco said in a Thursday night media briefing. "If we were to have a major surge in counties, the Governor's Office has made it clear that another alternative would be to shut down the entire county for an extended period of time to break the transmission."
In recent weeks, new cases and hospitalizations of COVID-19 per day have fallen in Yakima. Health officials say that's thanks to more people wearing masks in public.
The state Department of Health has already approved Benton and Franklin counties' modified Phase 1 reopening, effective Friday.
Yakima County also applied for reopening and expects to hear back from the state very soon. County health officer Dr. Teresa Everson says residents still need to observe basic pandemic rules.
"While we are doing a small and measured amount of reopening, it is not the same as relaxing. This is not a time to relax," Everson said Thursday evening. "It's a time to double down on all of the safety measures that we know that work. So that's wearing a mask. That's staying home when you don't need to be out."
Tri-Cities Region Masks
With the modified Phase 1 allowing more businesses activity in the Tri-Cities region, those businesses will have to require customers wear masks. County health officials issued the mandate Wednesday evening in an effort to slow the spread of the coronavirus.
But on Thursday afternoon, Gov. Jay Inslee announced he would soon sign a proclamation to make the "No Mask, No Service" requirement a statewide mandate. That specific measure previously applied only to hard-hit Yakima County.
The "No Mask, No Service" requirement for Benton-Franklin counties will go into effect July 6, after the holiday weekend.
Regional leaders had asked the governor to issue these regulations, but health officials decided to go ahead with the order before Inslee announced the statewide action Thursday afternoon in a 3 p.m. briefing.
The order comes as the Benton-Franklin Health District announced Wednesday its largest single case count to date.
"We couldn't wait until that decision (from the governor) was made. We needed to take some action now," Dr. Amy Person with the Benton-Franklin Health District said Thursday morning.
All businesses will have to comply with the order, whether they operate indoors or outdoors.
People will be exempt if they have medical or other conditions. There are exceptions for people who are eating or drinking or who use their facial expressions to communicate.
The regulation will be enforceable as a misdemeanor, but Person says she hopes businesses will take the lead by making the request to customers. 
Law enforcement agencies across the state have said they are going to educate people on the rules and mask requirements rather than focus on enforcement. Some county sheriffs have openly spoken against such masking requirements.
"What we're really looking for is for businesses to use the same judgement and practice that they use for any of their policies: no shirt, no shoes, no service; no smoking; only service animals. There are several examples already of where businesses ask patrons to do certain things," Person said.
Person had previously directed people to wear masks on June 8. A statewide mandate was issued on June 26, with stricter regulations in Yakima County.
"A Sign Of Hope" And A "Freedom Rodeo"
On Thursday afternoon, Inslee announced Benton, Franklin and Yakima Counties could soon move into a Phase 1.5, which would allow more small businesses to open. He had earlier said it would give the regions a sign of hope.
"We think allowing a small amount of additional activity to occur locally – under stringent safety precautions – will aid those efforts and reduce the number of infections that occur across county lines. This will keep people in their counties and help businesses they support. Additional activity, plus requiring masks in these businesses, we hope will help contain the virus in these areas," Inslee said in a news conference.
The health district also requested that people refrain from large gatherings over the Fourth of July weekend, including a "freedom rodeo and parade" in Basin City. Health officials have reached out to the organizers, said Rick Dawson, with the health district.
"That event should not happen," Dawson said. "It is not OK. It is not safe for our citizens and will and can contribute to the COVID-19 burden in this community, which we are so desperately trying to mitigate to allow our communities and our economy to open up."
Dawson said the governor's office is aware of the Basin City parade and rodeo. He said health officials have spoken with the organizers and "haven't seen any progress with that."
Health officials worry that if large gatherings happen over the weekend, they could see a spike in COVID-19 cases in two weeks, similar after other holiday weekends such as Mother's and Father's Day and Memorial Day.
"It's important. If we want to move forward, we need to be unified in our efforts, and we need to do the right things," Dawson said.
The state could shut down counties again or move them back to a more restrictive phase if there's a surge in coronavirus cases.