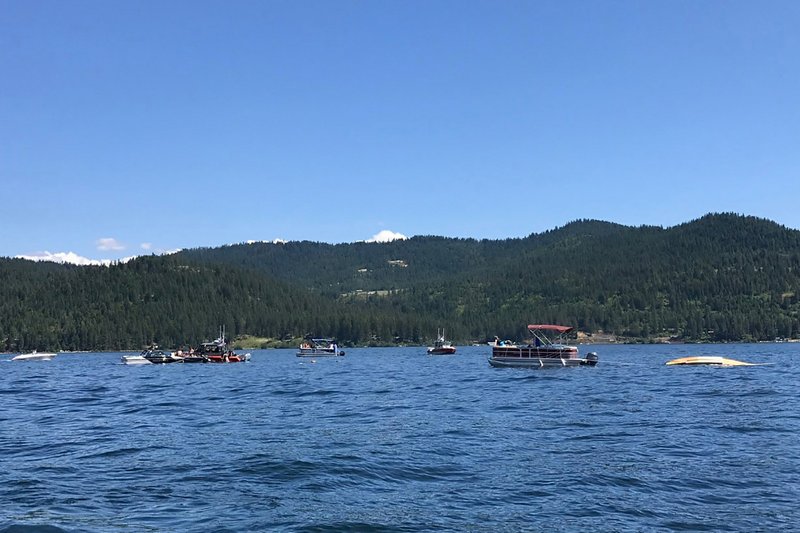 Up To Eight Thought Dead, Three Bodies Recovered, In Lake Coeur d'Alene Plane Collision
Dive teams continued working at North Idaho's Lake Coeur d'Alene on Monday to recover the bodies of victims of a Sunday afternoon mid-air collision.
Lieutenant Ryan Higgins with the Kootenai County Sheriff's Office told reporters Monday that three bodies out of eight are now recovered. He said crews have discovered the locations of two others on the bottom of the lake. Three others are believed dead, too.
One of the planes was owned by Brooks Seaplane Service, which takes customers up for scenic views of Lake Coeur d'Alene. Higgins said it is believed there were six people on board that plane, the pilot and five passengers.
"We don't know if they were local, if they were tourists or what state they were from," Higgins said. "I want to guess that all the occupants on the Brooks plane, minus the pilot, were from out-of-the-area, but I'll get that information out as soon as I can."
He says four of the five passengers are believed to be from one family, a father and three children.
Higgins didn't have much information about the second plane, which was apparently based in Lewiston, Idaho but flew out of Felts Field in Spokane on Sunday.
Higgins says the investigation into the cause of the collision is underway.
"Some video image that we've seen and still pictures that we've seen, that were taken accidentally, show that they were coming toward each other, but I don't know which one was flying south and which one was flying north," he said.
A team from the National Transportation Safety Board from Seattle is due to arrive in Coeur d'Alene to begin investigating.