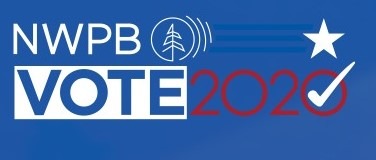 Washington Primary: Jay Inslee, Loren Culp Advance To General; Other Races Still Being Counted
QUICK LINKS:
BY RACHEL LA CORTE / AP & NWPB STAFF
Democratic incumbent Gov. Jay Inslee and Republican challenger Loren Culp advanced Tuesday night through Washington's top-two primary to the November ballot.
In early returns, Inslee had 52% of the vote. With nearly 17% of the vote, Culp, the police chief of Republic, had the largest share among 35 other candidates.
Inslee dropped a brief presidential bid last year and decided instead to seek a rare third gubernatorial term. Governors in Washington state aren't subject to term limits, though most haven't served more than two terms. The last three-term governor in Washington was Republican Gov. Dan Evans, who served from 1965 until 1977.
Culp, who got national attention after saying he wouldn't enforce gun regulations approved by voters in a 2018 ballot measure initiative, campaigned against Inslee's coronavirus restrictions like mandatory masks, saying they infringed on people's constitutional rights.
Culp told The Seattle Times Tuesday night that people were tired of COVID-19 mandates from Inslee.
"They are ready for individual freedom and liberty being returned to this state, where citizens have the choice on what they want to do in their personal lives and business, and not have it dictated to them," he said.
Culp beat several other Republicans, including Joshua Freed, the former mayor of Bothell, anti-tax initiative promoter Tim Eyman, Yakima doctor Raul Garcia and state Sen. Phil Fortunato.
In the race for lieutenant governor, Democratic U.S. Rep. Denny Heck, who had previously announced he was retiring from Congress, also advanced to the general election, with nearly 28% in early returns. Vying for the second spot on the November ballot were Democratic Sen. Marko Liias, at just under 17%, followed by Republican Ann Davison Sattler, at 11.5%. They are running to succeed current Democratic Lt. Gov. Cyrus Habib, who announced earlier this year that he was leaving to become a Jesuit priest.
The two races were among dozens of federal, statewide and local races that voters were deciding in the state's top-two primary, in which the top two vote-getters advance to the November ballot, regardless of party. Last-minute voters had until 8 p.m. to drop their ballots off at drop off boxes around the state.
With Heck's retirement, the open seat in the 10th Congressional District, which includes the state capital of Olympia, drew 19 candidates. The top three candidates in early returns are all Democrats: former Tacoma mayor Marilyn Strickland had 21% of the vote, Democratic state lawmaker Beth Doglio had 14% and former state lawmaker Kristine Reeves had just under 13%.
It could take days to determine the outcome of that race and others, as the ballots arrive in elections offices throughout the week. The next batch of results will be posted by counties Wednesday afternoon.
All 10 of the state's U.S. House seats are on the ballot, but Heck's seat is the only one without an incumbent seeking another two-year term. Democrats currently hold seven of the seats, and Republicans hold three.
Voters also weighed in on nine statewide elected offices, including attorney general, auditor and lands commissioner, with all of the Democratic incumbents advancing to the November ballot. The only two statewide positions held by Republicans — secretary of state and treasurer — are expected to be competitive in the fall. Secretary of State Kim Wyman and Democratic state Rep. Gael Tarleton both advanced to the November ballot, with Wyman at just over 50% and Tarleton with just under 45%.
Treasurer Duane Davidson and his Democratic challenger, state Rep. Mike Pellicciotti, are the only two candidates on the primary ballot and automatically advanced to the general election, with Pellicciotti having captured 54% in early returns.
Voters also weighed in on their local legislative races, with all 98 state House seats and 26 of the Senate's 49 seats on the primary ballot. Democrats hold a 28-21 majority in the Senate and a 57-41 edge in the House.
Eastern Washington Congressional Races
– By Scott Leadingham
In Congressional races, eastern Washington's 5th District will see incumbent Republican Cathy McMorris Rodgers against Democrat Dave Wilson. The other Democrat in the race, Chris Armitage, dropped out in July but remained on the ballot.
In central Washington, the 4th District will see incumbent Republican Dan Newhouse against Democrat Douglas McKinley.
And in the 8th District, first-term Democratic Congresswoman Kim Schrier, a medical doctor, advances to the November ballot. Schrier faced a close race in 2018 against longtime Republican Dino Rossi in the district that spans the Cascades from eastern King County to Kittitas and Chelan counties. The seat was open two years ago after Republican Dave Reichert retired.
The only question is who will be Schrier's opponent. In early returns, two Republicans, Keith Swank and Jesse Jensen, were virtually tied Tuesday night, each with about 17% of the vote. Counties must finalize results by August 18, unless recounts are needed.
Additional reporting by NWPB staff.
Copyright 2020 Associated Press