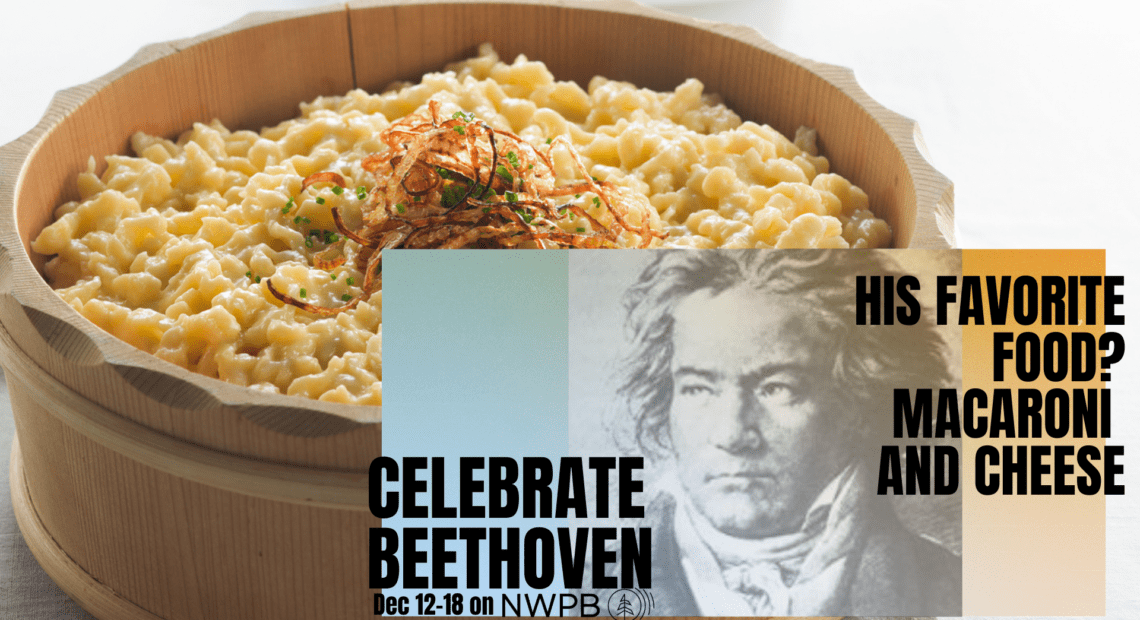 Mac and Cheese Recipes from NWPB Listeners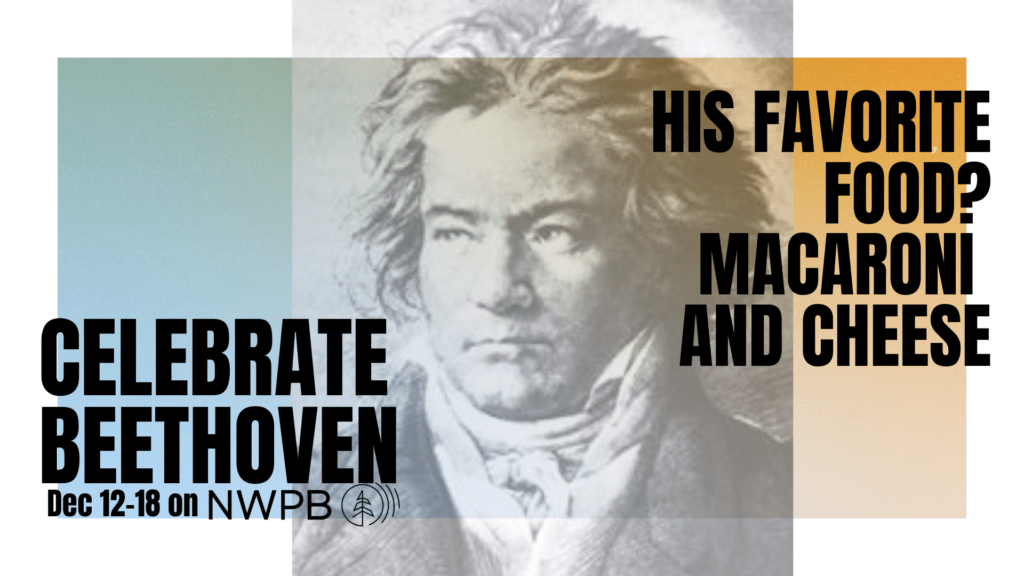 Beethoven loved soup. He had special preferences for seafood and white wine, too. But he really savored a hearty plate of mac-and-cheese.
NWPB asked if you have your own distinctive take on this popular dish, and share your responses here. Try them out, and you might find a new favorite mac and cheese recipe as well. 
In honor of Beethoven and his favorite dish, Mahlzeit!
PESTO PRIMAVERA MAC AND CHEESE
Deborah Parker from Bellingham
Make the PESTO ahead if you like, but careful not to eat it all up.
Put the following 5 ingredients in a sturdy blender or food processor until mixed, and store covered (exposure to air will darken the pesto but not affect the flavor). One large bunch of basil, stems and any flowers removed. (I buy organic and do not bother washing the leaves. Dry them well if you do.) Half to 3/4 c of walnuts (substitute other soft nut as you prefer or have on hand). Half a cup of grated parmesan. A very heaping tablespoon of fresh peeled garlic toes. No more than a quarter cup of good olive oil. The hard part is getting it all blended up. The easy part is swallowing it.
PRIMAVERA. Whatever fresh veggies you love and can find, cooked separately to perfection, and cut into manageable bite sizes. Carrots, onions, broccoli, zucchini, mushrooms, green pepper, peas. No tomatoes.
PASTA. Macaroni or twists or shells, any little shape. Cook to perfect al dente, drain and set aside.
CHEESE SAUCE. I use Tillamook Extra Sharp White Cheddar, the one and only. Make a roux in your biggest skillet: over low heat, melt a tablespoon of butter, coating the skillet. Stir in about the same amount of cornstarch or flour, keep stirring vigorously, trying to keep it smooth. If you can't, don't worry, nobody will know. Add milk, a little drizzle at a time to thin the roux, until you have a quarter inch of warm buttery milk thickening on the bottom of the skillet. Slice thinnish hunks of cheddar into the milk, and stir and stir. You will want a VERY cheesy sauce, go wild with it.
When your skillet has all the sauce it can hold, toss in the drained noodles, stirring to coat. Add the cooked veggies, and a couple huge spoons of pesto. Stir everything together, and add more cheese and milk if it turns out you skimped! Bake for a golden crust if desired, or just heat through and serve with crunchy toasted bread and maybe a salad if you want to bother. Heaven! With love from my kitchen to yours!
RUSSIAN MACARONI AND CHEESE
From the Moosewood Cookbook, by Mollie Katzen
Kathryn Howard from Walla Walla
1/2 pound macaroni or other small pasta (I used whole-wheat Penne)
2 Tbs butter
2 cups chopped onion
2 cloves garlic, minced
1/2 lb sliced mushrooms (I used portobellos–yum!)
4 cups shredded cabbage (It sounds really odd to put cabbage in mac and cheese, but it was really quite tasty.)
1 tsp salt
1 tsp caraway seeds
1 bunch fresh spinach, stemmed and coarsely chopped (I used the pre-washed bagged kind.)
2 cups cottage cheese
1/2 cup buttermilk
2 Tbs fresh dill, finely minced (Also sounds odd for mac and cheese, but try it–you'll like it.)
2 cups packed, grated cheddar (This is my only complaint with the recipe–I actually think it could use more cheddar.)
a handful of sunflower seeds (Optional–I didn't use them because I didn't have them, but I bet they would be good.)
Preheat oven to 350 and grease a 9×13 baking pan
Cook the pasta until tender and drain. (Use a BIG pot, you'll need the room.)
Melt butter in a deep skillet (this is going to need to be deeper than you think it is. AT LEAST 2 or 3 inches deep), and sauté onions for 5 minutes. Add garlic, mushrooms, cabbage, salt, and caraway seeds. Cover and cook 10 minutes, or until cabbage is tender. Stir in spinach, remove from heat, and add to pasta.
Mix in cottage cheese, buttermilk, dill, black pepper and half the cheddar. Spread in prepared pan, sprinkle with remaining cheddar and sunflower seeds (if you use them), and bake uncovered for 20-30 minutes.
Delicious! And even the kids loved it!
GRANNY BUG'S MACARONI AND CHEESE
Pam O'Neal from Bellingham
This was my mother's way of making mac and cheese which means there are no exact measurements available. I've been making this for 50 years so I will try to approximate the correct amounts of each ingredient.
1 package large elbow macaroni, cooked and drained
2 eggs, lightly beaten
1/2 to 3/4 cup milk
8-12 oz. cheddar, cut into 1/2 inch cubes (More or less to taste and budget.)
salt and pepper
butter
Mix everything except the butter together in a large mixing bowl while the macaroni is still hot. Should be moist but not sloppy wet; adjust the milk accordingly. Pour into buttered or sprayed 8″x 8″ casserole dish and dot top with butter. Bake uncovered at 350 degrees for 30-40 minutes or so until it bubbles and is slightly brown in top and sort of crispy around the edges. Let it get set for about 10 minutes before serving. Cuts nicely into squares. Saves in fridge and microwaves really well. This is not the traditional style with the cheese sauce coating every inch of the macaroni. Instead you get bites of creamy custardy pasta with melting chunks of cheese.
Variations I have tried and feel free to add your own:
Using veggie macaroni makes it very festive and colorful and a perfectly fine main dish rather than a side.
Also true if you want to add cooked bacon, ham, or kielbasa.
Sprinkle the top with paprika before baking. Smoky paprika is especially tasty.
Use any type of cheese or a mixture. Add shredded cheese or grated Parmesan during last few minutes of baking for more melty yumminess.
Enjoy!
Click here for more recipes.