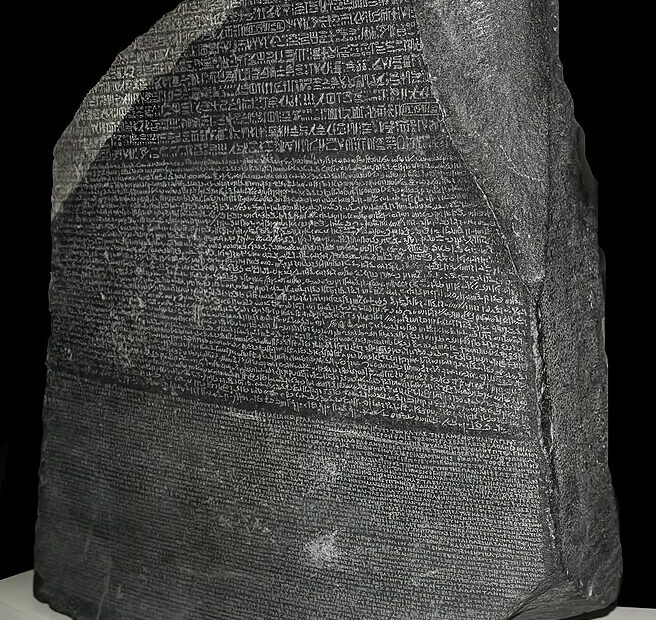 Variations on a Theme: Party Like It's 1799
Napoleon Bonaparte's soldiers in Egypt discovered the Rosetta Stone July 15th, 1799. The discovery is one of the greatest historical events ever. Found near Fort Saint Julien, Rashid (aka Rosetta, hence the name), Egypt. 
Read below for more info on the pieces in this week's Variations on a Theme.
Please note that NWPB receives no compensation, and has no control over the ads played on Spotify's platform.
This playlist includes the Pre-baroque composer Claudio Monteverdi and his piece "O rosetta che rosetta". It was written in 1607, long before the stone's discovery, but fits the celebratory tone nicely.
Next in the playlist is a piece by Napoleon's favorite composer, Neapolitan Giovanni Paisiello who wrote Sinfonia Funebre in 1799. However, in this list is his Sinfonia d'Opera. He was distinguished as one of the best opera writers of the 18th century. He was the first person to write the opera The Barber of Seville and he was music director for Napoleon Bonaparte from 1802 to 1804. 
Hayden finished only two of the six quartets commissioned by the Prince Lobkowicz. The one he wrote in 1799 included his 66th quartet. He got distracted by another project. We assume the prince wasn't too harsh on the aging quartet master and forgave the partial completion of his commission. 
Louis Spohr was active in 1799. Although, the piece here was written in 1839, 40 years after the discovery of the Rosetta stone, it harkens back to that time in musical transitions. 1799 was halfway through the bridge of Classical to Romantic. He pulls from 4 different eras of music to make his Symphony No. 6 "Historic". 
Finally, Beethoven's triumph Piano Sonata No. 8 "Pathetique", written in 1799, rounds out the era's shifting musical tastes and places the future of the classical music pretty squarely in the Romantic camp. 
On a personal note, I remember when I visited the Smithsonian as a child and saw some artifacts that were collected by Napoleon Bonaparte's soldiers. There were mummies, boxes, etc. But there was one that was humongous. It was an Egyptian tomb entrance that had, carved into the ancient pillars, "graffiti" in the form of the soldier's monikers. They carved their names into the tomb entrance. No respect for antiquities!
My sister and I were obsessed with Ancient Egypt, even going so far as to create our own hieroglyphic system and written language. I always wondered how we knew what all the hieroglyphics meant? My mother told me about the Rosetta stone, and I was amazed. When I studied abroad in England, I was able to see it in the British Museum, where it's been housed since 1802 (with only one short break). It was smaller than I had imagined. But although it's physical size was more demure, my appreciation of it's monumental influence in history has never been downsized. 
Happy excavating your own historical adventures!