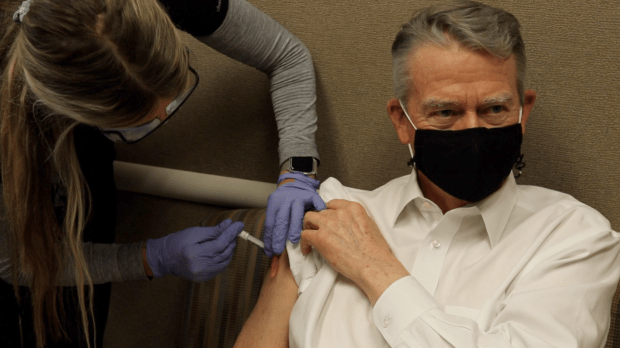 Governor Brad Little Orders More Transparency For Idaho Vaccine Reporting
QUICK LINKS:
Originally posted Jan. 28, 2021 on IdahoEdNews.org
Gov. Brad Little issued a new executive order Thursday that will require vaccine providers to publicly report additional data as part of an effort to inject more transparency in the vaccine rollout.
"There are questions about whether the vaccine is being administered quickly enough after it arrives in communities across Idaho," Little said. "Quite frankly, we need a clearer picture."
Little said the executive order is necessary to shine more light on vaccine administration and improve transparency about where the vaccine is available.
Starting Feb. 1, all vaccine providers in Idaho will need to report three things:
A weekly report on the total number of doses that a public health district has allocated to the provider.
A daily report on the number of allocated doses that the provider has administered.
A daily report on the number of allocated doses currently in inventory.
Little's order also states, "all enrolled COVID-19 vaccine providers are expected to administer doses within seven days of receipt."
The reports are expected to be published on the state's COVID-19 vaccine dashboard beginning Feb. 8.
Little issued the executive order as the state prepares to administer vaccines to Idaho seniors age 65 and older beginning Monday.
Right now, teachers are in the state's vaccine priority group. Any teacher or Idahoan who has already been cleared to get the vaccine will still be able to once the state moves on to seniors next week. However, health officials have warned that demand is expected to increase greatly. There are more than 250,000 Idahoans 65 or older, and the state is receiving about 21,000 new doses of vaccine each week.
Until supply ramps up or other vaccines are approved, it could take the state two or three months to vaccinate all seniors under current vaccine-allocation levels.
As of Thursday, more than 89,000 Idahoans have received at least one dose of the COVID-19 vaccine.
"I want to thank those health care workers, teachers and others who have taken this important step to get us back to normal," Little said.
Little and public health officials said Idahoans will be able to obtain a COVID vaccine free of charge. There are more than 200 vaccine providers in Idaho. State officials said people will be able to get the vaccine at many of the same places they would receive a seasonal flu shot, including their doctor's office, pharmacies, medical clinics and hospitals.
Little announced via social media on Monday that he has received the first dose of the vaccine. He told reporters Thursday he felt great after getting the shot and called it "a walk in the park" compared to other vaccines he's received.