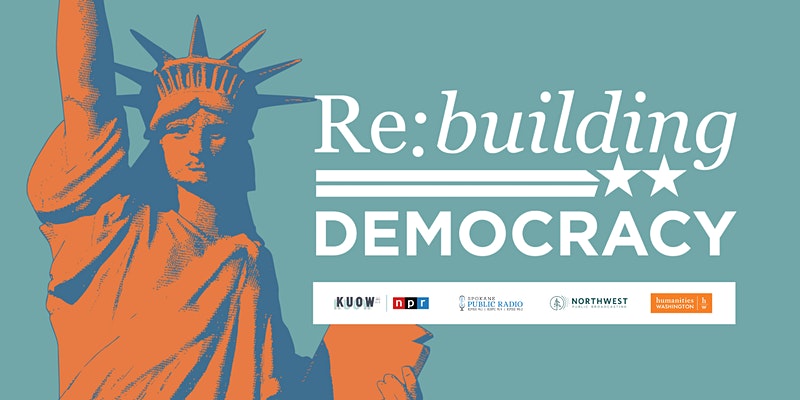 We're Working On 'Re:building Democracy' In This Statewide Initiative. Here's How To Watch And Join
Deepening polarization is eroding faith in the electoral and democratic process on which our democracy depends. What can we do to cultivate mutual respect, repair damaged relationships, and reweave a civic fabric frayed from years of growing division? 
That's what Re:building Democracy is trying to address. The effort is a joint project with NWPB, KUOW, Spokane Public Radio and Humanities Washington. 
On March 10, 2021, the group collaborated on a live state-wide broadcast and live online event the featured voices and perspectives from across the Northwest and the ideological spectrum.
KUOW's Community Engagement Executive Producer Ross Reynolds and featured guests Eric Liu, Jennifer Sherman and Washington Secretary of State Kim Wyman explored one of the key questions of our time: How can we increase America's commitment to democratic governance?
Watch the full program above. Learn more and listen to other programs in the Re:building Democracy series here.
Have feedback about Re:building Democracy or want to offer your thoughts on civility and civics in the Northwest? Email us.
HOST:
–Ross Reynolds, KUOW
GUESTS:
–Jennifer Sherman, Professor of Sociology, Washington State University
–Eric Liu, Founder/CEO of Citizen University
–Kim Wyman, Washington Secretary of State