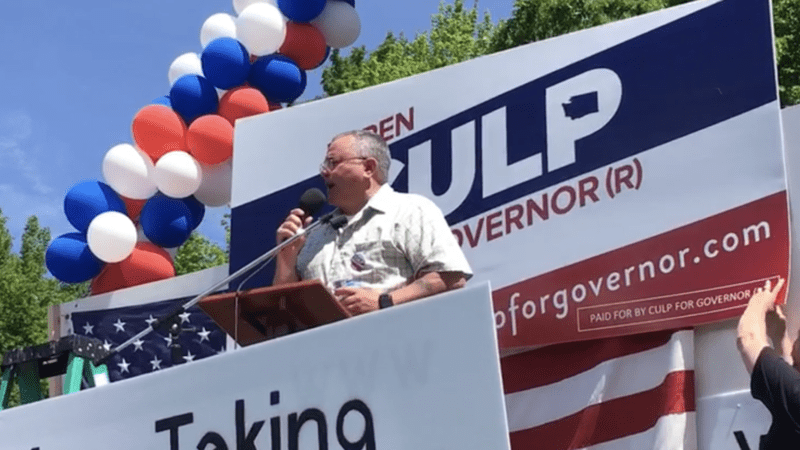 Loren Culp, Former GOP Gubernatorial Candidate, To Run For Congress Against Dan Newhouse
The 2022 mid-term elections for Congress are more than a year and a half away. But candidates are already lining up in what will become higher-profile-than-usual races. That includes central Washington's 4th District.
On Wednesday, the Seattle Times reported former Republican gubernatorial candidate Loren Culp filed paperwork to run against incumbent Rep. Dan Newhouse. Along with his fellow Washington Republican Jaime Herrera Beutler, Newhouse was among 10 House GOP members who voted to impeach former President Donald Trump in January.
Both Newhouse and Herrera Beutler have drawn Republican challengers and calls to resign from within their own party. In March, Republican state Rep. Brad Klippert of the Tri-Cities also said he would challenge Newhouse, who was first elected in 2014.
Culp is the former police chief of Republic, in Ferry County, which is in the state's 5th Congressional District, not the 4th. He lost the race for governor last November by more than half a million votes. But much like Donald Trump, he made unproven claims about voter fraud. He filed and then withdrew a lawsuit against the state and several county election offices.
Newhouse, 65, was reelected with 66% of the vote in November. The district has a large agricultural base and runs from Canada to the Oregon state line. Trump won it with nearly 58% of the vote in November — his highest support in any of Washington's 10 congressional districts.
Information from the Associated Press was used in this story.