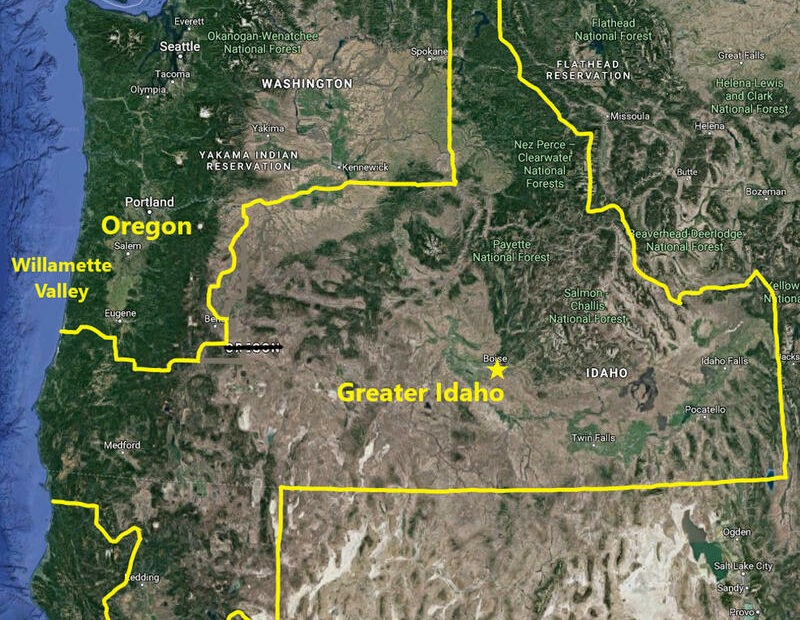 5 More Oregon Counties Vote To Join 'Greater Idaho,' But Reality Of Border Shift Happening Is Slim
BY JEFF THOMPSON / OPB
Five counties voted in favor of leaving Oregon in Tuesday elections, the latest push by a coalition that wants a large chunk of Oregon to join Idaho instead. That border shift is not likely to happen anytime soon.
The Move Oregon's Borders for a Greater Idaho proposal would have Idaho take over about three-quarters of Oregon's land. Conservative supporters say Oregon is dominated by politically liberal urban areas, and they would rather join Idaho, which they say is more in line with their values.
For the plan to succeed, the Oregon and Idaho legislatures and the U.S. Congress would need to sign off.
But voters in Baker, Grant, Lake, Malheur and Sherman counties passed measures in favor of the move on Tuesday. Mike McCarter, spokesman for the Greater Idaho movement, called it a big win.
"This election proves that rural Oregon wants out of Oregon," he said in a statement Wednesday morning. "If Oregon really believes in liberal values such as self-determination, the legislature won't hold our counties captive against our will. If we're allowed to vote for which government officials we want, we should be allowed to vote for which government we want as well."
The measures call for the counties to start considering the move and what it would mean. Measure 28-46 in Sherman County, for example, "requires Sherman County promote the interests of the county in relocating the Oregon-Idaho border." The measure passed with 62 percent approval.
Measure 12-77, which passed by a similar margin in Grant County, calls for "the Grant County Court to meet on the first Wednesday of every April, August, and December to discuss whether it is in the best interest of Grant County to promote the relocation of the Oregon-Idaho border."
The other three measures took a similar approach, mandating regular county meetings to discuss the matter. The counties joined two others, Jefferson and Union, where voters supported the Greater Idaho movement last year.
The measures don't do a lot to move the border, but they do help promote the cause, McCarter said. He hopes to bring a few more counties on board for the next election cycle.
"Greater Idaho will be on the ballot in Douglas, Harney, and probably several other counties where citizens are still collecting signatures or asking county commissioners to put it on the ballot," McCarter said. "Crook County commissioners invited us to a meeting next week to discuss putting it on the ballot."
See all results from the 2021 Oregon Special Election at Oregonvotes.gov
Copyright 2021 Oregon Public Broadcasting. To see more, visit opb.org