Former Pasco Mayor Was On The Front Lines Of The Ukrainian Refugee Crisis
Listen: Dori Luzzo Gilmour reports on the former mayor of Pasco who has been helping Ukrainian refugees in Poland / Runtime: 3 minutes 
READ
The longest serving Mayor of Pasco Washington took a sabbatical from his Hanford job and left public office to do a world tour two years ago. Now he is in Poland, helping to serve food to Ukrainian war refugees. 
Matt Watkins served as elected official for the city of Pasco for 16 years, 10 years as Mayor and worked at Hanford for three decades. Watkins embarked on a multi-year world journey starting in January 2020. His tour through Asia which was cut short by Covid-19. Watkins traveled through Western Europe last fall and started on his current leg through Eastern Europe.
"Including Turkey, Greece, and the Balkan Countries and my course was to head to Poland anyways…I just didn't expect it was going to be on the backdrop of Putin declaring war on the Ukrainians," Watkins said. 
Watkins arrived in Eastern Europe before Putin declared war. He decided he had to help and went to seek out information about volunteer opportunities. A Washington Post article led Watkins to an organization.
"And a I saw on the list Chef Jose Andres, and remembered him vividly in 2017 and Hurricane Maria in Puerto Rico. When the President was throwing paper towels at people, he was serving them soup."
The charitable foundation run by Chef Jose Andres, World Central Kitchen, contacted Watkins and he traveled to Poland to volunteer as general help at the Central warehouse headquarters for Poland and Ukraine. WCK supply food and logistic support for eight border crossings and other stations.
Watkins worked at the warehouse the first day, doing anything that was needed and then went to the border to serve refugees as they arrived.
Watkins saw mostly women and children and older people. Some refugees arrive looking for a sim card to make phone calls. They are in good spirits but tired. The refugees spend one day at the facility that resembles a strip mall. 
" …from there they kind of decide or somehow there is some kind of process of where they are going to go to within Europe. I saw a sign that said Espana or Spain, Denmark, Germany or Britain..these other European countries."
In a day or two the refugees are gone either by bus, train, or with host families.  Thousands of people are funneling through.
Watkins also says he's not only there just to serve soup.
"Why I am also here is to bear witness to what is going on, to share that with my friends and my family and the people of the Tri-Cities, and the Columbia Basin…to give a first-hand account. It is very important. "
Watkins had to leave as there are no available places to stay. He hosted two new volunteers in his rental home before he left.  Watkins was happy to report that he had a Cougar connection. The COO of the World Central Kitchen is a 90's graduate of WSU.
"Eastern Washington is representing well here in Poland. And that group, if you have not checked them out..WCK.ORG is who I have been volunteering with."
Watkins was only off the volunteer bus for about an hour when he ran into a fellow Coug.
Donate to World Central Kitchen:
https://donate.wck.org/give/236738/#!/donation/checkout 
Your donation will help to provide fresh meals for those in need after disasters, and build long-term resilience in affected communities.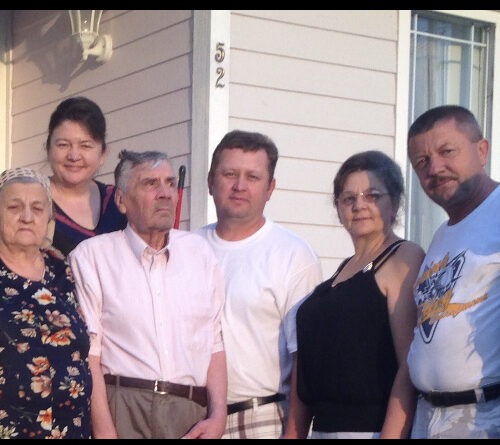 More than four million people have fled Ukraine since the Russian invasion. Most of them have gone to other European countries, some are trying to get to the US.
Lana Sinyuk is in the Tri Cities trying to help those Ukranians, while also helping her own family in the middle of a war.
Continue Reading Ukrainian In Tri Cities Helping Refugees