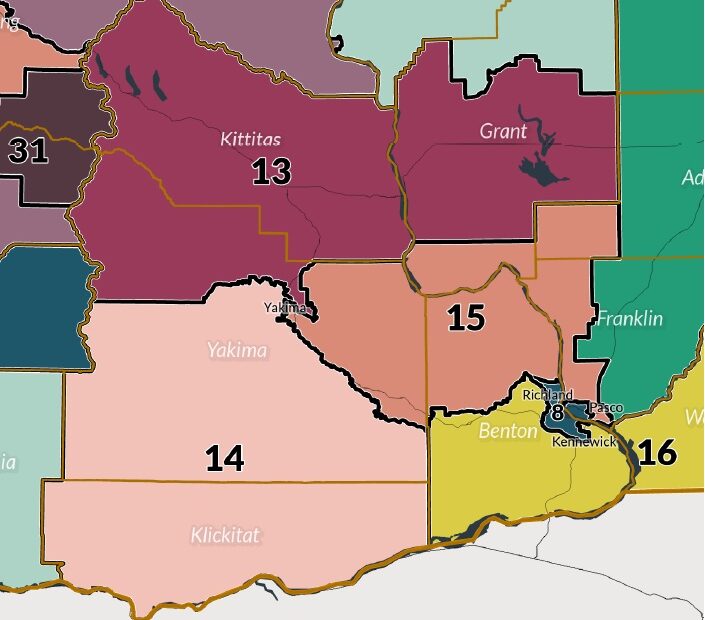 New Lawsuit Challenges WA District 15 Redistricting – With A Twist
NWPB's Johanna Bejarano reports on a new lawsuit against the redistricting in Washington's 15th Legislative District / Runtime – 1:07
A new lawsuit is challenging the Legislative Washington State Redistricting plan in the Yakima Valley. This time, the complaint questions the constitutionality of District 15. The arguments focus on the fact that the new redrawing grants Latino voter privileges over other citizens.
 The complaint argues that District 15 is an "illegal racial gerrymander" and violates the Fourteenth Amendment Equal Protection Clause.
 It alleges that District 15 was purposely redrawn to have Latino Citizens Vote Population (CVAP) of 50.02% and it used the racial factor without sufficient justification.
 In addition, according to the complaint, the district map crosses Yakima, Grant, Adams, Franklin and Benton Counties lines, divides several communities of interest and combines other communities with dissimilar interests.
 Benancio (Ben) Garcia, a Republican citizen of Sunnyside, appears as the only plaintiff in the document. According to Garcia's website, he is planning to run for United States Congress in Washington's 4th Congressional District.
 Andrew (Drew) R. Stokesbary, from Stokesbary PLLC, represents Garcia in the lawsuit against Steven Hobbs as Secretary of State of Washington. Stokesbary is also Washington's 31st Legislative District House Representative.