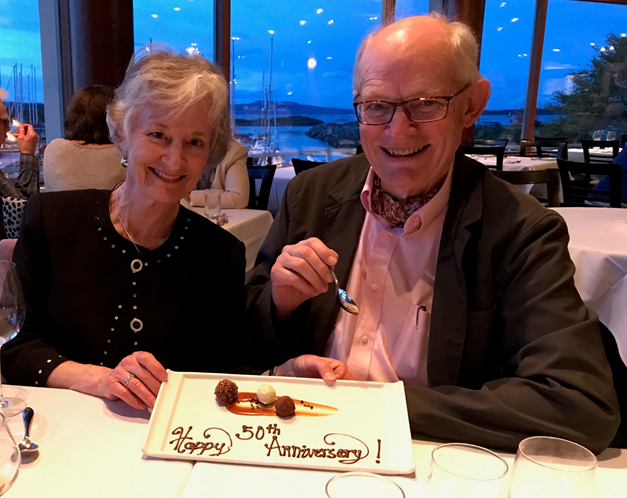 Victoria Sustaining Members Thrill to NWPB Music
Syd and Barbara Bulman-Fleming give credit to the "wonderful reporting and enthusiastic, knowledgeable and sympathetic on-air hosts" for getting them through the pandemic, and NWPB's mix of classical music and American politics—two of their passions in retired life—for getting them through the day. "[NWPB] is a huge part of our lives. We turn it on in the morning and turn it off at night," Barbara says. They share their appreciation for NWPB with their three sons and five grandchildren. Barbara is proud to point out that the grandchildren know the names of all of the announcers.
Syd, who serves on the board of the Greater Victoria Youth Orchestra and is himself a "high level amateur" pianist, thrills when he hears recordings of the group's performance of Dvorak's Symphony No. 8 on NWPB. Another thrill is when they hear Faure's Dolly Suite, which he and Barbara played together on the piano when they were courting.
Many years later, to celebrate their 50th anniversary, Syd and Barbara increased their sustaining membership support by 50%. Now, to celebrate Northwest Public Broadcasting's centennial, they made an additional gift of $100 to show their support for the station's 100th year—and they encourage everyone who values NWPB to  join them in making an additional centennial gift.