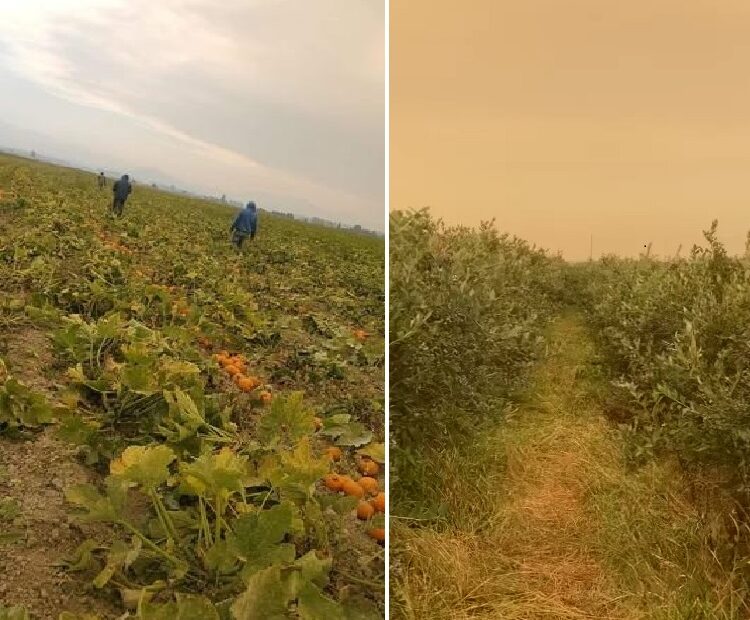 Farmworkers Ask For Wildfires Rules Enforcement
The emergency rules protecting outdoor workers from wildfire smoke in Washington expire on September 29th. Farmworkers keep calling for rules enforcement, but the Department of Labor and Industries says violations are uncommon.
In Skagit County Alfredo Juarez says field workers faced unhealthy air quality last week. 
"There was a lot of smoke here, we got an alert that everyone should stay indoors, that it was not safe to go out because the smoke is not good to be breathing. But workers were outside, and there were no masks. It was a bad day," says Juarez.
Juarez, a farmworker and organizer with Community to Community, was in Olympia weeks ago. Along with others, he asked Washington Governor Jay Inslee to declare a climate emergency. But the state has no plans to do it. 
An email statement from the Governor's Communication Office in response to an inquire from NWPB after the demonstrations in late August, says declaring a climate emergency was "not on the table". 
It also says Washington state leads "from the Climate Commitment Act to the environmental justice focused HEAL Act to adopt rules to aggressively reduce emissions."
Still, farmworkers in Chelan and Okanogan say wildfire smoke impacts them greatly, according to Laura Rivera, Environmental Justice Coordinator with the nonprofit organization CAFE. The group provides services to vulnerable communities in Wenatchee.
"The only reason why they have masks this past three wildfire season was due to covid. They say their eyes were burning, their throats were itching, they were more congested. There was a person who had to go to the hospital because he had pneumonia," says Rivera.
CAFÉ's Gabriela Delgado is an outreach specialist. Delgado says it is difficult to ensure employers comply with the emergency regulations, which require training programs, air monitoring and emergency response planning. Employers also must provide masks.  
"I think it is 50/50. It depends on the company, whether they protect their workers," says Delgado. 
The Department of Labor and Industries Agricultural Regulatory Compliance Unit conducts inspections to ensure that employers follow the rules.  
Unit leader Steve Yunker says his team currently has five inspectors in Washington.
Yuker was unable to provide the number of infractions written but says they aim to step in when employers aren't following the rules.   
"The employer has to provide masks. If they don't give it, they can contact us even anonymously. I'll try to get somebody there that day to make sure that the workers have at least the protections that are that our rule requires," says Yunker.
Still the political director of Familias Unidas por la Justicia Edgar Franks, says some employers do not see farmworkers' demands as highly realistic.
"Lowering the temperature, of paying for risky work. They don't understand it is something that can be done in the real world. I don't know if they are looking at the reality of how everything is changing and we can no longer continue as we are; otherwise, we are all going to leave, or everything is going to go away. If we don't make some changes, there will be nothing left for anyone," says Franks.
Even so, there is a lack of confidence in L&I inspections and Yunker acknowledges this.
"People say that we don't respond and I can't think in anything that we haven't responded to that we've gotten from the field. It's hard," says Yunker. 
He assures that if the workers' complaints are related to L&I rules they will investigate. He also says that people can report violations to the 1-800-4BE SAFE (1-800-423-7233) or calling directly to his work cellphone (509) 679-4572.
While the emergency rules expire, Labor and Industries have been discussing permanent heat and wildfire protection rules that will apply in the state.
The next in-person meetings scheduled to discusse the wildfire smoke rules will be held on October 4 in Spokane, October 6 in Yakima and October 7 in Tukwila. A virtual meeting via zoom will be held on October 13.