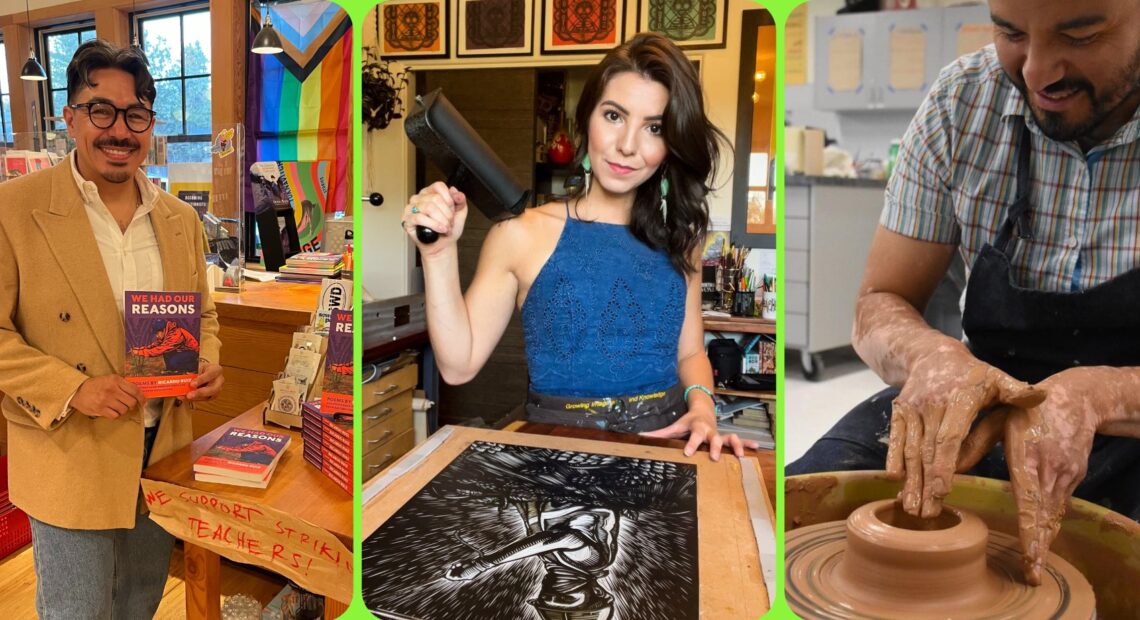 Chicanos and Mexican American Artists Connect Their Culture And Communities
Three Central Washington artists showcase the Chicano and Mexican American experience, bringing significance to realities faced by many in our state, as we celebrate Hispanic Heritage Month.
Ricardo Ruiz authored poems in collaboration with immigrants. Colorful paintings by Christie Tirado capture farmworkers in the Yakima Valley. And Saul Martinez's conceptual artwork leaves traces of his desire to express his feelings and vision of the world.
Tirado, Martinez, and Ruiz are part of an extensive list of Chicanos and Mexican American artists who proudly display and share their identities.
Ricardo Ruiz
Born in Moses Lake to Mexican immigrants, Ricardo Ruiz thinks his poetry is a way to leave a legacy.
"I knew very little of the sacrifices that my parents had made to provide me with the opportunities that I had. My children know even less than I know," says Ruiz.
His book "We had our reasons" includes immigrants' real stories. He says his poetry tells multi-generational aspects that go beyond the tales of the southern border.
"There's life beyond that, that we need to talk about," says Ruiz.
Ruiz's first connections with poetry came after a difficult transition in his life after serving in the military. He says his mentor and professor at Big Bend Community College, Dr. Allison Palumbo, showed him how writing could be therapeutic.
"Poetry allowed me a way to write freely and really allow the beat in the rhythm of words to process my emotions, and from there I found and fell in love with poetry," says Ruiz.
The poems resulted from the evolution of interviews in English and Spanish with the storytellers. They carry the emotionality and natural language of those who told them, says Ruiz.
"I tried to do justice to stories that are not my own, to experiences that were not mine, that was so preciously lent to me to be able to share and as a conduit to the outside world to these such intimate stories of trauma," says Ruiz.
Ruiz will read his bilingual poems book on October 6th at the Mid-Columbia Library in Pasco.
Christie Tirado
California-born Christie Tirado lives in the Yakima Valley and says her prints make her community visible.
"I think by being able to create, shine a spotlight and really highlight these people and the importance of what they do in our community hopefully can be able to also open up more resources for them as well," says Tirado.
Her artwork calls attention to those key people that oftentimes go unheard or unseen.
Even her parents had similar experiences.
"Both my parents immigrated here; they were often in the shadows working. They were constantly in and out, changing different jobs. But they always felt unseen, and felt they could not voice what they advocate for themselves," she says.
Tirado's connection to art came through her uncle, the artist Rene Julio based in Tacoma.
"I remember going into his house when I was in second grade. The colors of his walls were like, de colores como de México, como brillantes, chillantes, como rojos, amarillos, muy hermosos. His artwork reminds me of the Grandes Muralistas de Mexico. We have Siqueiros, Diego Rivera, Orozco. There was that cultural connection. He was expressing our culture, our background," says Tirado.
She shares that cultural connection she witnessed as a child with others, including her students of the Union Gap School District.
"I teach with an intention. I teach for social justice; I teach to be able to really open up doors and windows for my students to different realities outside of their own. I create to be able to voice, to express myself and most importantly, be able to share different realities around here in my community," says Tirado.
Prints that capture the day-to-day life of essential workers, including farmworkers, are a special mark of Tirado's work.
She has also made public art installations, such as the mural exhibited at La Escuelita de La Casa Hogar in Yakima.
It was a collaborative work that collects ideas and thoughts from members of the community. The mural, which includes a girl at the center, a book in which a plant grows, and the Monarch butterfly symbolizes education, growth, renewal and home.
Saul Martinez
In Pasco, Saul Martinez, who came to Washington at an early age, is the son of immigrants from Nayarit and Zacatecas, Mexico. Martinez's conceptual art delves into his identity to explain the unique Mexican American migration experience.
"It is just the history of being the other and being identified as an intruder. I was born here but there is this feeling that people perceive anyone that looks like me or sounds like me or celebrates me, as intrusive to the status quo," says Martinez.
Over and above these feelings, Martinez says there is a cultural contribution.
"Wherever you are you are contributing to something beautiful, it doesn't have to be just tacos. It could be the other things that highlight us as a culture. It is the art, it's the poetry, it's the literature, it's the music, it's everything," he says.
Martinez is also an art teacher in the Pasco School District.
"I teach at an alternative school working with 86% Latinos. It's been fantastic to show them art that looks like them, sounds like them and that can inspire them to see their own experiences and grow from them," says Martinez.
Martinez has collected stories of Chicano, Hispanics and Latinos/as/x artists through a podcast and a website. Now, one of his dreams is to create a place where art lovers get together in Pasco.