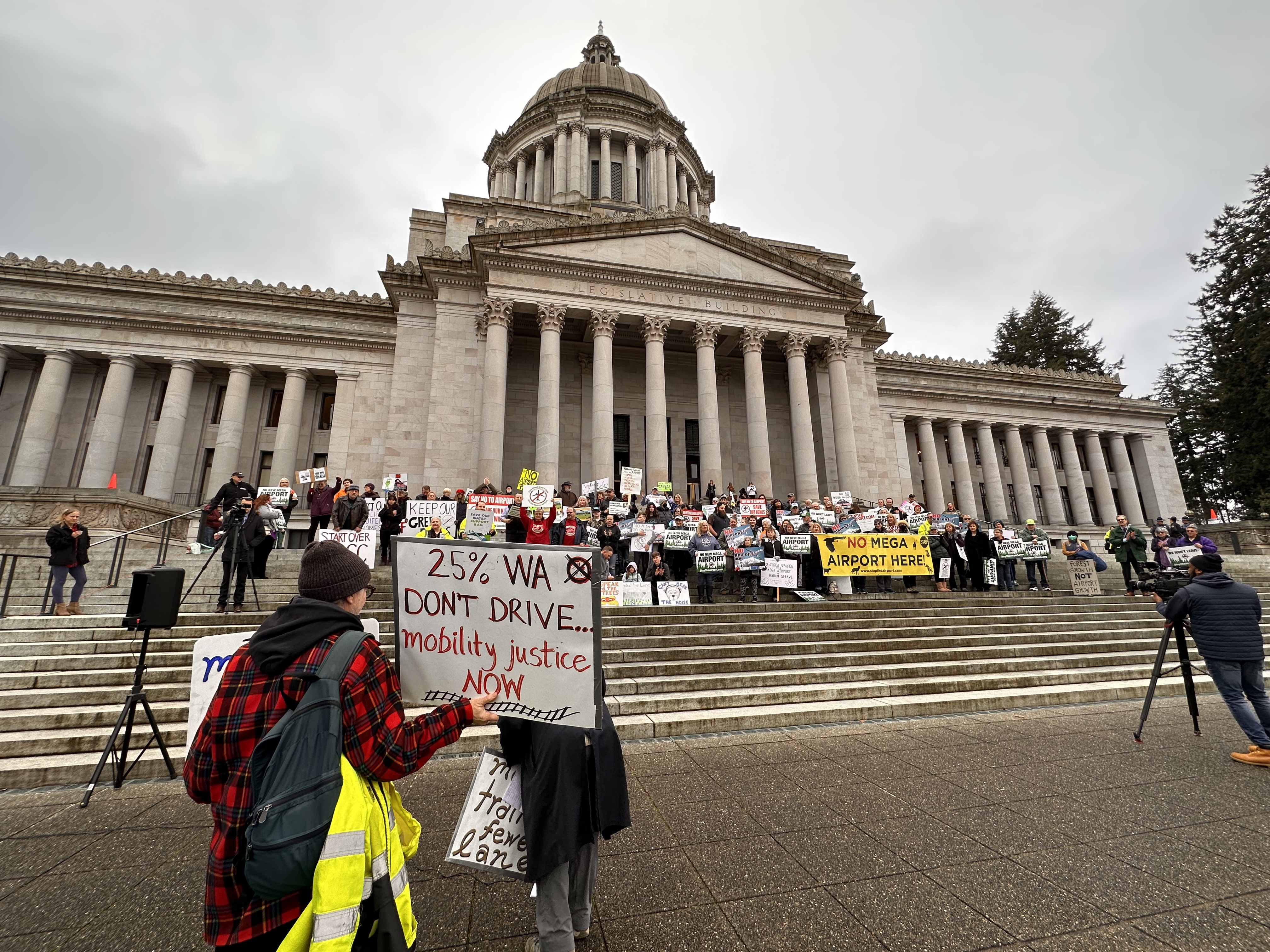 Not in my backyard: Process to choose new airport location might get a restart
The battle against a new two-runway airport in Pierce or Thurston county ramped up on Wednesday, when a hundred or so rallied on the north steps of the Capitol Building in Olympia. 
Lawmakers were there to listen, and express their own objection to the proposed sites — or at least a need to restart the process for choosing a site for a new airfield. Behind closed doors, some are working on legislation that would do just that. 
Rep. Jake Fey of the 27th District says Pierce and Thurston county residents might be getting some relief on the issue. Chair of the House Transportation Committee, Fey, is planning to introduce a bill next week that would restart the process of selecting land to develop into a new airport in the state. 
"There's no way that they've done enough work to justify the recommendation of a single site," Fey said, referring to the Commercial Aviation Coordinating Commission (CACC) which was tasked with making a recommendation for a site this June.
No one seems to want an airport in their backyard, but the state is projecting that Washington needs one … somewhere.
Last October, the CACC selected three possible sites to house a new airport, two in Pierce County, one in Thurston, and intended to choose one to recommend in June for development. Soon after that announcement, residents and elected officials from the counties, alongside tribal governments and environmental organizations, expressed outrage and disapproval over those proposals.
Lisa Torres lives in Thurston County and worries the new development could cause her to lose her home.
"I'm a single mom – two kiddos. So this one will devastate us," Torres said. 
Torres is concerned about the impacts to the natural environment she lives in and loves. She says the CACC hasn't properly researched the impact of developing an airport and its supporting infrastructure would have on the wetlands and aquifer in the area. 
Torres' concerns echo those  of her neighbors. Groups like StopTheAirport, Coalition Against Graham and Eatonville-Roy Airport and Save the Plateau, have formed in opposition to building an airport in Thurston, Pierce or South King counties.
Why the State is Considering a New Airport
The Washington State Department of Transportation has stated that aviation demands will surpass current capabilities. Projections for 2050 are somewhere between 49.3 and 55.6 million passenger boardings in the central Puget Sound region — more than double 2018's 24 million boardings.
The CACC was created in 2019 and tasked by Washington Gov. Jay Inslee to address this concern.
Trains Not Planes
A number of airport protesters at the rally in Olympia voiced support for the state instead improving train infrastructure to handle growing transportation needs. 
Mary Patterson from Climate Rail Alliance and Solutionary Rail, spoke at the rally.
"Rail can't wait, because it's an alternative to things like new airports and ever more lanes on a highway," Patterson said. "Trains are an alternative."
Patterson says there is a crucial need for more railway infrastructure to be developed quickly in the state.
"We're not talking about a 20 to 30-year timeline, we're talking about a timeline that will help us slash emissions and increase mobility options for people in the near future, in the next five to 10 years, in order for Washington State to meet its 2030 greenhouse gas emissions goals," Patterson said. 
All Aboard Washington, a group advocating for better rail transportation in the state, testified in front of the House Transportation Committee earlier this month to propose passenger rail service from Seattle to Spokane via existing tracks, using federal money from the Bipartisan Infrastructure Law. 
Advocates feel expanded interstate rail service could lessen aviation needs.
Reconsideration or Delaying the Inevitable?
The bill Rep. Fey intends to file next week would create a work group to report on the strengths and weaknesses of different possible locations for the proposed new airport, without issuing a recommendation. Fey says the work group will include citizens and experts on environmental impact, and broaden their considerations to sites in King County. The work group will also need to consider impacts to the military installations of Joint Base Lewis-McChord.
But the promise of a site selection restart isn't bringing hope to everyone.
"When the government wants something, they will take it," Torres said.
Some protesters just want the whole thing scrapped — as they made clear to Rep. Andrew Barkis of the 2nd District when he addressed the crowd at the Capitol Wednesday, telling them about the legislative options he's pursuing.
"The second one is a very simple bill, it's about a paragraph long, it just kills it," Barkis said. 
The crowd erupted into cheers and cries, yelling, "That's the one we want!"