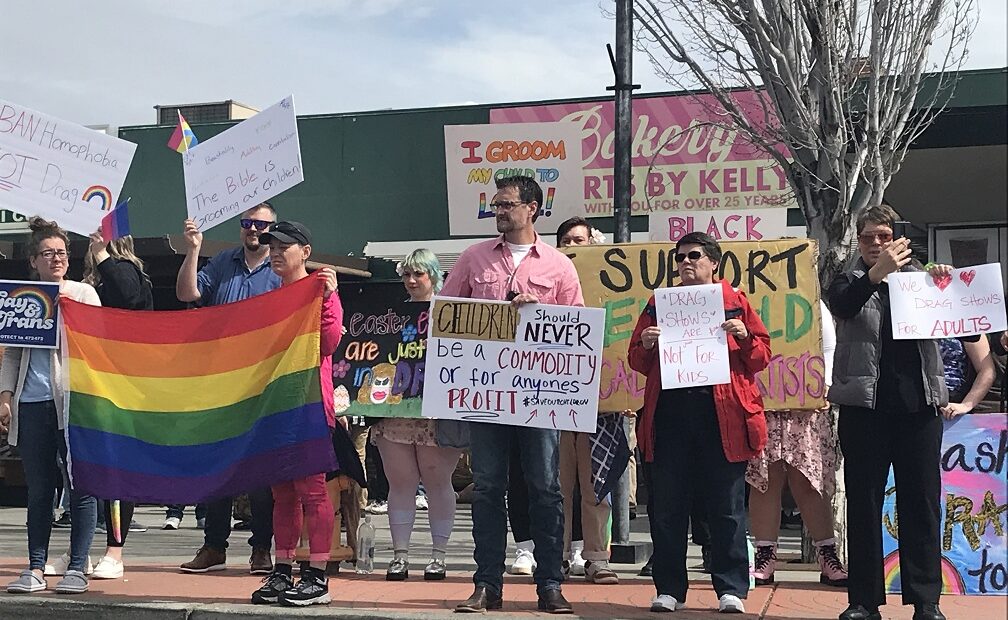 Ciudadanos piden a concejo que impida acceso de niños a espectáculos drag – Segunda parte
Los espectáculos drag han sido objeto de protestas en Tri-Cities. Algunos sostienen que no debería permitirse la presencia de niños en los eventos, que han sido planeados y pensados para ellos. Y el problema ha llegado incluso a las reuniones del concejo de la ciudad de Richland.
En Pasco, los manifestantes se reunieron en la calle a la salida de un evento drag temático de Disney. En Richland, simpatizantes y manifestantes mostraron pancartas durante un drag brunch de Pascua.
Los organizadores explicaron que los artistas hacen sincronización labial de música para todas las edades y visten disfraces brillantes y coloridos. Ellos dijeron que el evento, apto para toda la familia, muestra a los niños el valor de la aceptación.
Pero los manifestantes piensan que no se debería permitir la entrada de niños a espectáculos drag. Algunas personas han empezado a plantear el tema durante los comentarios públicos en las reuniones de concejos locales.
En una reciente reunión del concejo de Richland, una mujer que se identificó como Bree expresó su preocupación.
"Pedimos que estos espectáculos de drag queen sigan siendo un entretenimiento para adultos en nuestra comunidad por el bienestar y la seguridad de los niños", dijo. "No quiero que se prohiban los espectáculos de drag queen. Creo que los adultos, los adultos que consienten, tienen la capacidad de elegir en qué les gustaría participar", dijo en inglés.
Tim Thornton es el gerente general de The Emerald of Siam. El restaurante organizó recientemente un drag brunch. Thornton explicó a los miembros del concejo que su negocio lleva años organizando eventos drag para toda la familia con un amplio apoyo del público.
"Ahora tenemos un grupo que quiere decidir por los demás lo que es apropiado para el entretenimiento familiar y usa acoso e intimidación para imponer sus gustos", dijo Thornton en inglés.
La alcaldesa Pro Tem, Theresa Richardson, declaró durante la reunión que había recibido muchas llamadas expresando preocupación por este asunto.
"He estado animando a la gente a enviar una nota a The Emerald of Siam, una nota educada simplemente expresando que eso les entristece", dijo Richardson en inglés.
Pero Thornton dijo que esto ha fomentado el acoso hacia su negocio.
Otro ciudadano, que no mencionó su nombre en los comentarios públicos, dijo a los comisionados del condado de Franklin en una reunión ordinaria en Pasco que los espectáculos drag están siendo dirigidos a los niños.
Andrea Wabaunsee organizó el espectáculo drag para toda la familia en Out and About en Pasco. Wabaunsee dijo que los espectáculos drag son una forma de arte.
"Como cualquier otra forma de entretenimiento, puede adaptarse a cualquier nivel de audiencia. Algunas películas están pensadas para que las vean los adultos y otras para que las vean los niños. Así es exactamente como puede funcionar un espectáculo drag", afirmó Wabaunsee.
También dijo que los artistas drag no van a permitir que les quiten sus derechos amparados por la Primera Enmienda.
Más artículos de esta serie:
Primera parte: Espectáculos drag generan protestas en Tri-Cities.
Tercera parte: Protestas contra espectáculos drag en Tri-Cities llevan a amenazas de muerte y vandalismo.
Nota: La versión original de esta historia fue publicada en inglés el 11 de abril.