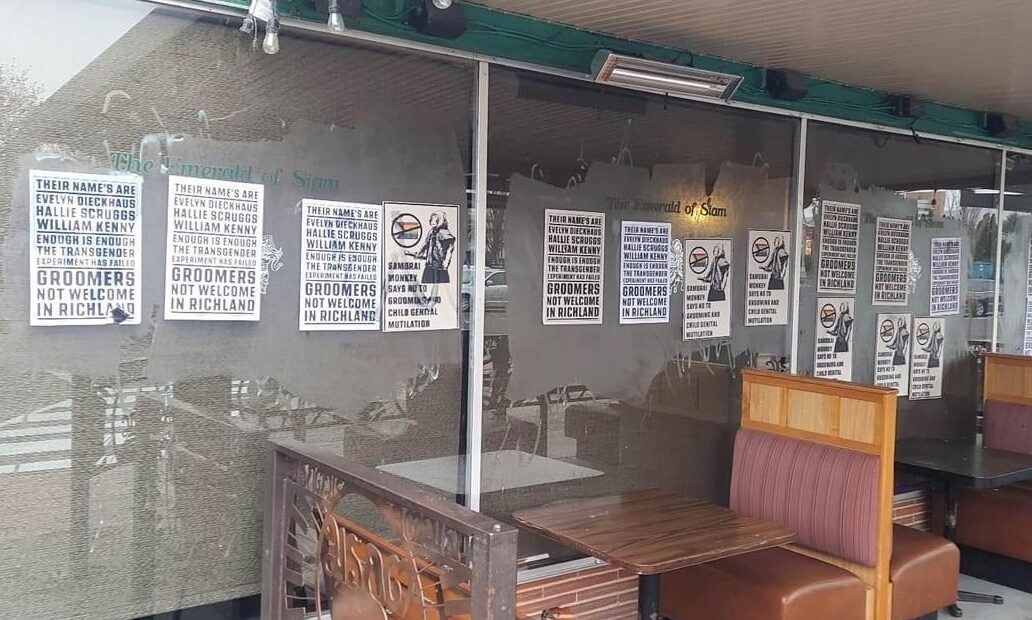 Protestas contra espectáculos drag en Tri-Cities llevan a amenazas de muerte y vandalismo – Tercera parte
Después de que ciudadanos se manifestaran a favor y en contra de los espectáculos drag para toda la familia en Tri-Cities, el restaurante The Emerald of Siam de Richland recibió un sobre amenazador.
Tim Thornton es el gerente de The Emerald of Siam.
"Esta es la primera amenaza real que he visto [en] nuestro establecimiento. Sé que el hecho de que (…) se la hagamos llegar a la policía es, en mi opinión, el siguiente paso para que sean conscientes del vandalismo y de que se trata de una amenaza real, una amenaza de muerte", declaró Thornton.
El sobre que el negocio recibió tenía como remitente a "Josh Shooter AR-15 Die St. en Pasco, Washington". Thornton dice que no lo abrieron y lo entregaron a la policía. El FBI también ha sido informado.
"Ya no nos tomamos nada a la ligera", añadió Thornton.
La propietaria de The Emerald of Siam publicó en Facebook una foto del sobre que contenía la amenaza y dijo que estaba en manos de la policía para examinarlo; más tarde le dijeron que "el contenido era una amenaza de muerte si acogemos drag".
Las amenazas llegan después de que el negocio realizara un espectáculo drag de Pascua apto para toda la familia. El local ya había sido objeto de vandalismo antes del evento, cuando carteles intimidantes fueron pegados en las ventanas.
Los espectáculos drag que permiten la asistencia de menores han recibido críticas en Tri-Cities.
Los comentarios públicos en las reuniones ordinarias del concejo de Richland han avivado los debates. En una de ellas, la alcaldesa Pro Tem Theresa Richardson sugirió a quienes se oponen a los espectáculos drag que enviaran una nota, una nota educada al restaurante.
Pero Richardson dijo que no ha aprobado mensajes hostiles.
"Nunca he promovido o alentado el discurso de odio o el acoso de cualquier tipo a cualquier establecimiento o individuo. Los insultos profanos y las amenazas de muerte no tienen cabida en nuestra sociedad civilizada", afirmó en inglés.
Richardson dijo que ella también, como el propietario de The Emerald of Siam, ha recibido "comunicaciones indignantes".
"Creo en la Primera Enmienda y en la libertad de expresión. Creo en el decoro y el respeto. Amo a esta comunidad y seguiré trabajando para representarla con esos valores", dijo Richardson
Más artículos de esta serie:
Primera parte: Espectáculos drag generan protestas en Tri-Cities.
Segunda parte: Ciudadanos piden a concejo que impida acceso de niños a espectáculos drag.
La versión original de esta historia fue publicada en inglés el 11 de abril.