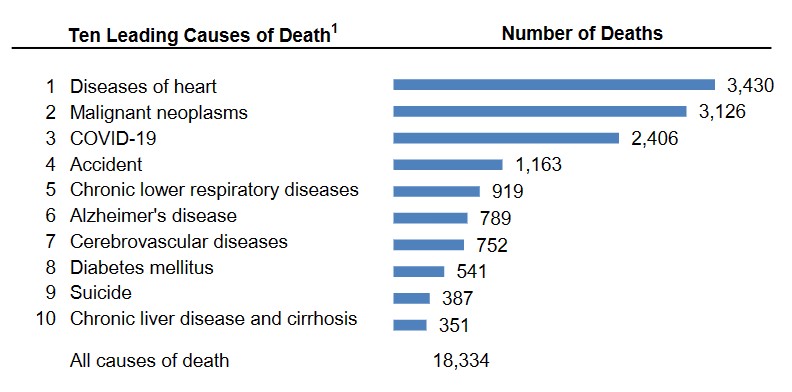 'Idaho Vital Statistics' reports COVID-19 third highest killer behind heart disease, cancer
A report announced this week by the Idaho Department of Health and Welfare shows that in 2021, heart disease, cancer and COVID-19 were the leading causes of death.
There were roughly 3,400 deaths from heart disease, 3,100 from cancerous tumors and 2,400 COVID-19.
Other leading causes of death included accident, chronic lower respiratory diseases and Alzheimer's disease. It also included diseases related to the brain and blood vessels such as stroke, as well as diabetes, suicide and chronic liver disease.
The report also collected data, including birth rates and the age of mothers having children. The Prenatal Care Index measured the adequacy of the level of care mothers received, infant mortality, life expectancy at birth and abortion rates.
The most common age group to become pregnant was 25-29, followed by 30-34 and 20-24. The ages with the highest percentages of low birth weights were 45 and up, 40-44 and 15-17.
For prenatal care, 35.5% of mothers received "intensive" care, 47.3% of mothers received "adequate" care, 7.1% received "intermediate" care, 9.3% received inadequate care, 0.8% received no care and a remaining 294 people did not answer.
That same year, 1,985 Idaho residents had an abortion. In Idaho, 1,454 of those abortions were performed, while 531 occurred out of state. The age groups among Idahoans most likely to get an abortion were 25-34, 20-24 and 35-44.
This report is made possible by the cooperative agreement with NWPB, the Lewiston Tribune and the Moscow-Pullman Daily News.