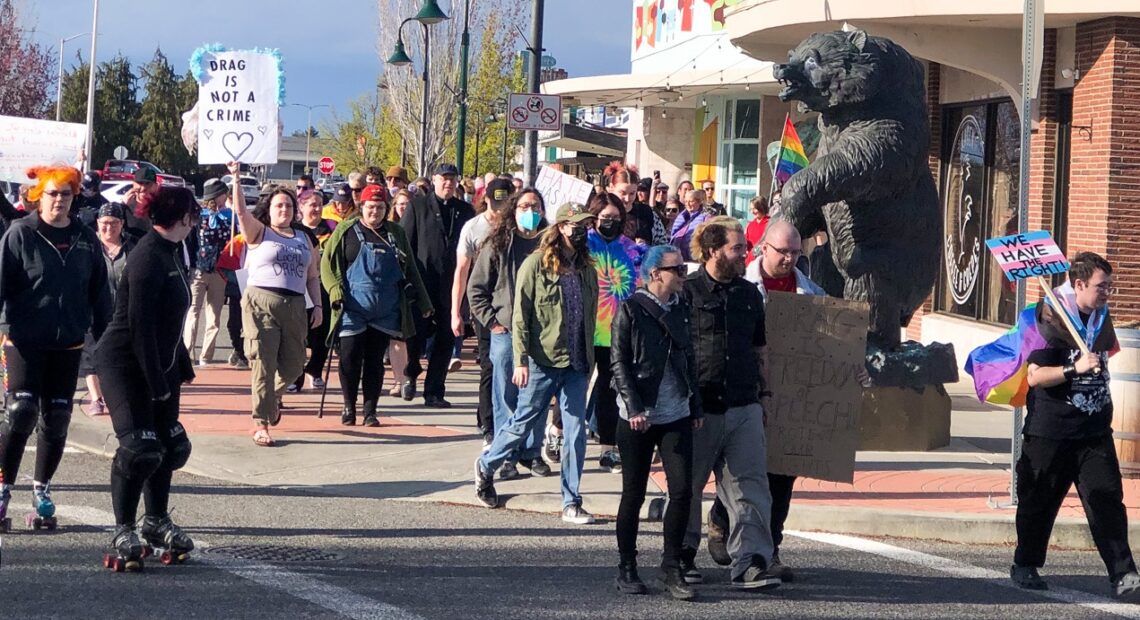 In biggest turnout in ten years, Richland citizens fill city council meeting to speak out against drag show harassment
A record number of people attended the Richland City Council regular meeting to continue discussions about holding family-friendly drag events in the Tri-Cities. Criticism of children's access to drag events has led to demonstrations, vandalism and threats in Pasco and Richland.
People walked from The Emerald of Siam Thai Restaurant — which hosted an Easter drag brunch — to Richland City Hall to support the business that has received harassment and death threats.
City Attorney Heather Kintzley said it was the largest amount of community members she had seen in the council chamber in 10 years.
For 45 minutes people in favor and against all-ages drag shows participated in public comments.
Dara Quinn, the owner of The Emerald of Siam, said it was shocking that Mayor Pro Tem Theresa Richardson had encouraged people to contact her business. After Richardson suggested that those who were concerned about the drag event should send "a polite note" to the restaurant, The Emerald of Siam received a letter containing death threats.
"We've lost revenue and a sense of security. It's affecting me, and my family, and my employees with stress and fear for our own safety," said Quinn.
Quinn said anyone who felt the drag events that The Emerald hosted had negatively affected children were misinformed.
"I feel that I, my small family business and LGBTQ families and community have been targeted and abandoned by your leadership," Quinn added. "I would like you to grasp that rather than deescalating the sudden spike of hate against the LGBTQ community, you have escalated this hate locally."
Janie Romine, another Richland citizen, told Richardson she will always fight for her children's right to be themselves.
"I'm the mother of three children, two of which are queer. Kids are queer before they see drag queens. They're just waiting for someone to tell them it's okay to be who they are," said Romine.
Alluding to Richardson's statements of sadness over the drag brunch at Easter, Romine said it is sadder as a mother to see the rejection her children experience.
"You know what's sad, Miss Richardson? Looking for her child for eight hours. Only to find that because of rejection they received, because they're nonbinary and pansexual, led them to the new Duportail bridge to jump," said Romine.
Caleb Brown is one of the Emerald supporters. He asked Major Pro Tem Theresa Richardson to apologize for encouraging people to send a "polite note" to the business.
"Mayor Pro Tem stated Easter drag is against our community values. Our community values love. Our community values inclusivity, accountability and apologies. I would ask Mayor Pro Richardson to respect our community values and apologize," said Brown.
Other citizens, like Kathy Schweiger, said Richardson didn't do anything wrong.
"I don't see why she is being attacked for this. It was not her intent for any kind of violence to take place, any threats to be taken place. And I think this has all been blown out of proportion," Schweiger said.
She also said she doesn't think the city council should be apologizing either, because they did not do anything wrong.
Pat Holton, a resident of Richland for more that 50 years, said she is eager to support The Emerald, but also said she had seen false claims being made by people to make conservatives look bad.
"Theresa made a very innocuous statement. And now she's been accused of inciting death threats and all kinds of things," said Holton. "I would like to know: is this a real thing? Or are people making it up? But it needs to be investigated. Because there are a number of us that don't believe it's conservatives," Holton added.
Richardson said she has never promoted hate messages or violence.
"I have two sisters and a brother. All of us are very close. One of my sisters is gay and has been with her partner for 20 years or more. All of my family is welcome in my home. I love my family. I love my community. And that's not going to change," said Richardson in a comment.