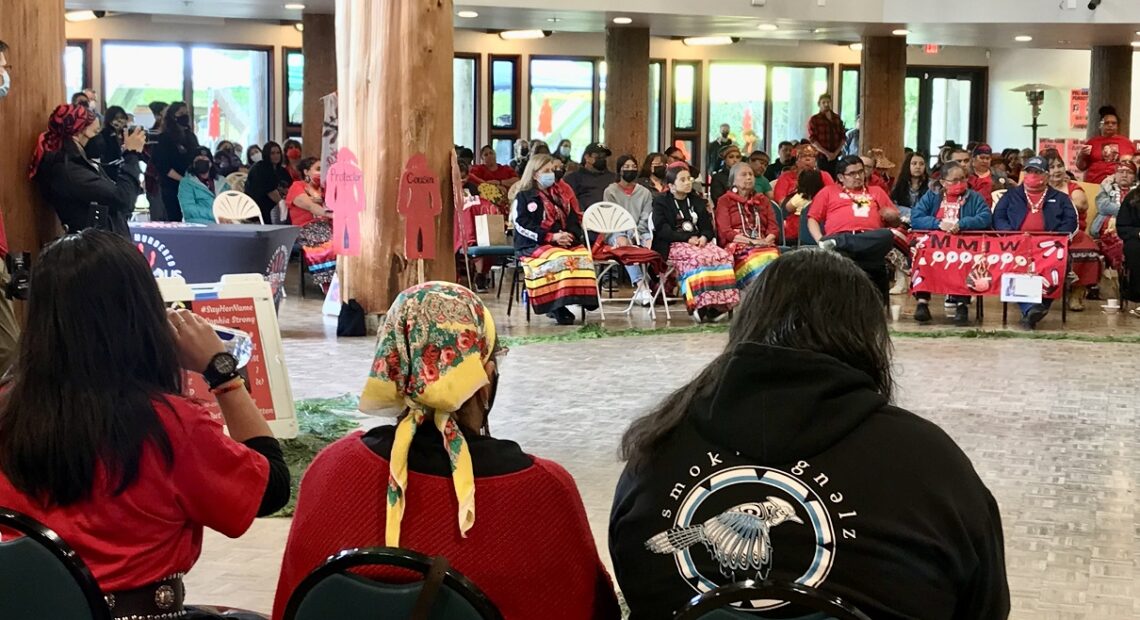 Cantwell says Washington needs more resources to address MMIP crisis
At a press conference at the Seattle Indian Health Board, tribal leaders, family members of missing persons and U.S. Senator Maria Cantwell (D-Washington) said more federal resources are needed to address the missing and murdered Indigenous people crisis in the state of Washington. The conference was held on May 5, which is National Missing or Murdered Indigenous Persons (MMIP) Awareness Day. 
Sen. Cantwell said there is a need to focus on prevention, solving cases and providing more help to Indigenous communities. 
"With the task force getting funded and putting law enforcement resources into our communities we need to be doing more. The problem is growing, and we need to address it," said Cantwell.
In a letter sent to President Biden, Sen. Cantwell asked to secure additional federal agents to investigate MMIW/P cases in the state. She said the current number of Missing and Murdered Unit federal agents in Washington is inadequate. 
"We have a couple of federal agents that are part of a national task force, but we need more federal support working with our local law enforcement and working with our local tribes to help solve these cases," said Cantwell.
The Missing and Murdered Unit is part of the Bureau of Indian Affairs Office. Cantwell says having additional resources will help to coordinate and solve the current, 142 active missing Indigenous persons cases in the state. 
Esther Lucero is the president and CEO of the Seattle Indian Health Board. She says people should be aware of the epidemic beyond National MMIP Awareness Day on May 5th.
"We cannot lose generations of our people any longer, said Lucero. "I want you to wear red every day. I want you to raise your fist every day and recognize that we have our people who are missing and dying every day."
A report by the Urban Indian Health Institute (UIHI) shows Washington has the second-largest number of missing and murdered Indigenous women and girls nationwide. Seattle has the largest number of cases in the country. UIHI is a Division of the Seattle Indian Health Board.
Lucero said 76% of all American Indians and Alaskan Natives live in urban areas, and it is important to pay attention to their needs.
Anna Bean is a Puyallup Tribe of Indians tribal council member and co-chair for the Washington State MMIW/P task force. She said families and grassroot organizations also need funding.
"They do this work for free and they need our help, they need assistance. It costs gas money, it costs food, lodging, and they'll show up wherever they're called to," said Bean.
In Washington, different actions and legislation have been taken and passed to address the crisis of missing and murdered Indigenous women and people. The most recent were the signing of the Missing and Murdered Indigenous Women and Persons and Lucian Act and the creation of a MMIW/P cold case unit.
According to the Washington State Patrol, 61 Indigenous men and 81 Indigenous women are currently reported missing in the state.