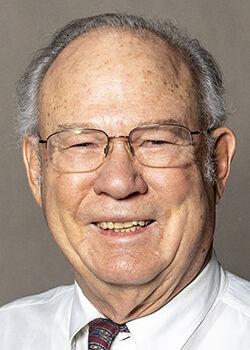 Preliminary injunction for Eggleston hearing denied
A retired ophthalmologist from Clarkston, who wrote opinion columns in the Lewiston Tribune regarding COVID-19, was denied a preliminary injunction on charges filed against him by the Washington Medical Commission at a hearing last week.
Richard Eggleston's lawyer, Todd Richardson, filed a notice of appeal for the denial on May 18.
Eggleston came under fire last year from members of the public after spreading allegedly false information about the COVID-19 pandemic in his columns, which questioned the existence of COVID-19 and the accuracy of COVID-19 death counts. He also promoted Ivermectin to treat the virus and questioned the efficacy of polymerase chain reaction tests, among other things.
A complaint based on those columns prompted an investigation by the Washington Medical Commission, and later the commission filed charges of unprofessional conduct. Eggleston is scheduled for a hearing with the commission May 24-26.
Washington law typically requires respondents, "exhaust all administrative remedies" before seeking judicial review. A few exceptions exist, including if, "the grave irreparable harm that would result from having to exhaust administrative remedies would clearly outweigh the public policy requiring exhaustion of administrative remedies."
In a motion filed May 8, Eggleston's attorneys argued the charges against Eggleston, which included "moral turpitude," a term referring to an act or behavior that gravely violates the sentiment or accepted standard of the community, and misinformation are protected as "pure" or "soapbox" speech.
In the motion, Eggleston's lawyers wrote that the commission was attacking Eggleston's free speech rights and that, "prosecution by the Commission has had an obvious chilling effect on him, as well as other physicians."
"It doesn't matter what Dr. Eggleston said. Protected speech is protected speech," said Eggleston's attorney Richard Jaffe. "It's not the job of the state administrative agencies to separate between true and false speech."
But, Kristin Brewer, the attorney representing the state, said the Washington Medical Commission is not sanctioning Eggleston's speech.
"Dr. Eggleston is not harmed at this point until there is an order from the Commission," she said. "These statutes have not been enforced against him. That is what the [May 24] hearing is to do."
Brewer also argued that the state was not seeking to target speech in the charges but rather enforce content-neutral state law that prohibits a medical doctor from making false statements about medicine. Other physicians, she said, have been disciplined under the same statute.
"Washington state law defines the practice of medicine […] to include, one: advice and two: the use on cards, books, papers, signs or other printed or written means of giving information where somebody uses the moniker M.D.," she said. "So, Washington state law defines that as the practice of medicine."
Eggleston's lawyer Todd Richardson, said a preliminary injunction would allow for the matters in the case to be fully briefed and would not negatively affect the state.
"If we don't put in a preliminary injunction, Dr. Eggleston then must go defend himself against what we believe are unconstitutional challenges," Richardson said. "Then if he loses, he has to bear the burden of an appeal, which is also very costly and time consuming."
In the court order denying the motion, Asotin County Superior Court Judge Brooke Burns wrote that Eggleston did not establish he would be "irreparably harmed" by proceeding with the May 24 hearing. 
Further, contrary to the argument in the motion for a preliminary injunction, the commission's disciplinary proceeding is governed by the Administrative Procedures Act, according to the court order.
"Also," the order read, "judicial review is only available for final orders, and there is no final order for this Court to review.
Eggleston's license is considered retired active-in-state, which means he may only practice in emergent or intermittent circumstances and may not receive compensation for his services.
Eggleston's online hearing with the Washington Medical Commission is scheduled to begin at 9 a.m. May 24 and continue until May 26. The public will be able to listen to the proceedings.