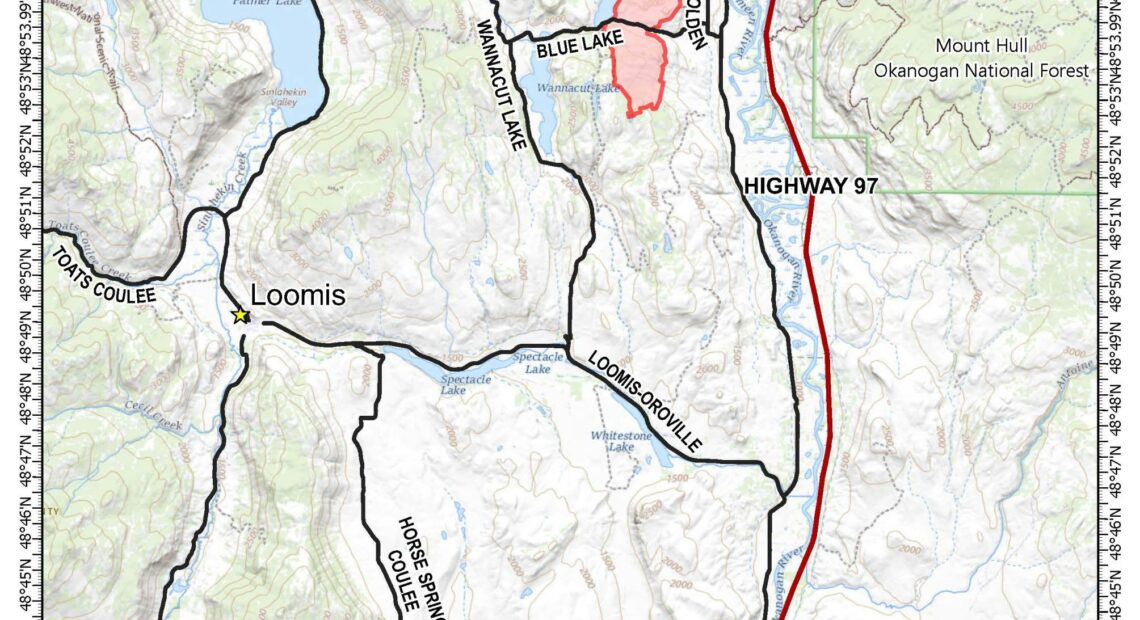 Teams battle Eagle Bluff Fire in Okanogan County
UPDATE: Tuesday, August 1, 2:00PM:
Eagle Bluff Fire evacuation levels reduced in Okanogan County
Levels of evacuation have been reduced from Level 2 to Level 1 for the Eagle Bluff Fire burning near Oroville in Okanogan County. 
The Eagle Bluff Fire is estimated at approximately 15,349 acres and it is 10 percent contained. 
The Okanogan County Emergency Management latest update says the Level 2 (Be Ready) evacuation along State Route 97 from West Lake Rd to the Canadian Border, and along the Loomis-Oroville Road around the Golf Course have been reduced to a Level 1 (Advisory).
Also, the County Emergency management noted Loomis – Oroville Road closure has changed and now it is closed from Miners Landing to Similkameen Road near Nighthawk. 
Blue Lake Road has opened and asked for caution since fire personnel are still in the area, says the latest report. 
Ellemeham Road at Golden Road and Wannacut Lake Road is still closed. 
Check here the Eagle Bluff Fire latest update.

ORIGINAL: August 1, 10:00AM
A wildfire in Okanogan County, near Oroville, in northeast Washington is active and covers a large area across the U.S/Canadian border. Evacuation levels were reduced in Okanogan County.
The fire started on Saturday afternoon on Eagle Bluff Road. More than 15,000 acres have burned with 10 percent of containment as of Tuesday.
Jake Todd is the spokesperson for the Eagle Bluff Fire. 
"We have just over 200 personnel attached to the fire right now. We have air assets and ground assets. And it looks like we're making some pretty good progress, because the wind has really died down," Todd said on Monday.
Wind gusts up to 30 miles per hour kept the fire more active on Sunday, explained Todd, saying on Monday that crews working on the fire didn't expect any wind gusts above 10 miles an hour.
According to the latest Inciweb report "very low relative humidity is expected on Tuesday and Wednesday including poor overnight recovery."
The Inciweb report also noticed that "elevated fire weather conditions are expected Tuesday afternoon due to channeled south-southeast winds in drainages along with wind and slope alignment on south and southeast aspects."
"Winds will switch to north late Tuesday evening and remain gusty into Wednesday morning," according to Inciweb.
Todd said three residences and another structure, like a shed or a barn an outbuilding, were burned and damaged as of Monday.
The latest update from Okanogan County Emergency Managemente mentioned that "Loomis – Oroville Road is still closed due to guardrail damage, rocks rolling off the hillside and fire equipment and personnel on the roadway from Oroville to Nighthawk."
The Okanogan County Sheriff's Office latest update mentioned Blue Lake Road, from Golden Road to Wannacut Lake and Ellemeham Mountain Road at Golden Road are also closed.
According to the last Inciweb report, Boundary Point Road and Shirley Road are now open.