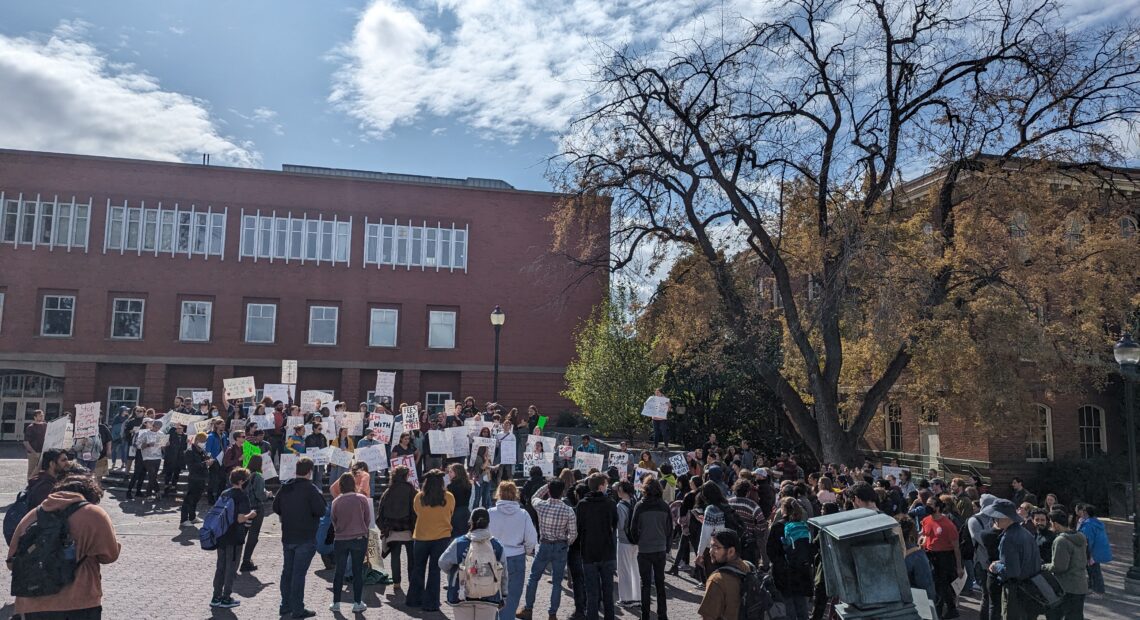 Rallies held at multiple WSU campuses as student employees bargain for union contract
Hundreds of student employees rallied at Washington State University campuses across the state this week. The newly unionized student workers planned the day of action to put pressure on the university as they work to finalize a collective bargaining agreement.
"[WSU has] stalled a lot, they've canceled bargaining dates, haven't given us dates, so that's the reason we're doing this," said Acacia Patterson, a WSU graduate student and member of the bargaining committee in the Academic Student Employees union. "We want a fair contract negotiated as soon as possible."
After the morning rain cleared on the Pullman campus, speeches were given by union members on the Glenn Terrell Friendship Mall in the center of campus. Students gathered to listen and held handmade signs.
"The work we perform is key to the basic function of a university to educate and enrich," said Sam Dilday, a WSU PhD student who gave a speech to the crowd. Graduate students often teach classes, grade papers and perform work as research assistants at the university.
After tearful testimony from ASC members, WSU responded with a new wage base for research and teaching assistants of $1,900 per month, which is 30% below liveable wages for a full time worker in Whitman County according to the Massachusetts Institute of Technology living wage calculator, said Dilday.
"Nearly half our income each month would go towards housing, with mandatory fees, parking and transit, and ever-increasing housing and utility costs," said Dilday. The union team's current proposal is a 10% wage increase this year, she said.
The union and the university have yet to reach an agreement on several key components of the proposal, including wages and fees, protections against sexual harassment and health insurance, according to a press release sent by the WSU Coalition of Academic Student employees sent on September 27th.
"This is not the end of the fight. This is a really crucial point in our negotiations. This rally is going to send a message to admin that we need better benefits, protections," said Patterson. "We will still have to do a lot of organizing. There will still be escalation tactics that need to happen."
Those escalation tactics could include members of the union voting to authorize a strike, said Patterson.
The student union was formed last November and started bargaining its first contract with the university in February.
The union filed an unfair labor practice complaint against WSU last week. The university gave them two days to decide on healthcare plans and are stalling on negotiations,says Patterson.
"The university has and continues to bargain in good faith and has hopes to reach an initial contract agreeable to both parties," said Phil Weiler, Vice President of Marketing and Communications for WSU. "WSU will work with the union and the Washington State Public Employment Relations Commission to complete the review process concerning the claim made of an unfair labor practice."
The WSU Board of Regents is the license holder of NWPB, but the station is editorially independent.